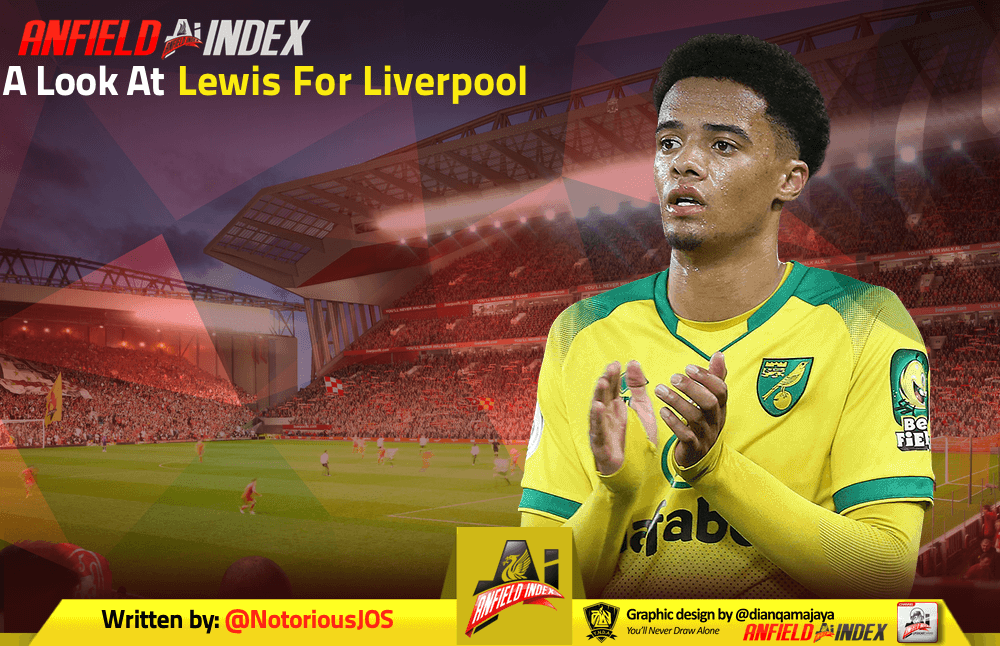 A Look At Lewis For Liverpool

Liverpool are notoriously tight-lipped when it comes to their intentions in the transfer market.
After the debacle of the Reds' first attempt to sign Virgil van Dijk from Southampton, which drew the ire of the Saints over the leaking of the Dutchman's intent to only join Liverpool, the club has since kept schtum when it comes to transfer rumours.
Fabinho and Takumi Minamino joined the club almost out of the blue, without months of speculation prior to them signing the dotted line to commit to the Anfield club, and this was indicative of the club's newly held watertight stance on briefing the media over transfers.
It does seem clear, though, that the English champions would look to sign a left-back this summer, as intimated by the well connected Neil Jones of Goal.com
With Andy Robertson the only senior specialist left-back in the squad, Jones — formerly a journalist with the Liverpool Echo — writes that Bournemouth's Lloyd Kelly, formerly linked to the Reds, and Norwich's Jamal Lewis are players potentially under consideration to provide both competition and back-up to Robertson.
To have a deeper look at Lewis and see whether he would be a suitable signing for Liverpool, we spoke to The Athletic's On The Ball podcast regular and Norwich fan, ncfcnumbers. 
JOS: Jamal Lewis has been linked with Liverpool in recent weeks. Is he a player you think can play at the level of a club like the Reds?
NCFCNumbers: "It would be a massive jump to go from playing in the worst team in the league to the best but Jamal certainly has it in him. In some ways, this season has been the best possible learning curve for him to play for a team like Liverpool, as he's been asked to do a huge amount of work up and down the flanks, both offensively and defensively, in the same way that Andy Robertson and Trent Alexander-Arnold are expected to. You wouldn't be getting the finished package here. Like a lot of our players, Lewis has struggled at times this season and lost his place to Sam Byram for a couple of months, before Byram succumbed to injury. But Lewis will finish this season broadly in credit with our fans as someone who's kept fighting and performing admirably in pretty disastrous circumstances. Also, there's the Klopp factor. There's probably no better man-manager in the game and he's a coach who can get the best out of just about anyone. The talent and the hunger is there in Jamal and I would back Klopp to take him to another level. At 22, there's plenty of potential there."
JOS: Lewis and Max Aarons are two of the most admired Norwich players, which of the pair do you think is best equipped for their future career?
NCFCNumbers: "We're incredibly lucky as Lewis and Aarons are the best two full-backs I can remember us bringing through in twenty years as a Norwich City fan and we've had them both here at the same time. To be honest, I'd say Aarons. He's got two years on Lewis and has a remarkable fearlessness for someone aged just 20. That's not to denigrate Lewis in any way but Aarons has always been one of the first names on the teamsheet since he arrived and is incredibly consistent. It's so exciting to think that both could still be a good five years away from their peak – this season has shown they've still got a lot to learn but they'll have taken a huge amount from the experience as individuals."
JOS: What would you describe as Lewis' strengths/weaknesses?
NCFCNumbers: "Jamal's a great one-on-one defender, he reads a game brilliantly, takes up excellent positions and rarely gets done for pace. He's also a former 1500m runner so naturally is a fantastic athlete. His stamina is really remarkable – and again, this would be a key attribute playing under a demanding manager like Klopp. Sometimes you feel he could trust his ability more. He'll often get in a position where he can take on the opposing full-back but will go backwards rather than back himself to beat his man. By the same token, he needs to get more confidence at using his right foot, which I still feel he doesn't entirely trust. And he might need a bit more practice at crosses, as under Farke we never put any into the box!"
JOS: Personality-wise, could Lewis handle the pressure of playing for a club like Liverpool or would it faze him?
NCFCNumbers: "Judging by his past experiences I think he'd be fine. Bear in mind that he hadn't played a single minute of professional football when he made his Norwich City debut in the Championship, and very quickly became a mainstay of the team. Since then he's played a decisive part in a gruelling but rewarding Championship-winning season and started big games at international level. By all accounts he's a great lad too. The obvious comparison is Robertson, who with signed for Liverpool from another relegated PL team, (three years ago today as I type this) and I don't think he's the same kind of vibrant personality that the former Hull man is. Obviously if he can have even half the impact of Robertson he'd be doing well but there's clearly a drive and focus about Lewis – add that to the experiences in football he's had at a young age and I wouldn't put any question marks on whether he's got the character for it."
JOS: Do you think Lewis would be happy to play backup or would he rather a move to a club where he is first choice or even want to stay at Carrow Road?
NCFCNumbers: "Champions League football, Premier League champions and playing for one of the biggest clubs in Europe; I can't imagine why Jamal would want to leave! Again, Lewis strikes me as someone with a great temperament so we're not talking about a player who will get his parts on if he's not playing every week. The question is more about the club you're getting him from. Firstly, we didn't give all our talented young players new contracts last summer only to lose them for a pittance this year and our sporting director, Stuart Webber, will be demanding a high price for someone like Lewis. Would Liverpool be prepared to pay £20m for a player who will realistically be playing second fiddle for a single position? Additionally, the club appears to have a very close relationship with our current crop of players and, I believe, our young talents trust those running Norwich City to do what's best for their careers (look at how James Maddison's thrived at Leicester, for example). Jamal could be advised that sitting on the bench, even at a club like Liverpool, wouldn't be the best move for him at this stage of his career, and that advice could go a long way."