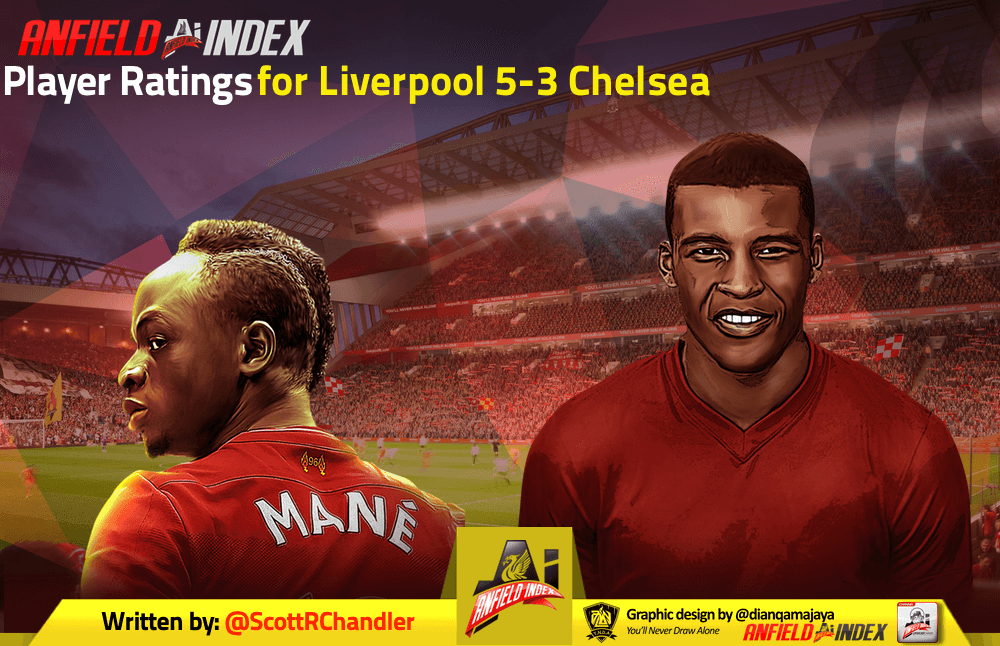 Player Ratings for Liverpool 5-3 Chelsea
Liverpool proved worthy winners of the Premier League with a good effort off recently disappointing results that produced explosive moments at both end of the pitch and ultimately resulted in a satisfying double over bitter rivals Chelsea.
Alisson – 6
Perhaps could have done better to prevent Chelsea's 1st goal, but the save on Willian's snap shot was still pretty good. Showed more of his true self after an uncharacteristic off match against Arsenal and wasn't really at fault for the other goals.

Robbo – 7
Solid for most of the match without any explosive moments until his lung-busting run off a Chelsea counter set up Ox's substitute goal. It was quintessential Robbo with equal parts perspiration and inspiration.
Van Dijk – 5
Caught in no-man's land when he was too slow to stop Willian's shot and left Giroud in space behind him that led to Chelsea's goal. Also failed to calm the defensive line when Pulisic destabilized it and took out Jomez in slapstick fashion in the lead up to the 3rd Chelsea goal. Could have had a goal on the day near the end but fluffed his lines. When you're the best defender in the world and have transformed a club since your arrival, you're afforded days like this.
Jomez – 6
Solid before getting clowned on by Christian Pulisic for Chelsea's 2nd goal and then really struggled to contain the American starlet. Still, Gomez has been one of Liverpool's better performers as of late and has taken a step forward this season. If he keeps this up in 2020/21, he's going to be not just one of the standout players for Liverpool, but also the entire league.
TAA – 8
Few fullbacks possess the on-ball qualities of Trent, and his skills were on full display tonight. It was good to see Trent spray some trademark passes around again after a rough match against the Gunners, and his 2nd free kick goal against Chelsea this year was quite satisfying for Liverpool supporters. But Trent wasn't satisfied with his first half performance and decided he needed to drop an absolute dime to set up Bobby's first Premier League goal at Anfield this season. Sullied his performance by failing to stop Pulisic's 2nd goal, but the sky is the limit for Trent, who is still somehow only 21 years old.
Gini – 7
Anfield Gini stepped up again in a big way not only with an active display in midfield but also an emphatic finish off a corner after Andre Mariner once again looked disinterested in calling a penalty. His withdrawal led to shakiness in the middle of the park for the Reds, which highlights how important he can be when he's on form.
Fabinho – 5
Not as dominant as usual and was left to patrol the midfield virtually on his own when Naby & Gini were withdrawn with the match seemingly won.
Naby Lad – 8
Naby showed exactly why he was lauded ahead of his switch to Anfield when in the same move he helped win the ball back in a dangerous area, got on the ball, dribbled into space, and then unleashed a rocket just under the crossbar for the opening goal. One of the most impressive players for Liverpool since the restart, Keita looks poised to take off next season and could be one of the ways that the Reds get better and avoid being caught by the rest of the Premier League pack.
Mane – 7
Life, death, taxes, and now Sadio Mane putting in a quality performance when he takes the pitch. Those are the new guarantees in life. Sadio was a constant threat to Chelsea's backline and earned the foul that led to Trent's FK goal through some lovely footwork. For my money, he's the Liverpool Player of the Season and the most important player to the team aside from Big Virg.
Bobby – 8
Linked up well all match and was a bit unselfish when he could have taken some shots in the first half. But he deservedly got his first PL goal at Anfield this season when Trent teed him up for a beautiful header in the 2nd half. Goals aren't the most important part of Firmino's game, but he's shown he can still score some beauties.
Salah – 6
Looked lively and got into dangerous positions, especially when his give-and-go with Bobby in the 2nd half should have set up an easy goal for himself. But a comically bad finish summed up Salah's performances as of late. Better for Mo to waste some goals now when the title is won than sputter in the new season. Hopefully he's just saving them for when they'll really count.
Subs:
Milner (On 66) – 4
Contributed to the loss of control in midfield after his introduction that resulted in Chelsea's third goal and Liverpool looking a danger to squander a 3 goal lead. He's been an admirable servant of the club, but if the Reds replace him with Thiago and let Milly ride off into the sunset with his former club Leeds United, it wouldn't be the worst thing in the world.
Curtis Jones (On 66) – 6
Failed to get into the match early in his outing, but his dummy to set up Ox for the 5th goal showed what he could be capable of with a bigger run in the team. 2020/21 will be a massive season for his career.
Ox (On 79) – 7
After a miserable performance against Arsenal, I scoffed at his introduction in a forward role. But he silenced his doubters for the time being with a delightful finish off a terrific counter to effectively seal the victory. His emphatic celebration showed how much the goal meant to him and put him into a tie with TAA and Gini for 4th highest PL scorer for Liverpool this season.
Origi (On 87) – 5
Didn't have a great impact as he came on when the game was effectively over, but he had a nice run to earn a foul that should have resulted in a VVD goal off the free kick.
Minamino (On 87) – N/A
Didn't really show much in his brief cameo. Hopefully we'll see him a bit more against Newcastle to get a taste of what extended minutes from Taki could bring going forward.