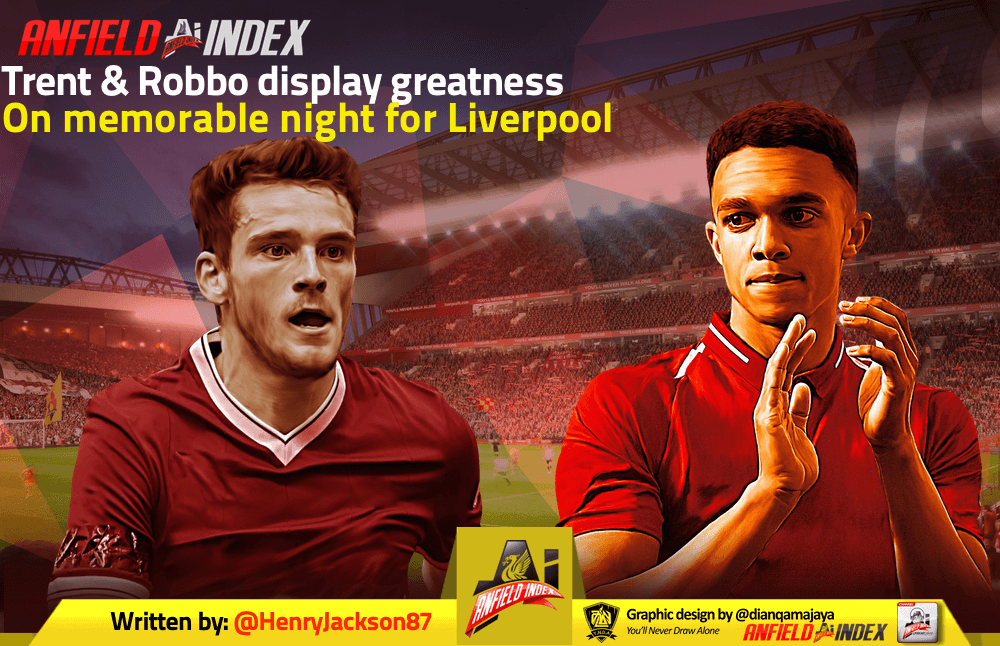 Trent & Robbo display greatness on memorable night for Liverpool
You're winning 4-3 late in the day in a match that ultimately doesn't mean too much, having already clinched the Premier League title. You could be forgiven for not quite giving your all, right?
Not this Liverpool team, though, who have been drilled to perfection by Jurgen Klopp, and who have continued to show their incredible desire after their title win, despite the odd poor result.
Chelsea earned a late free-kick on Wednesday night, as they looked to complete an unlikely comeback at Anfield, but Andy Robertson was in the right place to deal with the danger, heading the ball clear.

That wasn't enough for the Scot, however, who instantly sprinted outside the penalty area and joined a promising-looking counter-attack.
Bursting down the left flank, we was found by Sadio Mane, before gliding past the hapless Jorginho and crossing for Alex Oxlade-Chamberlain to complete a 5-3 win.
It was a remarkable show of energy and quality from Robertson, who after a dreadful, seemingly hungover performance against Man City last month, has found top gear again.
Would any other left-back on the planet have shown such willingness in that scenario? It epitomised everything so admirable about this once-in-a-lifetime Liverpool side.
But then Robertson wasn't even the Reds' best full-back on the night, and isn't in general, which is almost impossible to comprehend, considering how formidable he is.
On the other flank was Trent Alexander-Arnold, who at 21, has as much potential as Steven Gerrard did at the same age, if not more. There, I said it.
The boyhood Liverpool fan produced yet another attacking masterclass, bending home an outrageous free-kick and crossing superbly for Roberto Firmino to finally end his Premier League goal drought at Anfield.
This was just another routine night at the office for Alexander-Arnold, who is the most exciting full-back in the world, and one of the most influential players in general.
He has the two highest assist tallies in the history of the Premier League – Robertson has the third and fifth-highest – beating his own record against Chelsea, and he is also the youngest-ever player to start consecutive Champions League finals.
Alexander-Arnold is a footballer destined to permanently captain Liverpool one day, barring a horrible slice of luck with injury, and he has cemented legendary status just five years after taking his GCSEs.
While he and Robertson are outstanding, world-class performers individually – it surely isn't even biased to put them both in a current world XI – they also come as a collective.
They are great friends, as their social media content proves, and they spur each other on on the pitch, taking part in assist competitions and often linking up to devastating effect.
One of the defining goals of this season was Mo Salah's header at home to Man City, when Alexander-Arnold's beautiful cross-field pass found Robertson, who then teed-up Salah.
It was two full-backs working in tandem, at the peak of their powers and at a level above anything else around them in their position.
Alexander-Arnold (25) has the most assists in the league over the past two seasons, while Robertson (21) is joint-second with a certain Kevin De Bruyne – one of the greatest creative forces in Premier League history.
On top of that, they have chipped in with seven goals, most of them key in one way or another, from Robertson's bullet header at Aston Villa to Alexander-Arnold's free-kick away to Chelsea earlier in the campaign.
What these two are doing is not normal. There have been great full-backs at Liverpool down the years, but none were as inventive, energetic or important.
It is easy to look back with nostalgia-tinted glasses and assume that others such as Phil Neal and Steve Nicol were superior during the golden years of the 1970s and 1980s, but nobody had this impact from full-back.
We must not take Alexander-Arnold and Robertson for granted and Wednesday's game was an ideal reminder of how remarkable they are, and how integral they will be to Liverpool's future.
So much of the Reds' creativity and energy comes from these two British superstars – it is only when they are missing that you truly appreciate their brilliance.
In decades to come, we will look back at this Reds team with great joy, remembering the magic of the front-three, the all-conquering class of Alisson and Virgil van Dijk, and the leadership of Jordan Henderson.
Alexander-Arnold and Robertson will, and should, be gushed over just as much, though, with the former redefining the role of a full-back and the latter maturing into a wonderful left-back who possesses as much character as any member of the squad.
They were a joy to watch against Chelsea, and they will continue to be for many years.