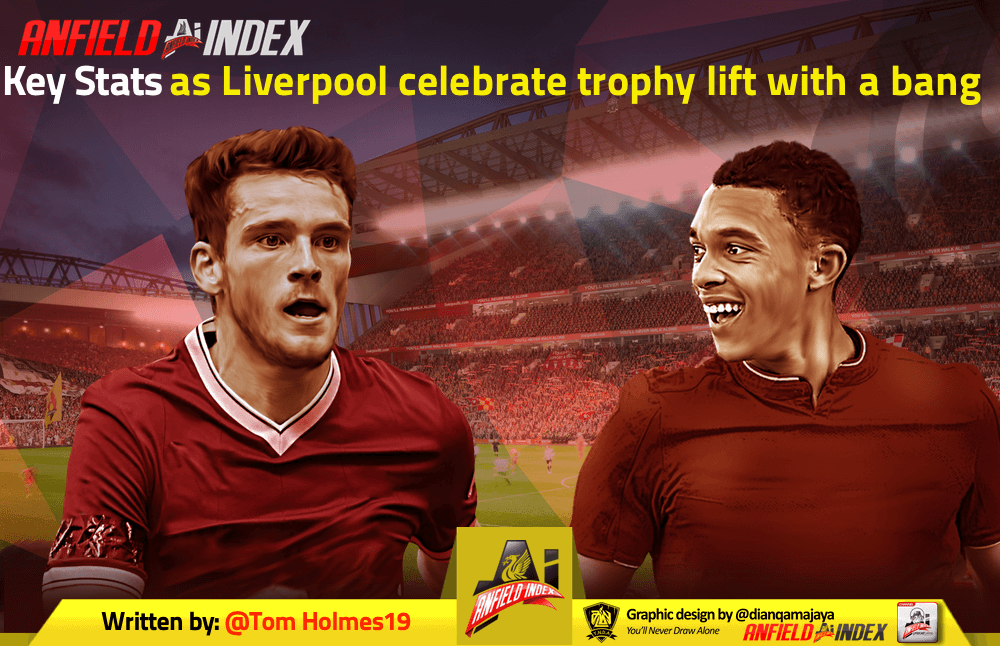 Key Stats as Liverpool celebrate trophy lift with a bang
Liverpool briefly returned to an earlier version of themselves where everything was a bit chaotic, they didn't have two competent centre-backs and they were scoring goals for fun, as they won 5-3 against Chelsea in their final home game of the season, on a night where the Premier League trophy lift took precedence over the actual football. But what were the key stats from a fun night at Anfield?
Midfield Goals Keep On Coming
One factor that was spoken about over last summer was a lack of goal contributions from midfield. Liverpool were operating with a system where the goalscorers were the front three, the full-backs were largely assisting them and the midfield were doing a different job.
That was always expected to shift slightly with the return to the midfield of Alex Oxlade-Chamberlain, who has contributed seven goals and one assist across the Premier League and Champions League this season, albeit spending a solid portion of that time out on the wing.
But even though Ox has boosted the midfield's numbers, the other four main midfielders to a man have increased their goal contributions off similar minutes (or in Naby's case half as many minutes).
Last season, Henderson, Fabinho, Wijnaldum and Keita combined for seven goals and six assists in the league and three goals and one assist in the Champions League. This season, they've combined for twelve goals and eleven assists in the league, and the same number of goal contributions in seven fewer games in the Champions League.
The biggest shift has been from Jordan Henderson, who scored once and contributed three assists last season, in a late flurry in the last few games of the season.
Given more freedom to operate this season, he's notched four goals and five assists in the league, his highest tally since 2014/15 when he was playing a completely different role under Brendan Rodgers.
Even Adam Lallana has stepped up, grabbing a goal and an assist in 350 minutes compared to nothing in 450 minutes last season.
This game was a prime example of midfielders chipping in, with a stunning solo goal from Naby, a great finish off a set piece from Gini, and Ox rounding off a magnificent team move.
Full-Backs Do It Again
With three of Liverpool's midfielders scoring, it was their three most creative players grabbing assists: Salah grabbing his 10th, Robertson his 11th and Alexander-Arnold his 13th(!).
So much has been made of the full-backs this season, but it's worth making a bit more, as once again they combined to push on the Liverpool win.
Trent scored the second himself with a stunning free-kick, his 4th PL goal of the season, more than anyone outside the front three.
And of Liverpool's 1.45 total xG against Chelsea (you don't need to see xG to tell you how insanely clinical we were in this game with four absolute bangers) the full-backs created 1.14xG, as well as Liverpool's only two big chances: Trent for Bobby's goal and Robertson's cross for Van Dijk's last minute sitter.
The full-backs have now hit an astonishing 30 goal contributions between them this season, six goals and 24 assists, compared to last season's 24 total, going past last season's tally of 23 assists between them with their double in this game.
If you look over the last two seasons, Liverpool have dropped points in 14 league games, and in six of those 14 games, Liverpool have been missing one of their first choice full-back pairing.
Anfield Record Remains Untarnished
Whilst Liverpool will be marginally disappointed they couldn't secure a 100% home Premier League record this season (I know, when your biggest PL problem at Anfield is a 1-1 draw with Burnley with the title won you really don't have any problems at Anfield), they made it a third consecutive season unbeaten at home under Jurgen Klopp.
Which is frankly insane. It's been 59 home league games since Crystal Palace won at Anfield in April of 2017. In that time, the Reds have won 48 games, drawing 11 (eight of those draws before the start of 18/19), scoring 155 goals and conceding just 36.
It has to end sometime (and assuming fans aren't allowed back in at the start of next season probably sooner than it would otherwise have ended frankly) but blimey if that's not something to be cherished.