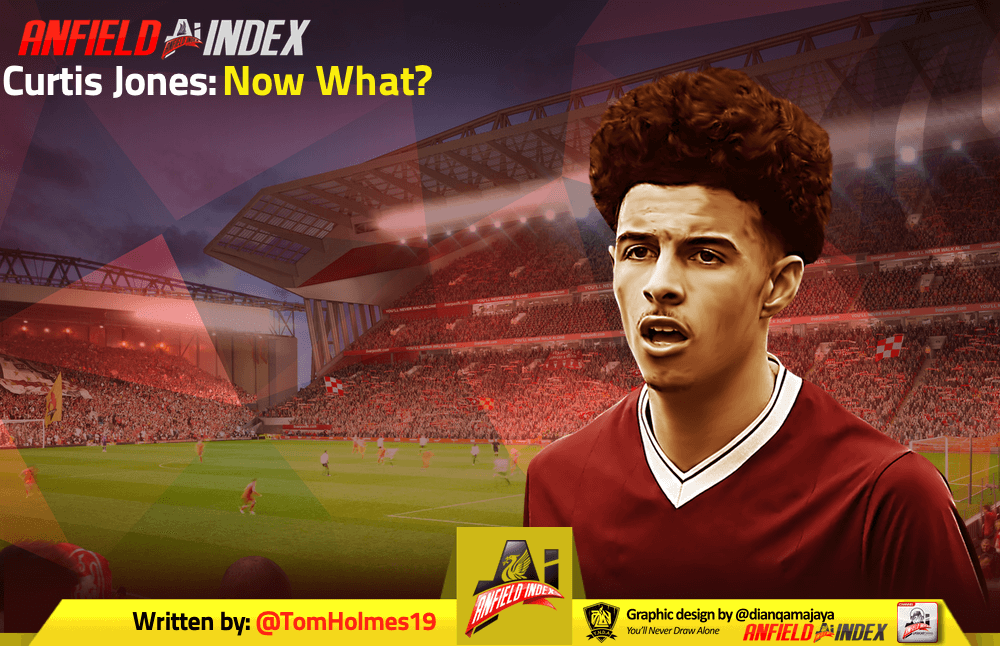 Curtis Jones: Now What?
Curtis Jones has had quite the season.
It started all the way back in September, with his second game in a Liverpool shirt against MK Dons, where he impressed.
And he kept impressing, scoring the winning penalty against Arsenal in the EFL Cup, making his Premier League debut in December, scoring THAT goal against Everton in January, becoming the club's youngest ever captain against Shrewsbury, signing a new deal earlier this month, scoring his first Premier League goal a day later, being given Steven Gerrard's old number 17 shirt for next season, and then against Chelsea, coming off the bench to secure a Premier League medal, in time to get it when the team lifted the trophy later that night.
Phew.
So the big question is now what?
Jones is clearly a real talent. Klopp clearly thinks so too, as he's worked hard to integrate him into the first team squad this season, rather than loaning him out. He's been the star of our domestic cup campaigns, and only didn't feature in the 5-0 EFL Cup defeat to Villa because he was in Qatar lifting the Club World Cup.
The club have hyped up the possibility of Jones taking Adam Lallana's spot in the squad next season, which would potentially make him the 6th choice in central midfield, with the possibility of some minutes further forward.
If the makeup of the midfield doesn't change, that would give Liverpool plenty of more aggressive attacking midfield options, with Keita, Oxlade-Chamberlain and Jones scrapping for a spot alongside two of Henderson/Fabinho/Wijnaldum.
Now obviously, we don't know what Klopp will look to do tactically next season, but it's fair to say that it's going to be a real job for Jones to get minutes.
On the one hand, there are minutes there to go around: Adam Lallana is gone having played 374 minutes this season, which on top of Jones' minutes already this season rounds up to about 500, or potentially nearly ten full games.
But, there are others after those minutes. Naby Keita has played about 1000 minutes across PL and UCL, and will be looking to at least double that, whilst Alex Oxlade-Chamberlain has only about 1700. You would expect Fabinho, Wijnaldum and Henderson to clock between 8000 and 9000 minutes between them across PL and UCL.
To provide a bit of context, focusing exclusively on the midfield slots for a moment. Assuming there's three midfield spots available, there are 3420 minutes per slot, so 10,260 minutes total in the Premier League. This season, Hendo, Gini and Fab occupied about 70% of those minutes, and you would expect about the same next season.
So the only way Jones is getting some real minutes is if things change.
It's very possible Klopp rotates the first three a lot more next season (especially Wijnaldum, who has been close to 3000 league minutes in three of his four seasons at the club). If he does rotate Gini a bit more, it's possible Keita's increased minutes come from them, rather than eating into Jones' potential minutes.
It's also unclear what role Alex Oxlade-Chamberlain will have next season, and if Klopp will keep trying to rotate him in the front three, possibly because we have limited options there, and possibly to open space for Jones in the midfield.
One other way Jones could get minutes is if Wijnaldum does leave, and is replaced by Thiago, who will take time to settle and play less minutes (pure speculation but a possibility given Gini's contract situation and the Thiago rumours).
Or, Jones could simply force his way into Klopp's plans and take minutes off one of the starting midfielders by just playing well. Assuming he starts from a base of 500 PL minutes to fight for, that could easily become closer to 1000 if he plays out of his skin.
The most likely scenario right now?
Well it's hard to say. There's no crystal ball to see what injuries will occur, what Klopp's plans are for the midfield, or even what transfers occur. But Jones can expect to play every domestic cup game, probably some Champions League minutes in less important games, and hopefully a sizeable chunk of Premier League minutes compared to this season.
Jones is a very talented player, an excellent passer, clearly a capable goal threat, great in the areas Klopp likes his aggressive 8s to be in, and capable of playing off the wing, although much like Oxlade-Chamberlain that's not his primary position.
So it will be very interesting to see how he's utilised next season, but the fact is, he's been given a real squad number for next year, instead of the number 48 he's been holding for a couple of years.
The fact that Klopp has given him the number 17 implies he sees Jones as part of his plans more prominently next year.