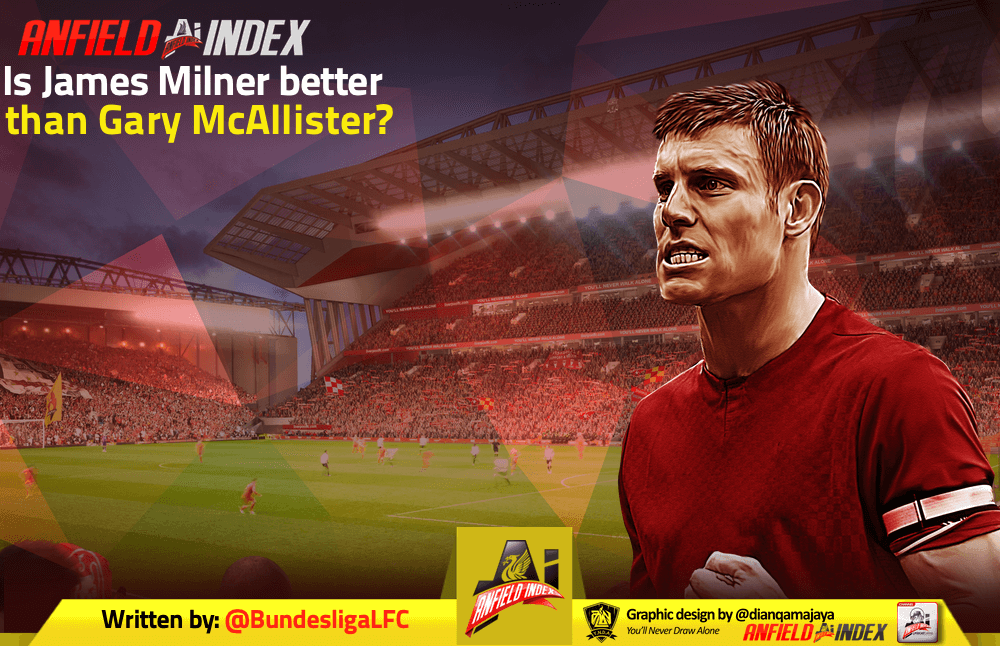 Is James Milner better than Gary McAllister?
James Milner is a Liverpool legend. 
A few months into his career at Anfield, it appeared as though he might've been more Joe Cole than he was Gary McAllister. For a period of time, it felt as though a Milner performance was a 6/10 and a yellow card was guaranteed. In his defence, though, this was during the final few months of Brendan Rodgers' time on Merseyside and most, if not all, players failed to really impress. 
But then he appeared to be a poor fit for Jurgen Klopp, too. In a midfield two, he'd often get drawn to the ball and the centre of the pitch would be exposed. He then spent a season at left-back. There, he did more than an admirable job. Yes, the limitations of using him there were pretty evident but he was composed and controlled enough for it not to be a weakness, and Liverpool claimed a top-four finish. 

Heading into the 2017/18 campaign, Milner was vying with Emre Can, Jordan Henderson, Gini Wijnaldum, Adam Lallana and Alex Oxlade-Chamberlain for a midfield spot after the Reds signed Andrew Robertson to fill the left-back position. Despite the competition, he racked up near 2,800 minutes across all competitions and he started every single knockout game in the Champions League as Klopp's side went all the way to the final. 
The summer of 2018 was all change again with the arrivals of Naby Keita and Fabinho. With more options, you just assumed Milner's role would shrink. But it didn't, in fact he featured in more minutes last season than he did during the previous campaign. He started in big games for the Reds including both matches against PSG, the second leg against Bayern Munich and both clashes against Barcelona. 
His importance to this squad seemed to grow with every passing year. He hasn't been as involved this season but he still played a part in Liverpool ending their 30-year wait for a league title. People talk about that game against Aston Villa as being the one they knew we'd win the league. But a few weeks earlier, it was Milner who fired home in stoppage time to claim all three points against Leicester City. He also assisted in that game as well. Injuries plagued the second half of his campaign but when fit Klopp often turns to him to help control matches. That's the biggest compliment you could pay him. 
The midfield area is perhaps the most stacked area of the squad, yet Milner gets minutes and always has. He played a key role in Liverpool getting top four in Klopp's first full season here and that is what was used as a platform for everything that followed. The No.7 has played a part in the Reds reaching three European Cup finals, he's helped them win four trophies in the space of 12 months and he's been an instrumental cog for a team that amassed 193 points over the past two seasons.  
He could well leave this summer to rejoin Leeds. If it happens, he'll go having redefined what a successful free signing looks like. He's now the measuring stick for that and he's surpassed McAllister, at least in my eyes.