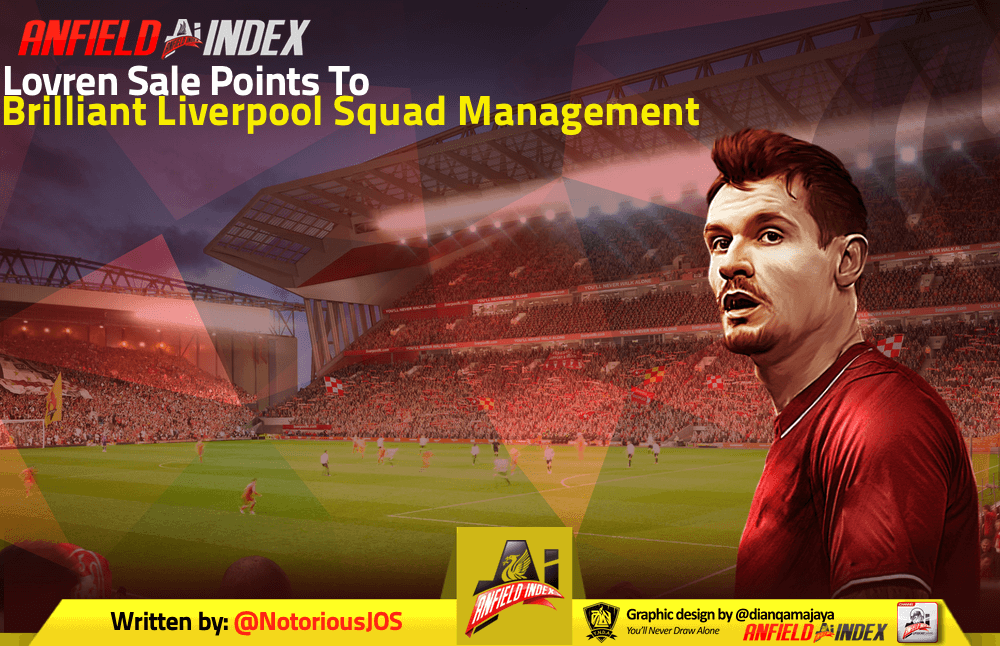 Lovren Sale Points To Brilliant Liverpool Squad Management
News broke on Friday morning that Dejan Lovren is close to signing for Zenit St.Petersburg.
The Croatian international, who joined Liverpool in the summer of 2014 from Southampton, will reportedly join the Russian giants for a fee of £10.9M.
Lovren, 31, through a combination of Joel Matip and Joe Gomez' good form and injuries only made 15 appearances for the English champions this season and will become — pending the deal being rubberstamped — the third player to leave Anfield this summer.
Adam Lallana, who also joined Liverpool in the summer of 2014 from Southampton, will leave upon the expiration of his contract and will be joined by another former Saints player, Nathaniel Clyne, whose contract has also timed out.
In total, the three ex Southampton players — all signed by ex-Reds manager, Brendan Rodgers — will take close to £300,000 per week off the wage bill. This is a considerable figure, when you consider that, between the trio, they only made 30 appearances between them this campaign(only three of which were starts in Lallana's case).
These departures will allow the reigning champions extra wiggle room when it comes to signing new players or renegotiating new deals with their current players. Georginio Wijnaldum is, by all accounts, in talks to renew his contract and, if the sticking point is money, Liverpool would now have more score to meet the Dutchman — who is one of the clubs most important players' — demands.
The exits of Clyne and Lallana, in particular, will provide a pathway for Neco Williams, who has been involved increasingly frequently in matchday squads of late, and Curtis Jones, who recently inked a new five-year deal at the club, to develop further.
Whether Jones or Williams are superior players to two former England internationals remains to be seen. But it is without doubt that they are footballers of considerable talent and their development will be aided by an increasing number of games in a world-class team under the tutelage of arguably the finest coach in the world, advantages that Lallana and Clyne never had in their formative years at Bournemouth/Southampton and Crystal Palace respectively.
Replacing Lovren may have to be outsourced, however, with the most likely internal candidates, Ki-Jana Hoever and Sepp Van Den Berg, likely too young and green to be thrown into the pressure cooker that is playing centre half for a team with legitimate aspirations of winning every competition they enter.
Ben White, a Brighton owned player on loan at Leeds United, has, per reports, been followed closely by Liverpool's scouting team this season but The Seagulls — whose manager, Graham Potter, is a big admirer of the centre half — will reportedly demand a fee in the region of £40M for the 22-year-old and this will likely prove prohibitive in this, COVID impacted market and for a player with no experience in the Premier League.
There are thriftier options available for the Reds, such as legendary Brazilian defensive Marshall and free agent, Thiago Silva, but whatever approach they chose to take the sale of Lovren and the end of Lallana and Clyne's stints at the club will strengthen Liverpool's abilities to make the necessary moves.
Michael Edwards, the club's sporting director, deserves huge credit for extracting the maximum fees for the players he's sold and Lovren — whose injury issues and age mean that a fee close to £11M can be considered a good deal — signing for Zenit is a continuation of a trend that started with the sales of Christian Benteke, Mamadou Sakho, Jordon Ibe and Dominic Solanke, all for fees which, in retrospect, seemed out of kilter with the players on-field abilities.
Whatever way Edwards and Klopp decide to proceed from here, this strengthened financial position, one thing is certain: Liverpool are managing their squad as well off the pitch as they are off it.