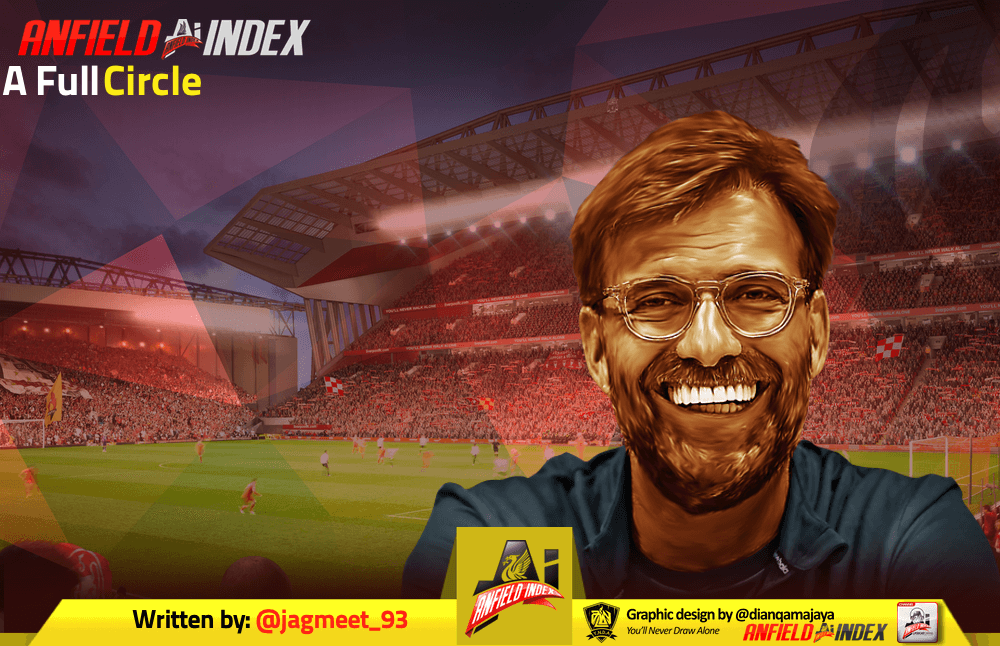 A Full Circle
I have been a Liverpool fan since 2002 when the football scene in Malaysia was booming. Everyone in school had a favourite English football team. The earliest game I can recall is the one where we lost to Man United 2-1 when the ball went through Dudek's legs to Forlan. Yeah that game! That's my earliest memory of LFC.
From then to now, from Hyypia to Gerrard to Hendo, the journey has been amazing. Other clubs may have seen more glory but I would not have it any other way for Liverpool. Mind you I grew up in a household with two brothers supporting Man United and Chelsea respectively. I was grateful when we won the Carling Cup, Champions League and the FA Cup, but the question always begged, when are we going to win the league? Why is it never us celebrating the league title?
Every single season, from when we had players like Hamann in the centre to Sissoko to even Spearing, season after season, I'd tell myself, I hope we win the league this season. Year after year there was always this one particular week of conceding in my head. I would concede that the title isn't happening this season and we'd have to wait x amount of months till August to go at it again! Some years this particular week of conceding came early in September or October and other times it was slightly later into the season.

It would hurt the most when that particular week of conceding came later in April or at times in May. The worst feeling? Possibly in 2014. By March 2014, I was wondering, could this be the year? Perhaps?! I remember this incident, I was sitting for a 3-hour long final examination. I finished the paper early and spent the last 10 minutes or so dreaming of a League title for Liverpool come May! But once again, misfortune struck. The wait continued. At some point, any sane Liverpool fan would concede, perhaps we're cursed after all!
Every time LFC got close to winning the league title, the next season, despite the hopes and excitement would turn out to be a complete disaster! The season after finishing 2nd in 2014 was no different. It was Stevie's last season with us. It was also the season in which I attended my first Liverpool game in England. A terrible 6-1 defeat away at Stoke, Stevie G's last game for Liverpool and my first. As luck would have it, my first game turned out to be our worst in over 50+ years.
Fast forward to last season, 97 points, you'd reckon that should be more than enough to win the Premier League title. Well in most years yes, but last year? Nope! Why? Because we're Liverpool and the PL had to elude us! Cursed we were indeed!
Life as a Liverpool fan was filled with more and more whys. Why not us!? Why did Stevie slip? Why and how were 97 points not enough?
Honestly, by the end of last season, I was joyous we won the Champions League again. A rather emotional one for me because I lost my dad in the months leading up to the final. In the second round, we drew with Bayern nil-nil at Anfield and I remember telling my dad about the game and how disappointed I was. He told me to not worry, and that they could still make it and 2 days later he was gone. I wish I could tell my Dad they did make it indeed and made it they did all the way to become the Champions.
The entire journey last season was so emotionally charged and it felt divine seeing us lift the UCL. But yet again with 97 points somehow the league eluded us yet again. At this point, I figured perhaps we'll never actually win it in my lifetime. After all, what else is left to do?
Put the 97 points into perspective of your own personal life. Imagine you want something so bad and you give your all and historically you perform better than most, yet, you fail. Would you have the motivation, determination and even mental strength to go at it again?
There is a popular saying, "Anything that can go wrong, will go wrong".  Many times this felt like the motto of LFC. Things always found a way to screw up. The tea was almost perfect, but every single time it boiled over and spilt.
This time, Liverpool decided to leave nothing to chance.
After not winning the league title last season, most of us would have given up and said, "I can't do it anymore". But not these mentality monsters though. Determination, check! Mental strength, check!
They went at it again and how? By redefining the literal definition of the word consistency. Winning 3 points by playing in 2nd gear, winning 3 points ugly, winning 3 points from the jaws of defeat, 3 points in injury time. Three points here, three points there. Next thing you know, by January we were miles ahead of everyone else in the league.
The question begged again, "Could this be the season?" Though with the past history of heartbreaks, I, like many others kept putting off this question. Postponing the answer, I uttered in my head, "let me not get ahead of myself again. Let me revisit this question after the next game." Next game comes and 3 points again. Hopeful but still wary, after all, the countless heartbreaks take a toll on you. Sometimes you're not ready to commit in fear. You know you won't be able to handle yet another heartbreak.
Game after game, the players kept going. Mid-January, we beat Man United 2-0 at Anfield with Salah sealing the 3 points in stoppage time. The Kop followed by belting out the famous song, "We're gonna win the league, and now you're gonna believe us!"
The last time we belted this song in a season, it ended in a complete disaster. Many of us wanted to steer away, to not sing this song fearing the worst could happen again, despite it looking highly unlikely. But that night, we went 16 points and a game in hand ahead of Man City in 2nd place. We recorded our 21st victory from 22 games in the league. This was it! This was going to be the season.
All we had to do was to keep going and come May (or maybe April) it was meant to be our coronation night! But this is Liverpool and disaster had to strike. We had to face our biggest challenge this season, the emergence of a virus, COVID-19. I live in Malaysia, aside from checking the local updates, I kept an eye on the news in England. "Please stay away from England! PLEASE!"
We were within games of winning the title in March, literally inches away when in typical Liverpool fashion, disaster struck. On 13th of March 2020, the Premier League was suspended. My heart sank. Fears crept in again! Another season title-less? Despite us deserving it like no other. We had to face a new enemy, COVID-19. I know I sound selfish talking about football despite the current circumstances. But football is, after all, a go-to for many of us. It is where we feel at home. It is an escape!
The shouts for null and void grew louder. Once again, despite being the best team in the league, miles ahead of everyone, LFC fans alike were getting trolled online. Imagine being a Liverpool fan. About to win the league in 2014, disaster struck. 97 points in 2019, not enough because apparently you needed 98. About to win the league in 2020? A contagious Virus attacks the world. Almost felt like we could do anything in our power and the title would still elude us.
Fortunately enough, the league decided to resume. Motions moved along, Liverpool, as destiny would have it, were to end a 30-year drought. A first league title for many fans, especially those of us born in the 90s.
25th of June 2020! Chelsea beat Man City! Liverpool Football Club, champions of the Premier League. Read that last line again! Finally, after 30 long years of wait for many, 18 years for me personally, Liverpool became the fastest team to win the league (with 7 games to spare) and also the latest team to lift the trophy (in July).
30 years of pain and sorrow no more. What an unbelievable time the last 13 months have been. Like many fellow hardcore LFC loving fans in Asia, we're used to waking up at odd hours for a LIVE game. Kickoff at 3am and off to work/school at 7am. That's how we've grown up. It has become a routine. We'd have it no other way because this is LFC. However many thousand miles away, we're still a part of this football club, a part of this huge global family!
My fellow fans, it's time! Time to celebrate (please stay at home though). Time to banish the hurt of the past. This week, we shall remember many people, those we wish we could celebrate this special moment with but aren't here among us any longer. I miss you Dad! This title is for my father, he never supported a club but always wanted me to be happy. Always pushed me to follow my passion, the Reds in my case.
This title is for our family and friends who have departed, for Liverpool fans who perished due to Covid-19, for fellow fans that departed due to terminal illness in the months leading up to our title victory. This title is for the 96 angels and for their families who never gave up and kept fighting for justice.
This title is for all of us! Thank you Jurgen Klopp and to every single person that made this possible.
For now, my life has come a full circle! YNWA
Yours truly, Jagmeet Singh.