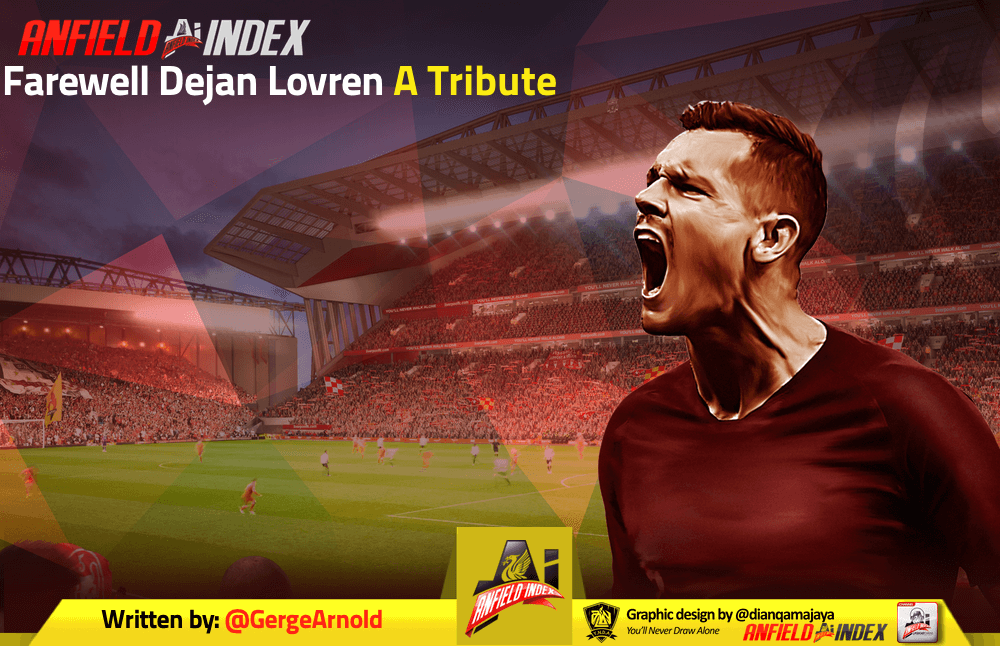 Farewell Dejan Lovren - A Tribute
Dejan Lovren's six years at Liverpool FC are over, as Zenit St.Petersburg signed the defender for £10.9 million on Monday. There are many reasons as to why Reds should look back on the controversial defender, with fondness.
Dejan Lovren debuted for Liverpool against Jurgen Klopp's Borussia Dortmund, in the pre-season of 2014/15. Brendan Rodgers' Reds thrashed the iconic German team by four goals to nil. The Croatian impressed, due to his aggression in the challenge, composure in possession and potency in the air.  'Dejan is perfect', Rodgers mused after the game, 'he is exactly what we have been looking for since Jamie Carragher retired'. Excitement bubbled ahead of the new season, as a new-look Liverpool sought to capitalise on the previous season's title-challenge. Lovren looked set to become the club's defensive talisman.
However, this never transpired. Dejan Lovren plays on confidence, and when the team suffered so did his performances. But, in a mire of his own errors, it is easy to forget the good that he bought to Liverpool FC. He made 185 appearances for The Reds, and scored 8 goals. He won the Premier League, Champions League and reached a World Cup Final. Moreover, Liverpool conceded an average of under one goal in the Premier League games that he played, over the past two seasons. Therefore, the cold, hard, stats point to Lovren's stellar service in a Red shirt.

Furthermore, Dejan Lovren played for Liverpool with his heart on his sleeve. His passion on the pitch matched by his passion for the club, as he thundered into tackles and put his head where it hurt. 'It is a privilege to be here', Dejan eulogised in his first interview as a Liverpool player, 'I know how special it is to play at Anfield'. His passion for the Liverpool FC continued for the duration of his six year spell. He took to Instagram on Monday to thank the fans and the club, with a photo captioned 'The City of Liverpool – Thank you for having me and my familly. You will always have a special place in our hearts'. Lovren always knew what it meant to play for The Reds, during times in which other players did not.
And then there was the Europa League quarter final against Dortmund. An inferno of Red passion swirled around Anfield, with the tie level in the final minutes. As the clock ticked, Dejan Lovren rose to meet James Milner's cross. He planted his header past Roman Burki, pandemonium ensued. Essentially, Dejan Lovren provided one of the greatest European moments that Anfield has witnessed. It was a glorious comeback, in a bubbling Anfield, capped by the Croatian defender. He entered footballing folklore that night. Furthermore, Liverpool's victory against Dortmund was key to their revival. It showed that they had returned as a competitive European force, which culminated with the victory in Madrid.
Liverpool fans should revere any of the players involved in ending the thirty-year title drought. His errors made him human, and this threatens his legacy because he was living on Mount Olympus, surrounded by footballing Gods. But Dejan was a proper Red, who gave the fans unforgettable moments, played a key role in Liverpool's revival and served the club professionally during his six-year spell. So, Dejan Lovren, thank you for everything.