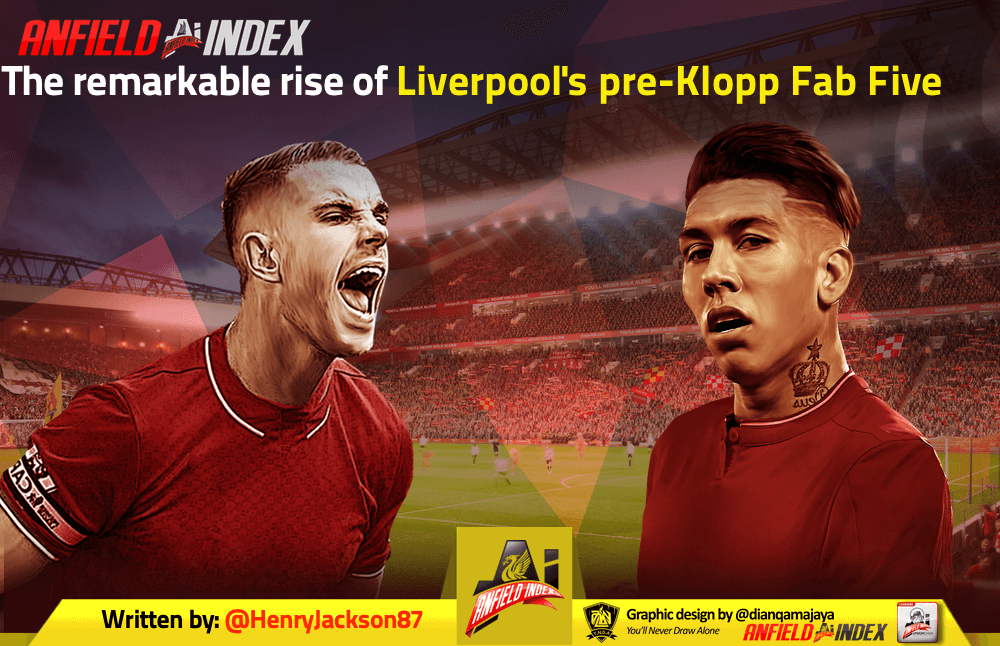 The remarkable rise of Liverpool's pre-Klopp Fab Five
Jurgen Klopp is approaching five years as Liverpool manager, which is a frightening sentence to type. Where on earth did the time go?
At this point in 2015, Brendan Rodgers was in his final pre-season at Anfield and the Reds were looking to bounce back from the humiliation of a 6-1 defeat away to Stoke.
Little did we know at the time, FSG were flirting with Jurgen Klopp during his post-Borussia Dortmund breather, with Rodgers' time all but up.

In the years since Liverpool traded managers, the club has undergone a remarkable rise back to the summit of English football, culminating in this season's record-breaking Premier League triumph.
There have been so many new faces brought in along the way, both in terms of signings and backroom staff, in an era that will be looked back on as one of the greatest in the club's history.
Five figures have actually outlasted Klopp at Anfield, however, being involved ever since the charismatic German walked through the door.
In Joe Gomez, Jordan Henderson, James Milner, Roberto Firmino and Divock Origi, Liverpool have a quintet who have all contributed hugely to the cause, building their own fascinating stories along the way.
In decades to come, this period is likely to be remembered for the defensive brilliance of Alisson and Virgil van Dijk, the world-class end product of Mo Salah and Sadio Mane and the attacking exploits of Trent Alexander-Arnold and Andy Robertson, but these five Reds stars have been heroic, too.
Gomez signed from Charlton in that summer of 2015, with some viewing him as a potential future England captain.
The centre-back had a heartbreaking start to life under Klopp, though – he had shone at left-back in Rodgers' final weeks – with a cruciate ligament injury ruling him out for many months just a week after his new manager's arrival.
Further fitness issues followed, and there have been tough moments to encounter, but we have seen Gomez mature into one of the world's classiest young defenders.
In the last couple of years, he has become Van Dijk's first-choice partner at the back and there have been times when he has matched the Dutchman stride for stride.
Is Gomez perfect? Not yet. But at 23, it is frightening what he can become.
Henderson's Roy of the Rovers career speaks for itself, with his journey from much-mocked youngster to Premier League-winning captain one of the most heartwarming stories in Liverpool history.
What he has achieved after experiencing so many dark periods is astonishing and his place as a bona fide Reds legend is now indisputable.
Rodgers did a lot wrong in his final year at Liverpool, but the signing of Milner was a very shrewd one and Klopp has turned it into a masterstroke.
The veteran was already 29 when he joined from Man City, but five years later, his experience, intelligence, freakish energy levels and nervelessness from penalty spot have been priceless.
While rarely a guaranteed starter in midfield, Milner has contributed so much, not least being a superb vice-captain to Henderson and one of the most versatile players in the squad.
The fact that his career will be remembered most for his time at Liverpool speaks volumes, considering the successful spells he had at Leeds and City.
Then there's the inimitable Firmino, who many could be forgiven for thinking was a Klopp signing. He is the perfect Klopp player, after all.
After taking time to settle in his new surroundings, the 28-year-old has matured into the man who most epitomises this Liverpool side, combining outrageous natural talent with a selfless work ethic unlike any other striker in Europe.
Still criminally misunderstood by some rival supporters, it is hard to put into words how integral Firmino has been during the Klopp era – he is a true one-off in his position.
He has proved to be the perfect foil for Salah and Mane, one of the most colourful characters in the dressing room and possibly even the most popular player among the supporters.
There are lots of contenders, which says a lot about how much Firmino is adored.
Last but not least is Origi, who in a strange way, has done the least of the five, but also produced the biggest moments by some distance.
There are times when you wonder exactly how good, or bad, Origi is, but he will eventually leave Anfield as a legend.
For all the heavy touches and ability to disrupt the rhythm of Liverpool's attacks, the goals against Tottenham, Barcelona, Everton and Newcastle will never be forgotten.
To score in a Champions League final, twice in the most famous semi-final ever and to head home one of the most dramatic Merseyside derby goals of all time is quite an achievement.
It has been captivating to watch the progress made by Gomez, Henderson, Milner, Firmino and Origi since 2015, with Klopp improving all of them immeasurably.
They find themselves at different stages of their careers now – Gomez is a long-term prospect, Henderson and Firmino are in their prime, Milner is on the verge of retirement and Origi is sure to be leaving in the near future.
What cannot be denied is the major part they have all played in Klopp's unforgettable half-decade on Merseyside.