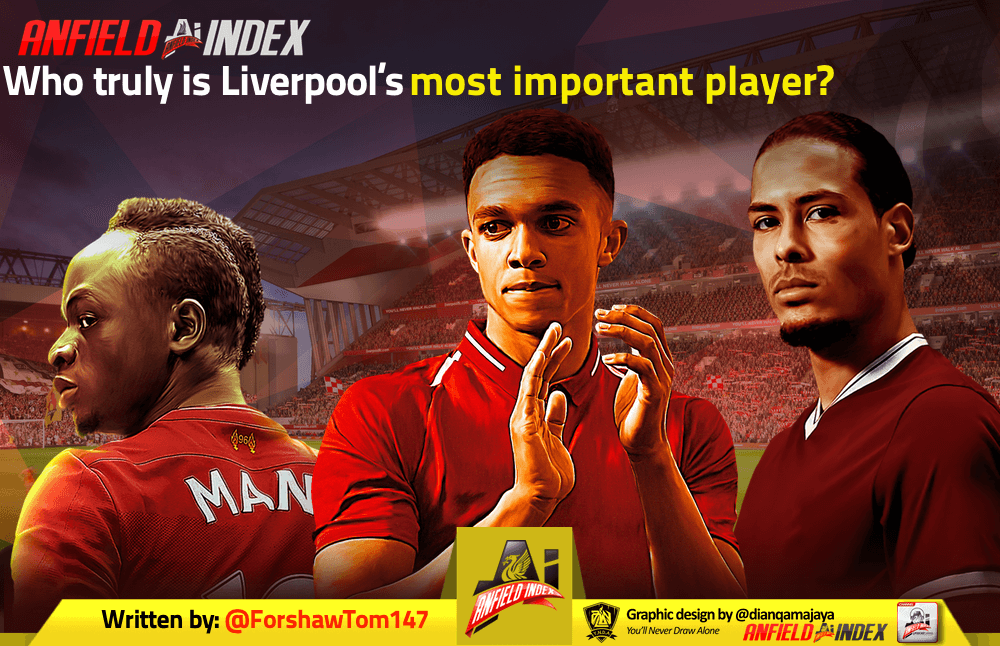 Who truly is Liverpool's most important player?

Picking one player from Liverpool's squad and labelling them the most important is an extremely difficult thing to do.
If there is one thing this season has taught us, it is that we are a cohesive unit that work together to form a phenomenal system, rather than a bunch of individuals playing for personal accolades. The team is built around the system, rather than the other way round in a sense. However, surely someone in the team has to be the most important right? If you take that player away, or move him to an unfamiliar position, then the effect will be bigger than if it was anyone else. The problem is, that could be about 5 or 6 players in this side. Let's try and distinguish who it actually might be.
Now of course, some people will have varying opinions around this question. Many might agree on one player, but even more might disagree and make a valuable case for someone else. They wouldn't be wrong to do so. The first player that deserves a look in is our number 1, Alisson Becker.
Before Alisson, watching Liverpool gave a heart attack every time the ball went into the box. Corners and set pieces were a thing of nightmares for the likes of Mignolet and Karius,. That is simply not the case anymore. Since Alisson has arrived, he has firmly established himself as the world's best keeper, with only Jan Oblak coming anywhere near him in my eyes. Winning the golden glove in his first season with 21 clean sheets and falling 2 short of the award this year, despite missing 9 games, the difference he has made is clear to see. His save percentage is easily the highest in the league too, at a staggering 84%. Nobody even gets close. He could conceivably be our most important without a doubt.
The next player to get a mention has to be the freak of nature that goes by Virgil Van Dijk. I really don't need to convince you on how good this man is, you watch it every week. In fact, the clearest showing of his quality is that every single rival fan will tell you he is the best in the league. It's not even a debate. Since he arrived at Anfield he has transformed a shaky defence into one of the world's very best. He isn't alone in doing so, but he is the largest factor in that change. Seemingly never losing a duel, and managing to head every ball that comes near the box away, he is truly a colossus. Most impressively though, he does all of that without looking like he breaks a sweat, it is remarkable.
Often a criticism of Liverpool is that we aren't creative enough in midfield, which is where Trent Alexander-Arnold enters the conversation. The reason we can afford to have more industrious midfielders, is because we have one of the best playmakers in the world at right back. His passing is so good, that he finished with 13 assists this season, breaking his own record for most by a defender that he set last season. I reckon he could find water in a desert. Considering most of our attacks build through him, you wouldn't be laughed at if you considered him the most important in our side whatsoever.
Now someone who maybe a few years ago wouldn't have belonged anywhere near this conversation is our captain Jordan Henderson. Now though, he has to be mentioned. This season when he played, our win percentage was 90%, and we were 96.6% unbeaten. Without him, those figures drop to 57.1% and 71% retrospectively. That is no coincidence, as the leadership and tempo setting he brings is sorely missed when he isn't there. If you'd have told me 5 years ago that a man I once labelled 'The Crab' would go on to be this vital for us, I'd have probably had you locked up, or just assumed you were a blue nose trying to wind me up. Not anymore though.
Separating the next 2 players is almost impossible when looking at their roles in the side. Mo Salah and Sadio Mane play extremely similar roles in the Liverpool system, and each of them do it wonderfully. Salah tends to be the more direct of the two, having what feels like 2 or 3 chances to score every match. Furthermore, he also picks up more assists than Mane, grabbing 10 to Mane's 7 this season. However Mane just carries this electricity and dynamism that cannot be matched by anyone across the league. He is a constant threat and uses his blistering pace and strength to create so many opportunities for our boys. Both of these guys have transformed our side's attacking prowess over the last 3 years, and each of them deserve to be high up in this conversation.
Finally, the last player that I feel warrants a mention is someone who has been referred to as 'The System', Bobby Firmino. A lot of rival fans don't understand Roberto Firmino, often critiquing his lack of goals. Those people simply don't understand football, and listening to them is about as useful as listening to the bin. Instead, listen to the likes of Gary Neville, who has said that any manager in the world would want Bobby as their number 9. I believe Firmino is the only player in the whole world who can play the way he can. Nobody else has it mastered. The defensive work, the quality of press, the tricks and flicks, the positional sense, even the kung-fu kicks. It is all work that can fly under the radar if you don't watch him week in week out. When he doesn't feature, the difference is astounding.
So, that's who I have on the shortlist for our most important player. The thing is, you could make a case for more too. Fabinho and Robertson may feel hard done by. However I could genuinely make a case for nearly every player, which kind of defeats the object. If you gave me long enough, I could probably convince you that Divock Origi was our most crucial player. Maybe not actually, but you get my point. Personally, I think the answer is Van Dijk. The only reason why I put him ahead of his counterparts is that he is the only player who over the last 2 years has been undroppable no matter what. Everyone else gets rotated at least a little, but not this man.That is because I feel the drop off without him is so large, that it has a knock on effect to our whole defence, and thus our whole team, so he takes the cake for me. Who do you think is our most important? I'm sure you won't be the only one thinking that. Unless your answer is Div, in which case you almost certainly are.