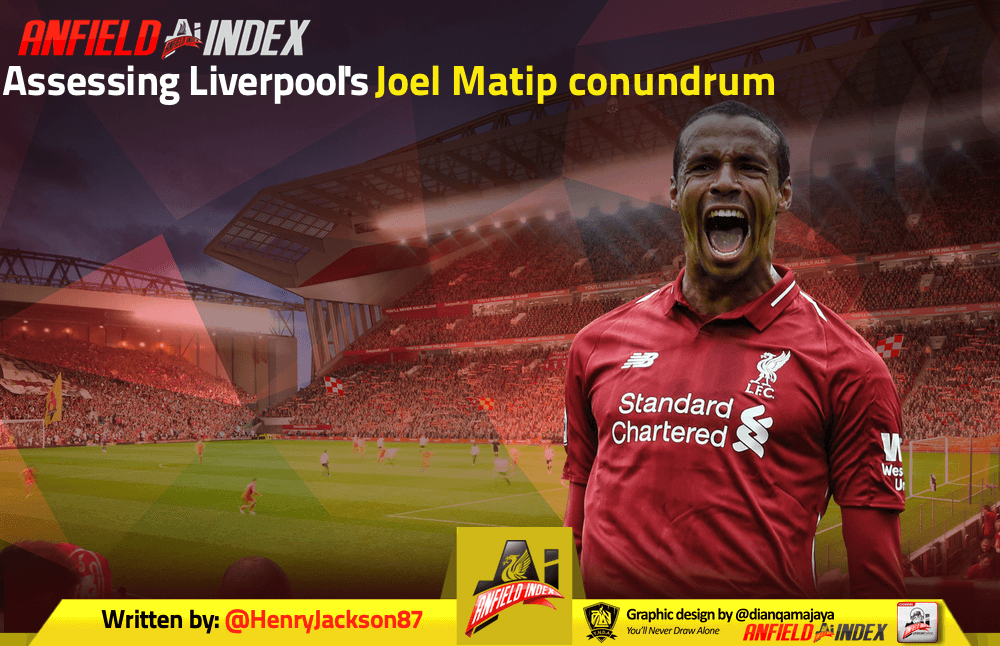 Assessing Liverpool's Joel Matip conundrum
Over the weekend, and very much out of the blue, Joel Matip was linked with a Liverpool exit this summer.

Reports in Africa claimed that Paris Saint-Germain are eyeing up a £50 million move for the 28-year-old, seeing him as an ideal long-term replacement for Thiago Silva.
It was a story that got Liverpool supporters in something of a frenzy, with some turning their noses up at the idea of Matip leaving and others seeing sense in it.

What is clear is that the Cameroonian's footballing ability has nothing, or at least little, to do with some fans wanting him to be sold in the coming weeks.
Matip has been a fantastic signing since arriving in the summer of 2016, producing calm performances at the heart of the defence, not least in the Champions League final last season.
On football's biggest club stage, and with numerous world-class players on show, it was Liverpool's gangly centre-back who outperformed anyone on the night, ensuring European Cup number six was won.
Along with Gary McAllister and James Milner, he has to be considered one of Liverpool's best free transfers of the Premier League era.
There have been times when Matip has rightly been seen as Virgil van Dijk's first-choice partner at the back and his likeable character has seen him become a firm favourite, both with fans and teammates.
You arguably won't find a better third-choice centre-back than Matip in Europe – Joe Gomez has since usurped him in Liverpool's best XI – further highlighting why so many don't want to see him leave.
But then there are the injury issues.
During a four-year period in which Dejan Lovren was constantly sidelined for a string of fitness woes, Matip's own injury record has gone under the radar in comparison.
He has seemed incapable of staying fit for long periods of time, proving to be infuriating, not to mention leaving the Reds even more dependent on Van Dijk remaining healthy at all times.
According to Transfermarkt, Matip has missed 60 matches for Liverpool in his four seasons at Anfield, although that doesn't even appear to take into account the recent games that he has been absent from during the post-lockdown spell.
At an average of 15 matches a season, that is a worrying statistic, especially as Matip is now approaching 30 (he turns 29 this week).
There is the argument to say that Liverpool could cash in on the former Schalke man while he is still in his prime – £50 million is a big sum of money – generating funds to bring in a younger, more injury-free defender.
While there is an element of logic in selling Matip because of his inability to stay consistency fit, the positives for keeping him still comfortably outweigh the negatives, though.
This is still a player who has made 111 appearances to date for Liverpool, proving to be an important figure during one of the best periods in the club's history. An unruffled footballer, he has got the job done more often than not, allowing others to make headlines.
He also seems content with a squad role, which isn't easy to find in players, and his aforementioned popularity and knowledge of what it takes to play for the Reds are priceless. He feels like part of the scenery.
Matip's use of the ball is fantastic, going hand-in-hand with Klopp's style of play, so it would be difficult to find an adequate replacement, at a time when the transfer market is a confusing place.
It would be a huge surprise if Liverpool did entertain the idea of letting Matip go, especially with Lovren moving on only a matter of days ago.
Klopp would then have to bring in two new faces, which makes little sense, both in terms of finance and allowing two experienced heads to move on so close together.
The hope is that Matip's injury problems ease and that he returns next season fully fit and raring to go, but he does seem to be a player capable of picking up knocks at will.
So many of his injuries have been innocuous, only for a reported few days on the sidelines to suddenly turn into weeks or even months.
It has probably reached the stage where Matip can no longer be trusted to be a guaranteed regular at any point, but his importance to the cause remains great.
The reported fee that PSG are willing to spend is eye-opening, but when push comes to shove, Liverpool would be worse off if they opted to end Matip's stay on Merseyside.