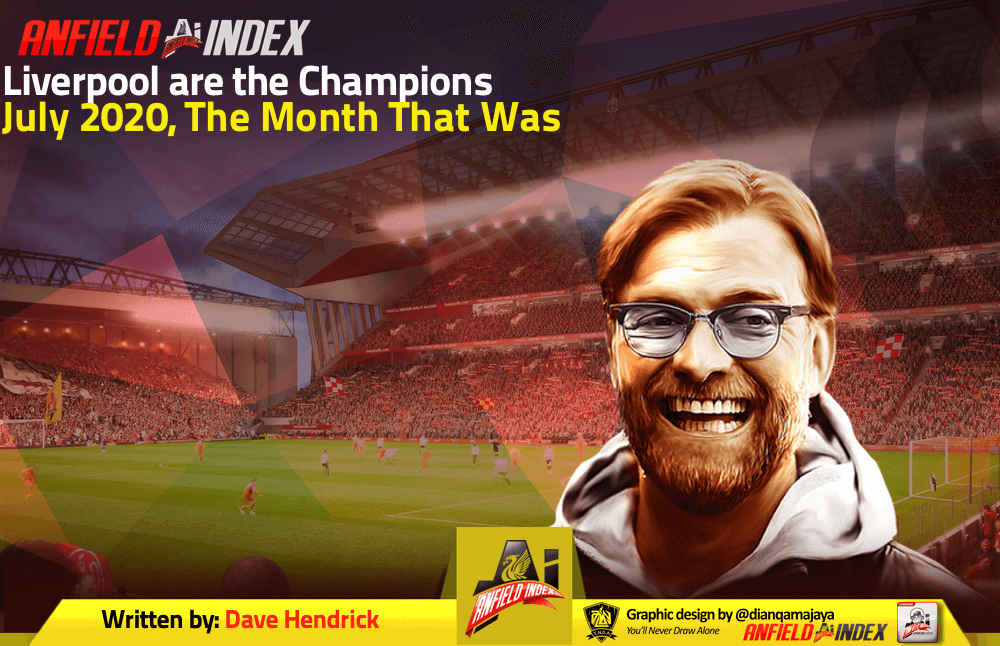 Liverpool are the Champions - July 2020, The Month That Was

In the middle of the strangest year many of us will ever live through came a bright spot as Liverpool Football Club finally ended their 30 year wait for the league title.
The title had been confirmed on the night of June 25th, when Manchester City lost at home to Chelsea but the Reds had to wait almost an entire month to get their hands on the trophy.
The month had started badly on the pitch, a 4-0 thumping away to City is nobody's idea of fun, but it didn't really matter. Klopp's men went into that game still in party mode and after a spirited opening 20 minutes or so the beer and vodka consumed over the prior week started to seep from the players' skin and their level of intensity fell drastically. City scored one, two, three and then four. It was… insignificant. It didn't matter. Liverpool are the Champions.
Next up was a home game against Aston Villa. A game which produced possibly the dreariest first half Liverpool fans have seen since Klopp took over. If the City game was an example of Drunk Liverpool. Here was Hungover Liverpool. Playing at a pace just above walking, just below an Over 70s league. Two goals in the second half secured the win, but it didn't matter. Liverpool are the Champions.
Then came a trip to the seaside. Kloppo normally likes to take the boys to France in July, this year he brought them to Brighton. The Seagulls were beaten 3-1 but it didn't matter, Liverpool are the Champions.
Jordan Henderson got injured, and that did matter. Not because he'd miss some games, the season was over and extra rest is always nice, but because it put the possibility of seeing his trademark shuffle at the trophy presentation in doubt. Priorities and all that.
Burnley came to Anfield next. They did Burnley things. They had big tall fellas all over the place. And their keeper had an absolute worldie. Seriously. Nick Pope was ridiculous on the day. He's too good for Burnley, as is Dwight McNeil. None of that matters though. Why? Because Liverpool are the Champions.
Arsenal away came next week. What happened doesn't matter, but since the Gooners have been getting themselves all excited about the result let's talk about what happened. Liverpool smacked Arsenal around their home patch. Kloppo put Arteta across his knee and tanned his arse like he'd been caught stealing sweets, and then Virgil and Alisson combined to throw the game away. The two big handsome bastards. The magnificently brilliant colossi that Klopp and Edwards brought to the club made errors that are completely against who they are as players, and gifted Arsenal the result.
Arsenal fans likely don't see it that way, but that's because they've watched mediocre goalkeepers and crap centrebacks for nearly 15 years now and have no earthly idea what greatness looks like. They've become immune to errors. We did as well. When Skrtel and Lovren were doing Skrtel and Lovren things, we became immune. If they got through a game without falling over their own laces we saw it as a win. Arsenal fans are like that now. Take a moment and think about having to watch Mustafi, Luiz, Holding and the rest week after week, month after month, year after year. You'd take any win you can get. And so they did. A 2-1 win, after getting battered for the majority. Two goals despite creating not a thing. Well done Arsenal, you still finished 8th. Liverpool are the Champions.
Then came something that did matter. There was a game, the Reds scored five and looked at times like they could put the ball in Kepa's net any time they wanted. Frank Lampard showed himself up as a bit of a twat. Something he's done multiple times since – Frank, getting your uncle to call the owner of Derby so they'll give you the manager's job isn't "doing it the hard way". Just FYI – but that's neither here nor there. After the game that's what mattered.
A custom built stage had been erected in the Kop, there were more fireworks than you'd see in a pikey's trailer at a dodgy car boot sale, Kenny Dalglish of Anfield Index Pro was there to hand out medals and just be a legend in general.
Up went our lads, led by Kloppo. The man who changed everything. The man who took us from midtable to Champions of Everything. The man who must surely get a statue someday. The coaching staff followed, and then the players. You realised quickly what a small squad of players we actually have had. It makes the achievements all the more impressive. One by one they made their way, and then came Henderson. Full kit, boots, captain's armband. The lot. He was limping a bit but he had a smile on his face that would have need a team of plastic surgeons to remove. He got his medal, he was handed the cup. He made his way to his teammates, and he started to shuffle. The knee held up, he turned and lifted that big beautiful trophy above his head as the fireworks show began. It created an awe-inspiring image.
It was a massive shame that there were no fans there. You have to feel, in particular, for the long time season ticket holders who sat through years of dross and should have been there to witness it. But the long and the short of it, it doesn't matter. Liverpool are the Champions. That's all that matters.
30 years of waiting. Over. Liverpool Football Club, back on their perch. The old bird flying high once again.
There's a couple of things that came out of the ceremony that should be addressed.
Chelsea fans seem outraged that Henderson isn't getting the same abuse John Terry got for his full kit when they won the Champions League. There's two reasons for this. Henderson played in the meaningful games that won Liverpool the title. Terry didn't play in Munich. He didn't contribute to them winning the game that won them the European Cup. He should have followed Roy Keane's example, and not been the one to lift the trophy on the night.
There's also another factor. A bigger factor. John Terry isn't likeable. Ask Wayne Bridge and Anton Ferdinand why. Jordan Henderson is universally liked. Whatever anyone thinks of him as a player, he's clearly a fantastic human being. So he shouldn't get any abuse for it. I hope he was wearing shin pads and all. The armband, and the boots while his teammates who'd played wore runners, were outstanding additions.
The Reds wrapped up the season with a trip to Newcastle where they broke the club points record with a 3-1 win giving them a tally of 99 for the season. Newcastle fans gave it the big one on social media afterwards. They had billions coming. Just wait. Next season they'd have Mbappe and all the rest. That went well. But it doesn't matter. Liverpool are the Champions.
And that's really what July was, a month of the Reds being Champions. They will remain Champions until next May or whenever next seasons title is decided. That's how it works. You're the Champions until someone else wins it. United fans are outraged about pictures with the European Cup and the trophies won this season. Furious. The same group that still crow about their treble in 1999 are annoyed about our players taking pictures with a trophy won last season, that they are still the holders of.
We now enter silly season. The transfer window. Liverpool will be linked to lots of players. Thiago Alcantara is the first. It seems to have legs. The journalists who take joy in crushing transfer rumours haven't rubbished it. The German press, led by Rafa Honigstein, seem to think it'll happen. His participation in the remain Champions League games delays any progress but it feels like a deal could happen. But for now, it doesn't matter.
Why?
BECAUSE LIVERPOOL ARE THE CHAMPIONS.
THE CHAMPIONS OF EVERYTHING.