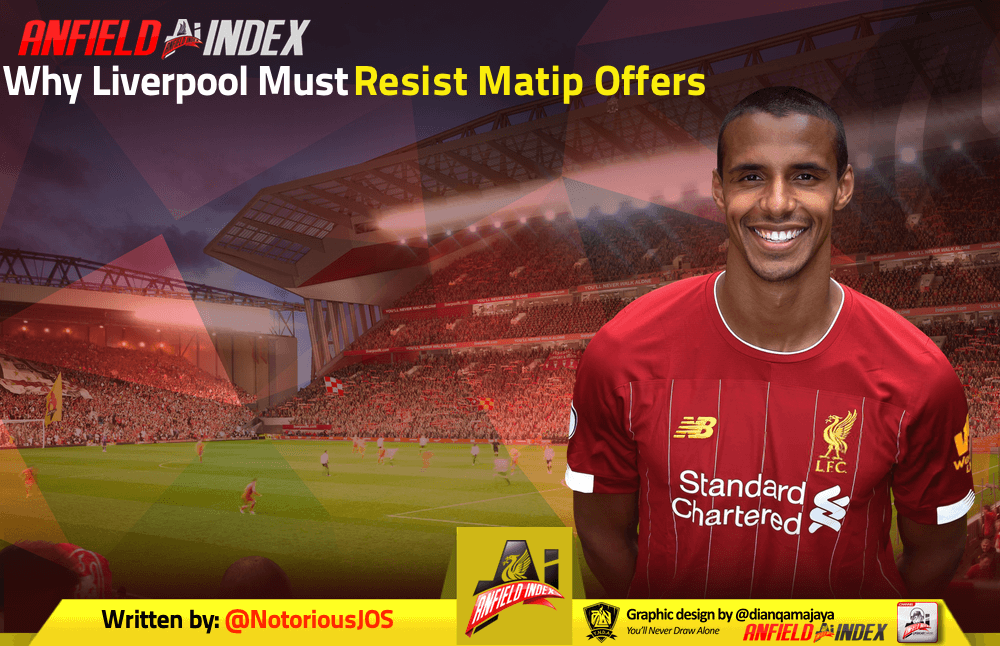 Why Liverpool Must Resist Matip Offers
Rumours emanating from Cameroon suggest that Paris Saint Germain would be interested in signing Liverpool centre half Joel Matip.
According to kick442, the Parisians coach, Thomas Tuchel, and their sporting director, Leonardo, would like Matip, 28, to replace the outgoing Thiago Silva who will leave the club on a free transfer this summer.
However, despite injury meaning the former Cameroon international only clocked up 13 appearances last season, the Reds should rebuff all approaches for their number 32, even if — as rumoured — thee fee would be as big as £50,000,000.

Letting Matip go would mean Liverpool — after selling Dejan Lovren to Zenit St Petersburg — would have to replace two senior centre-halves in the same summer. Given the paucity of quality operators available at reasonable prices in the position, the Reds would leave themselves with a big mountain to climb in the market if they rubberstamped the former Schalke players departure.
Jurgen Klopp would likely want to avoid a scenario where Virgil van Dijk — *touches all wood available* — and Joe Gomez are injured and he would have to field two centre-halves who are not only new to the club and its systems, but also unaccustomed to playing alongside each other. When a team is chasing every trophy in their path, adaptation periods for players in key positions is a luxury they cannot afford.
Matip himself — who won the Premier League player of the month award in September, continuing the rich vein of form that saw him become an integral part of Liverpool's sixth European Cup triumph last June — boasts a varied arsenal of attributes, capabilities that are rare to be found in the same player.
Quick, comfortable on the ball, averaging an 87% pass success rate — the majority of which travel between five and 25 yards, highlighting his ambition on the ball and — despite only playing 703 Premier League minutes last season — statistically the most aerially dominant player in the league, winning 90% of his aerial duels, the Cameroonian German is an ideal fit for what Klopp wants from his centre-halves and knows the system at Anfield inside out.
Matip's injury record has often been cited as justification for potentially moving him on, but he was been unlucky — being injured by awkward challenges from opposition players — rather than particularly susceptible to muscle injuries and recurring niggles.
Another string to the 28-year-olds bow is his personality. Quiet to the extent that people don't seem to know anything about his private life — with the hilarious cameo he made in Liverpool's video promoting  Chaokoh coconut products one of the only times fans had ever heard him speak — Matip doesn't seek the limelight and has never complained about not always being first choice centre half.
To have a player of Matip's on-field quality, who doesn't rock the boat when things aren't going his way, coupled with his professionalism and a team-first ethic would be something hard to find on the transfer market, particularly in the era of the global pandemic lessening Liverpool's financial might.
Replacing Lovren — given that Ki-Jana Hoever and Sepp van Den Berg are greenhorns in terms of experience and are unlikely to be ready to make the step up to first-team action — should be one of the Reds' main priorities in this transfer window and the club cannot make life harder for themselves by adding Matip — a player of a high calibre — to that list.
Somehow, despite playing a prominent part in the Reds' last two, record-breaking, campaigns, Matip is still an underrated player. Perusing through most Premier League teams squads, few teams have first choice centre-halves as good as Liverpool's retired Cameroon international, never mind back-up options.
In order to look to retain their Premier League crown and to compete for their seventh Champions League success, Liverpool — whether they plan to use him as first choice or as a rotational option with Joe Gomez — need to keep the man they signed on a free transfer in the summer of 2016.