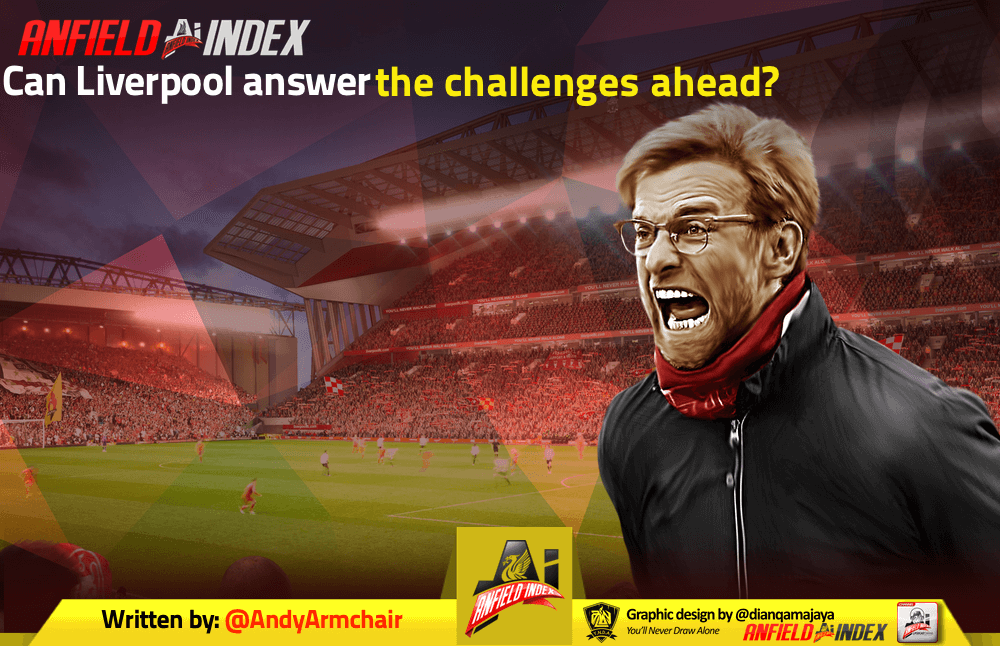 Can Liverpool answer the challenges ahead?
It was little more than a year ago when I risked being the party pooper. With many still celebrating winning 'old big ears' for a sixth time, I suggested that in true Ronnie Moran fashion it was time for the players to put the medals away. I asked the question as to how hungry the team was for further success. 
It wasn't that I believed they were about to spend an entire season, with cigars in hand, dining out on that night in Kyiv. It was more about whether they were ready to meet the challenge to start again. If they had the insatiable hunger and desire it takes to keep winning trophies. To go from being a team that won a trophy to a trophy winning team. 
I stressed that becoming European Champions should not be the culmination of this team. There were enough narratives in coming back from the heartbreak against Real Madrid and navigating various hurdles to win that prize 12 months later to fill a book. I simply wanted it to be a chapter in an epic tale, not the entire story. 

Thankfully, they proved in emphatic fashion that they are no one season wonders. Just as they responded to the disappointment of Kyiv the best way possible, they did the same in the Premier League. Klopp hailed his team as "f***ing mentality giants" after that incredible 4-0 Anfield defeat of Barcelona. The team continued to live up to their manager's billing. 
As well as their talent and togetherness, it is that mentality that Klopp hailed in his Liverpool side that I admire so much. For two years running, they have countered set-back with success. 
So again, my challenge is can they go further? Can they build upon an incredible couple of years and create a new era, a new Liverpool dynasty for the history books?
Whilst the Champions League and Premier League crowns came from agonisingly missing out the previous campaign, the energy in defending this league title will be different. 
Along with an update in motivation, an adjustment of mindset will be required. Klopp, of course, has been here before with Borussia Dortmund and successfully defended his first Bundesliga title at the Westfalenstadion. Jürgen certainly doesn't need me to tell him that winning a title is one thing, but retaining it is another. 
Much like a boxer motivated by the goal of becoming a world champion. What do they do once they've achieved it? Essentially, they must go from being challenger to defending champion. A role change that is never as easy as it sounds.
The winning mentality that has been fostered and developed within the squad will doubtless be tested next season. In addition to this mentality, Liverpool have demonstrated an unbelievable level of consistency. Anfield has witnessed some great players and very good teams over the past three decades. Along the way, some delivered trophies. All of them were cups though, because for all the qualities that those various cup winning teams possessed, they lacked the consistency required to bring home a league title. 
Graeme Souness spoke glowingly on Sky about the consistency shown by Klopp's title winning team on the evening they lifted the trophy. "The consistency levels were off the charts. Man City still played fabulous football, but they gave up because this Liverpool team showed so much consistency". Souness went on to describe the Liverpool team as a relentless machine.  
Whatever your thoughts on Souness for his time as Liverpool manager, as a player he knew what it took to win league titles. And retain them. He also believes this team can go on to win more titles. 
They certainly have the talent. Recent history suggests they also have the necessary hunger and desire. If they can sustain anything near the level of consistency they've shown the past couple of years, then they will be in an excellent position. Detractors may point to the 'relentless machine' suffering a few misfires after the title was tied up. However, the slight drop off can be excused, even expected, given the circumstances. It is something that even the great Bob Paisley teams experienced. 
One concern could be squad depth in certain areas. The departure of Dejan Lovren leaves only three senior centre-backs and there remains no discernible cover for Andy Robertson at left-back. Transfer rumours circulating suggest that the club is exploring options to resolve those issues. The financial impact of Covid has hit much of football, and Liverpool are not immune from that. It was why a deal for Timo Werner was not done. 
Modest squad options in those two defensive positions are doable. However, finding an attacking option capable of pushing the fabled front three will be more of a challenge. The old adage is to strengthen when you're on top, but in the absence of an oil-rich donor, Liverpool are restricted by circumstance. One thing is for sure though, Klopp and his recruitment team have earned trust. Perhaps a surprising opportunity might yet present itself.
So, after ending the 30 year wait for a league title under unique circumstances, some of the challenges they now face in defending it will also be unique. Other challenges will be the ones faced by every defending champion: can you deal with the target on your back? After two years of responding the best way possible, Liverpool face a different test. 
Covid took away the opportunity for players and fans to share a title celebration together and it's unclear as to when it might happen. However, once pre-season begins, any thoughts of parades will need to be put to the back of the minds of the players. As the great Ronnie Moran would have told them, put the medals away now boys and go win some more.