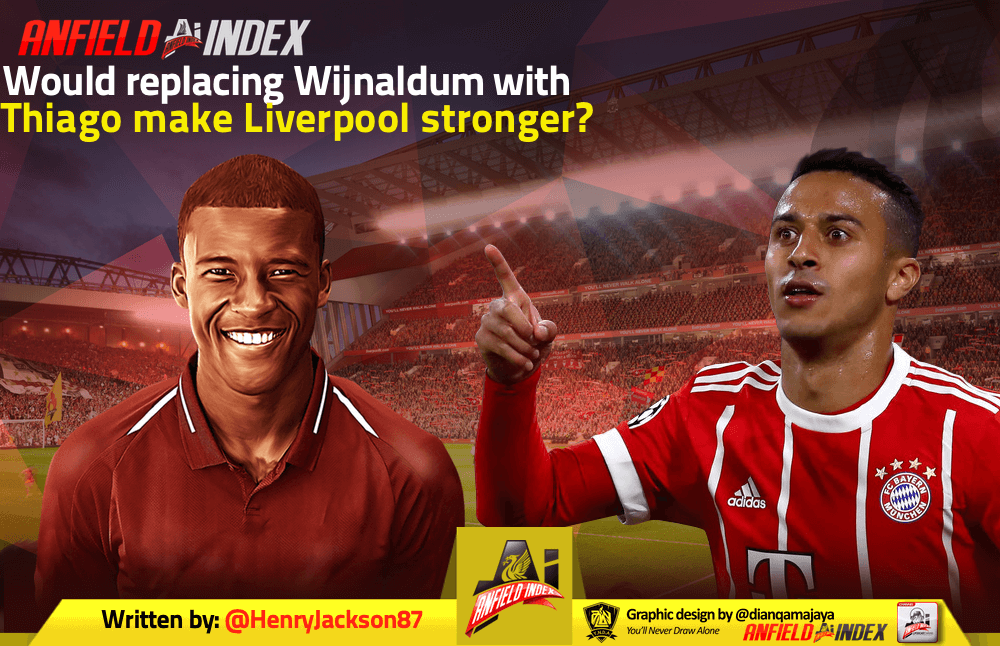 Would replacing Wijnaldum with Thiago make Liverpool stronger?

A quiet summer is expected at Liverpool, as Jurgen Klopp again remains content with his squad, give or take the odd departure or new face.
Former Southampton trio Nathaniel Clyne, Dejan Lovren and Adam Lallana have all moved on, having become symbols of Liverpool's past, while Norwich's Jamal Lewis could be a rare addition in the coming weeks.
If there are two soap operas that may provide Reds supporters with some transfer drama, however, it is futures of Gini Wijnaldum and Thiago.
Wijnaldum is still yet to sign a new deal at Anfield and there doesn't seem to be overriding optimism surrounding the Dutchman extending his stay in the near future.
Then there's Thiago, who looks almost certain to leave Bayern Munich before the start of next season, and who has been continually linked with Liverpool – seemingly his dream move.
At 29, the Spaniard may be no spring chicken, but his pedigree as an elite footballer makes the Reds' possible capture of him hugely exciting.
The problem that lies ahead is that it sounds increasingly as though Liverpool won't begin the 2020/21 campaign with both Wijnaldum and Thiago in their ranks.
The Times' always-reliable Paul Joyce suggested as much last week, claiming that only Wijnaldum moving on would make the signing of Thiago likely, in what would be one of the club's most high-profile buys in years.
But what is the better situation for Liverpool: Wijnaldum staying or Thiago joining?
There are sure to be passionate supporters on both sides of the argument, summing up why Klopp is provided with such a healthy headache, should the recent reports be accurate.
Wijnaldum has been one of Liverpool's most important players with Klopp at the helm, even if his vast influence often goes criminally under the radar.
A player blessed with great tactical intelligence and selflessness, he has knitted the midfield together over the last four seasons, allowing others around him to shine.
That's not to say he hasn't earned headlines himself, though, with Champions League semi-finals goals against Roma and Barcelona, and strikes against the likes of Man City, Chelsea and Arsenal, proof of that.
There are some who don't fully appreciate what Wijnaldum brings – he can also excel in a more attacking role, as he has shown for the Netherlands – but without him, Liverpool wouldn't have enjoyed the success they have.
Despite this, Wijnaldum does turn 30 later in the year, and given his style of play, it could be argued that the Reds won't have him in his prime for too much longer.
This is where the argument for Thiago comes into play.
The ex-Barcelona star may be 29 as well, but his game is built more around technical brilliance than fitness levels, so he could have the capacity to play well into his 30s.
Not only that, but the Spain international would bring the world-class guile that has been missing from Liverpool's midfield for a long time.
Naby Keita and Alex Oxlade-Chamberlain do possess flair, and it would be unfair to say that Fabinho, Jordan Henderson and Wijnaldum can't be creative, too, but Thiago is on another level.
A wonderful playmaker who has the ability to run a game single-handedly, it would be intriguing to see him in a midfield alongside two workers. His metronomic class could be the ideal foil for those around him.
It is hard to criticise a Liverpool team that has accumulated an astonishing 196 points in the last two seasons, but a lack of midfield cutting edge has occasionally been an issue, especially away in the Champions League.
Would it, therefore, suit Klopp best to have Thiago instead of Wijnaldum over the next two or three years?
In Fabinho and Henderson, and the ageless James Milner, Liverpool would still have bags of industry – Keita's off-the-ball work is also exceptional – as well as a world-class creative option on top of it.
Thiago's injury problems are perhaps the biggest negative surrounding a move for him, especially as Wijnaldum is at the other end of the spectrum, in terms of reliability.
Wijnaldum has made 186 appearances in four seasons, whereas Thiago has suffered five different injuries in the last two years alone.
Essentially, the ball appears to be entirely in Wijnaldum's court. Klopp is clearly more than happy to keep hold of him – understandably so – but he may decide that he wants one more big challenge before the autumn of his career arrives.
Should that happen, the idea of Thiago in a Liverpool shirt would then become a distinct possibility.
When push comes to shove, I would personally take a punt on Thiago and accept Wijnaldum leaving, much as it pains me to say it.
He has been a wonderful servant and still has plenty in the tank, but to pass up the chance of signing a player of Thiago's calibre is too good to miss. He could be a genuine game-changer.
He has been one of the world's best midfielders for a number of years, when fit, and he could help take Liverpool to even greater heights, bringing something completely different to the table.
The likelihood is that Wijnaldum signs a new deal, putting paid to the Reds' hopes of bringing in Thiago, but either scenario ultimately has huge benefits.
It is an enviable position for Klopp to be in.