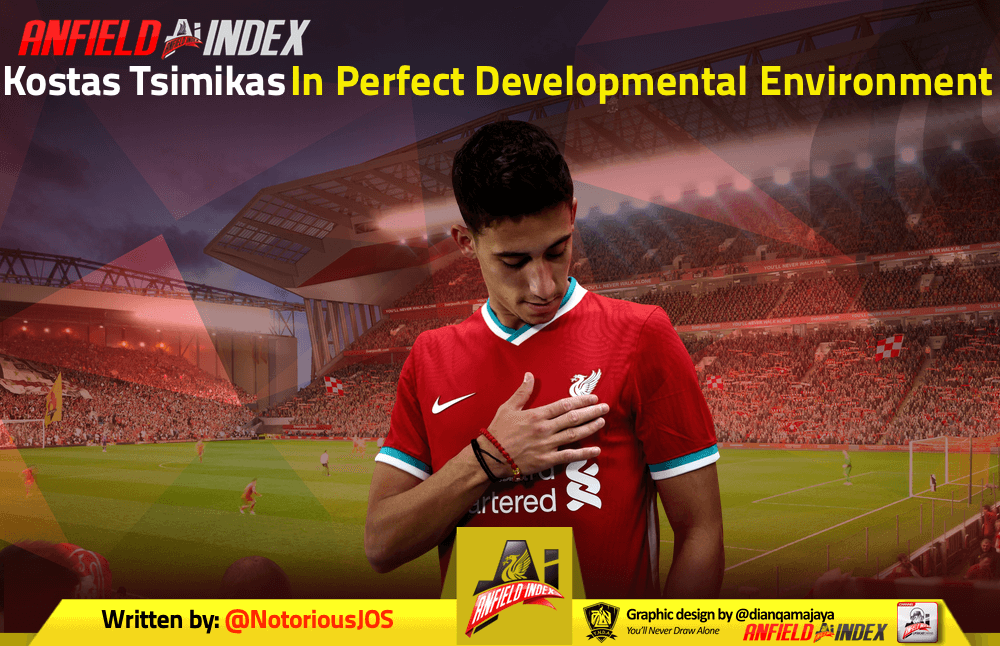 Kostas Tsimikas In Perfect Developmental Environment

Liverpool addressed their depth issue at left-back when they completed the signing of Kostas Tsimikas from Olympiacos on M0nday.
The 24-year-old Greek international moves to Anfield for a fee in the region of £11,000,000 and will act as the understudy Andrew Robertson.
Given the emphasis placed on the Reds' full-backs to create, their role is energy consuming — more so than other areas in the team — and having an adequate back up to Robertson — as well as Trent Alexander Arnold, with Neco Williams emerging as a first-team option — could prove huge for Liverpool next season.
To be able to rest their bombastic Scotland international, who, despite finishing third in the Premier League assist ranking, looked jaded at times last season will give the Reds an extra creative push. Simple logic dictates that 50 games of Robertson at 80% is inferior to 35 games of 26-year-old at 95%.
Competition is also an aspect that drives Robertson on. It is worth remembering that the Scotland captain — who was vying for the left-sided full-back berth with Alberto Moreno — didn't start back to back league games for the Reds in his first six months at the club. Eventually, after an injury to Moreno, the former Hull City player nailed down the starting spot and hasn't looked back since, establishing himself as arguably the world's best left-back in the process.
With Tsimikas now in situ, Robertson knows he will have to be on his toes if he wants to remain the first choice with Jurgen Klopp. £11,000,000 is a small price to pay to have a fully fit, elite player with an extra jolt of motivation coursing through his veins.
In his own right, though, Liverpool's new signing can add something to the squad. A proficient dribbler, a solid one versus one defender — evidenced by the solid defensive number he did on Adama Traore, the scourge of full-backs, in Olympiacos' recent Europa League clash with Wolves — with the pace and crossing ability that makes him the consummate modern full-back.
Klopp can take his time integrating new signings into his team —  as seen with Fabinho and, as mentioned above, Robertson  — and Tsimikas may well be another player who is gradually eased into proceedings, methodically learning the intricacies of the Reds' system on the training ground.
But, unlike the number 26, the Greek will come into a solid, defensively calibrated unit without the pressure of having to fix a recurring points costing issue. For all his attacking prowess and pace, Moreno — despite starting the 2017/2018 season in strong form — was a defensive liability, especially next to Dejan Lovren, and Liverpool needed Robertson to be able to come into the team and become a long term success and fix their leaky, pre van Dijk backline.
Tsimikas remit is less pressure burdened and he can work on his game, away from the limelight of the television screens on the training paddock. If and when the new number 21 does play, he also has the benefit of playing down the Reds' left-side, comfortably their strongest flank in terms of defensive quality.
With Virgil van Dijk — indisputably the world's finest centre half — and Georginio Wijnaldum — an often underappreciated, yet tactically brilliant midfield safety blanket —  stationed on the left of the English Champions' team, Tsimikas will have adequate protection from two of the most physically, defensively and tactically dominant players in the league.
Most teams, keen to avoid van Dijk, funnel their attacks down Liverpool's right, targeting the brilliant, yet defensively worse, duo of Joe Gomez and Alexander Arnold instead and this would leave the three-times capped Greek international with a lower volume of defensive work.
Sadio Mane's defensive work-rate is another element that should help Tsimikas adaptation to English football, with the Senegalese star — added to his world-class attacking abilities — no stranger to rolling his sleeves up and assisting his full-back on the left-side in their protective chores.
Mane's ability to attack on the outside of defences, in the style of an orthodox winger, or to cut infield and play as an additional forward should help the former Willem II loanee — a club who Sami Hyypia and van Dijk both played for — with his attacking responsibilities.
Tsimikas, who is comfortably cutting onto his right foot and taking shots — which he almost spectacularly proved against Arsenal for Olympiacos in the Europa League last season — or playing tight to the line and hoisting in crosses — which he did to assist Guilherme against FC Bayern in the Champions league — should, on paper, form a formidable pairing with Mane on the left, with both players capable of switching the point of attack.
By all accounts, the Reds have been tracking the Greek since 2018 and he has clearly satisfied their statistical models and — with a glowing reference from Pedro Chirivella, a former Liverpool player who played alongside the 24-year-old  on loan at Willem II — fits the personality profiles that they look for within the corridors of power at Melwood.
Tsimikas could prove to be an excellent signing for Liverpool, even if it isn't immediately clear.