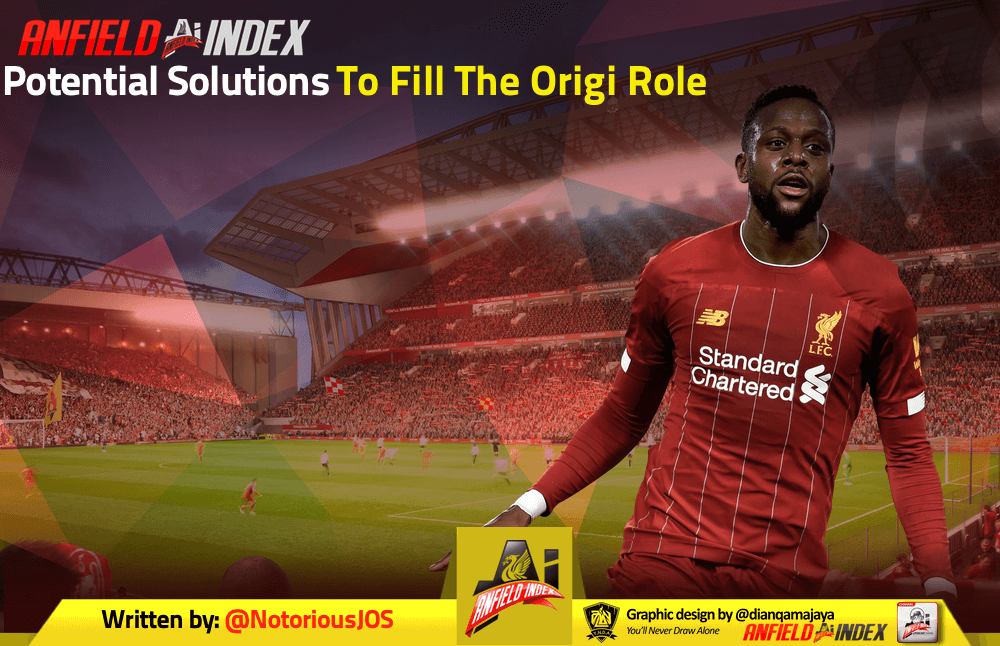 Potential Solutions To Fill The Origi Role

Divock Origi is a strange case.
The Belgian forward has cemented himself into Liverpool club folklore with his contributions in last season's victorious Champions League campaign.
The 25-year old scored a brace in the Reds' miraculous 4-0 second leg semi-final tie against Barcelona, sealing their passage to a second consecutive European Cup final.
Then, in the showpiece itself, Origi smashed a low left-footed drive past Hugo Lloris to put the final nail in Tottenham's coffin, rubberstamping a 2-0 win which saw Europe's premier club competition trophy reside in the Anfield trophy cabinet for the sixth time.
But ask Liverpool fans whether they feel the time is right for the former Lille man to move, the consensus is yes.
As difficult as it is to be a fourth choice forward — only playing sporadically and expected to be sharp when called upon and judged against the standards of the world-class trio of Sadio Mane, Mohamed Salah and Roberto Firmino — Origi, in truth, disappointed last season.
The Belgium international only scored six times in 39 appearances across four competitions and frustrated many fans with his heavy touches and his tendency to drift to the periphery of games and not influence proceedings in a manner he ought to.
Standing 6'1″, tall for a wide player, and possessing pace, power and an accurate finish, Origi — if it wasn't for inconsistency — has all the tools to be an excellent forward, which is why his inability to kick on to the next level exasperates many of the Reds' faithful.
Having been linked to, among others, Lazio and Wolves, Liverpool will reputedly listen to offers for the player they prised from Lille — after a promising showing for Belgium in that summers World Cup — in the summer of 2014.
If Origi was to end his Anfield stint this summer — a spell which has included loans at both Lille and VFL Wolfsburg — there are ample options for the Reds to replace their number 27 on the market.
Lucas Ocampos: Standing 6'2″ and having a burst of pace to burst, the Argentinian international has had his breakthrough season with Sevilla.
Having enjoyed a strong sojourn in Ligue 1 with Marseille, Ocampos — who failed to fulfill his early potential in Italy with Milan and Genoa — has gone to another level in the south of Spain.
Scoring 16 goals — exceeding his expected goal figure, 10.5 — from the left-hand side of a front three, the 26-year-old helped Sevilla qualify for the Champions League by finishing third in La Liga and for the Europa League semi-final where the five-times winners will face Manchester United.
Ocampos has also scored a wide variety of goals this season, with four — including the winner against Wolves in the Europa League sem final — scored from headers, offering a glimpse into his broad skillset.
With Trent Alexander Arnold and Andrew Robertson racking up 25 Premier League assists between them last season, having a player like Ocampos — who can attack crosses, both in the air and along the ground — would offer Liverpool another element to their attacking play and give them the option to switch the point of attack.
Off the ball, too, the Argentinian offers a strong work-rate. He may not press as effectively as Origi — with 28.7% of his pressing actions proving successful(meaning the team wins the ball back within five seconds of the press), compared to the Belgians 34.9%.
But Origi's numbers need to be put into the context of the fact that he mostly plays late in games when teams are more tired and more susceptible to coughing up possession.
Besides, under the coaching of Jurgen Klopp — perhaps the best coach, alongside Marcelo Bielsa, in the world at coaching counter-pressing — Ocampos could improve in this facet.
At 26 years old, the River Plate alumni hypothetically signing may seem out of kilter with Liverpool's transfer approach — where most targets or signings are 24 or under — but the Reds have shown they can pivot from the stance when the right opportunity arrives, such as when they signed Xherdan Shaqiri.
Valued at €50,000,000 by Transfermarkt, Sevilla — who are unashamedly a selling club — may be tempted to do business at a lower price and, depending on the price Origi could fetch, Ocampos could prove a shrewd signing for the English Champions.
Marcus Thuram: The son of legendary France World Cup winner, Lillian, Thuram enjoyed a sterling debut season in the Bundesliga with Borussia Monchengladbach.
Scoring 14 goals and laying on eight assists across 39 games in all competitions, the French youth international — who underachieved relative to XG, 10.2, but punched above his expected assists comfortably, 6.8 — thrived under the coaching of Marco Rose.
Thuram isn't shy of shooting and registered the most shots on target in the Bundesliga last season, with 66.1, and this propensity to shoot is an attribute he has in common with Salah.
And therein lies his potential suitability to Liverpool. Rose, a former player at Mainz under Klopp, is an advocate of a similar style of high intensity, pressing football and this would make any potential acclimation to life on the Anfield pitch easier.
Although the weakest of the trio in terms of pressing, with a 23% success rate, the Sochaux academy graduate is keen for defensive work and averaged the ninth most fouls in the Bundesliga, which shows a strong, yet unrefined intent to pressurize opponents. Given his young age, though, this is a trait that can be harnessed and approved and there is arguably no one better in the world to polish players in that regard than Klopp and his coaching ticket.
Thuram, 23, stands at 6'4″ and used his height to good effect last season, scoring three headers, mainly while playing as a left-winger and — like Ocampos — could offer the Reds an option for diagonal crosses into the box, as well as the often untalked about but useful bonus of offering height at defensive set-pieces.
Powerful, quick, creative — as evidenced by his assist numbers — the former Guingamp youngster has all the tools to become an excellent player and valued at €32,000,000 could well represent value for money.