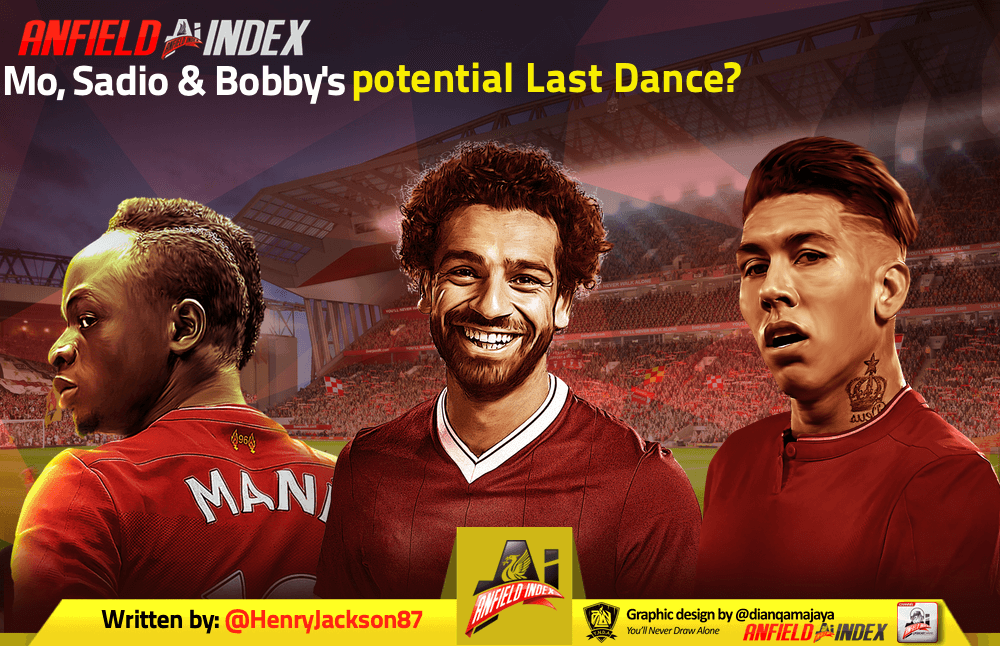 Mo, Sadio & Bobby's potential Last Dance?
Who else watched The Last Dance during lockdown?
The Netflix show documented the final year of Chicago Bulls' all-conquering basketball team during the 1990s, led by the incomparable Michael Jordan and aided by the likes of Scottie Pippen and Dennis Rodman.
It was a fascinating watch – one of the best sports documentaries in years – and there was a poignancy about witnessing this great outfit coming to the end of such an iconic period.
This is where Liverpool come into play.
Now, before you appear with pitchforks and accuse me of discussing this Reds side reaching the end of it cycle, that couldn't be further from the truth.
Liverpool are at the peak of their powers under Jurgen Klopp and the German is still hopefully only around halfway through his Anfield reign.
He has built a squad of players either in or approaching their prime, and having been crowned European, world and English champions in the space of 13 months, the club is in its healthiest position in decades.
When it comes to sitting at the summit of football, the Reds are here to stay.
If there is a last dance of our own that we potentially have to brace ourselves for, however, it's that this could be the final season we see Mo Salah, Sadio Mane and Roberto Firmino together at Liverpool.
The trio will rightly go down as one of the most formidable attacking units in the history of the club, having achieved remarkable success together over the past three years.
There have been bucket-loads of goal and assists, endless match-winning moments and a telepathy unlike any other front-three in world football.
They all bring their own sprinkling of magic to the table, whether it be Salah's freakish numbers, Mane's ability to drag Liverpool through games or Firmino's inimitable line-leading genius.
In their three seasons together, they have scored 217 goals between them. It is astonishing.
There have been endless personal accolades along the way, too, and in decades to come, they will be spoken about in the same way that Sir Kenny Dalglish and Ian Rush still are, or Ian St John and Roger Hunt.
All wonderful things have to come to an end at some point, though, and next summer feels like the one that could see the Salah-Mane-Firmino show reach its conclusion. I repeat, COULD.
Liverpool's incomparable triumvirate are born within eight months of each other, with all three currently 28 years of age. They could barely be more in their prime if they tried. But by the end of the upcoming campaign, they will have ticked closer to 30 – Firmino will reach that milestone first, in October 2021 – and their sell-on value will be under threat for the first time.
It will probably be the last opportunity that Liverpool have to earn a huge fee for one of the three – given Michael Edwards' savvy work in the transfer market, would he allow all three to tick past their sell-by date?
It may be that Salah, Mane and Firmino all remain hellbent on staying at Anfield beyond next season, but there is a nagging feeling that one may want another huge move before their powers begin to wane.
Even if that isn't the case, and all three stay put – that would surely still be the dream scenario for the vast majority of supporters – Klopp must not allow his squad to grow stagnant, watching it age slowly without even realising.
It is never too nice to praise the job Alex Ferguson did at Man United, but he was a master at rebuilding squads and replacing great players with equally special younger individuals, and that is precisely what Klopp must do.
If he believes one of the front-three can be moved on and it will benefit Liverpool in the long-term, he will do it.
Using a hypothetical situation, selling a 29-year-old Salah or Mane to Real Madrid or Barcelona for close to a world-record price, and bringing in Jadon Sancho instead, could be more beneficial than simply keeping things the same for another two or three years.
You only have to look at Barcelona's 8-2 humiliation at the hands of Bayern Munich to witness an ageing, once-great team who haven't been added to, and it should act as a warning to Liverpool.
Salah, Mane and Firmino are all adored so much that it is natural to dislike any notion of them leaving in the near future, but it is a scenario we may have to expect and accept.
If this is to be their last season wreaking havoc alongside one another, we must cherish every single second of it and not take these three true Liverpool greats for granted.
A Netflix documentary about their final hurrah would be a sight to behold.