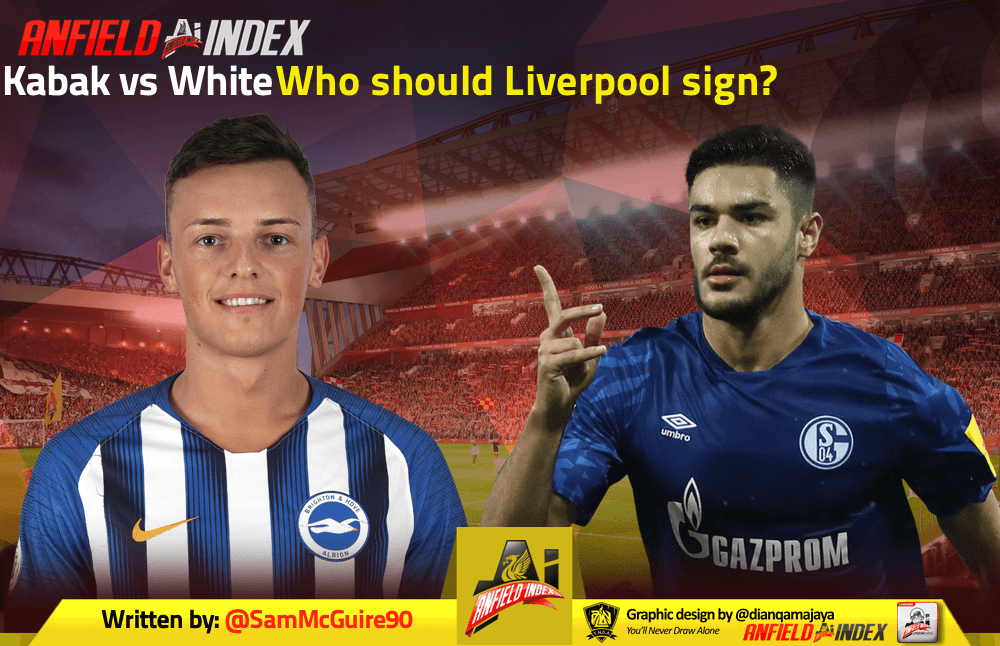 Kabak vs White - Who should Liverpool sign?
Dejan Lovren's departure left a void in the Liverpool squad. He may have only been the fourth-choice centre-back for the Reds but given Joel Matip and Joe Gomez are prone to the odd injury, it's an important role at Anfield. Fabinho can, and has, played there but losing him as the deepest midfielder of a sustained period of time because he's having to fill in at centre-back just seems like a waste. 
The Premier League champions have been linked with a number of defenders over recent weeks, including Chelsea's Antonio Rudiger. I'd file that one under 'definitely not happening' but the others all make sense in their own right. 
Aïssa Mandi wouldn't break the bank and he'd not arrive on Merseyside looking to be first-choice. He would very much be a Ragnar Klavan sort of signing but I'm not sold on him. Liverpool signed Klavan when the top four was the aim. Expectations have shifted and if he's not in the same sphere as Gomez or Matip, the drop-off in quality will be far too great to overlook. Furthermore, the Real Betis man only wins 56% of his aerial duels. If he signed, he'd be the worst centre-back in the air for the club. 
Next on the list is Ben White. The 22-year-old impressed for Leeds United last season while on loan from Brighton and Hove Albion. His performances caught the attention of Liverpool and Chelsea and both are plotting £40million moves if reports are to be believed. 
Ben White is very good on the ball. However, he's not very good in the air. Last season, he was winning just 41% of his aerial duels in the box and 54% overall. pic.twitter.com/Fbva7txVK8

— Sam McGuire (@SamMcGuire90) August 10, 2020
White is a talent. But he has a glaring weakness. The former Southampton youngster can pick a pass, he's comfortable carrying the ball and there's an air of confidence about him whenever he's in possession. But the best modern-day defenders are dominant in the air. For example, Virgil van Dijk wins 75% of his aerial duels and this allows Liverpool to pin the opposition in their own half. 
While at Leeds, White had an aerial success rate of 54% in general and 41% in his area. You could argue that Van Dijk can help protect him in certain situations but if there's a bullseye on White's back, teams will continually look to target him. 
You also have to consider a scenario in which Van Dijk isn't available and White perhaps has to partner Gomez. The average aerial success rate of the centre-backs drops from around 70% to 60%. Might not seem like much but it would be noticeable. 
It's why of those linked with Liverpool, the best one would be Ozan Kabak. The price varies depending on the outlet reporting it but the general consensus is Schalke need to sell one of Kabak or McKennie. The latter's move to Hertha broke down so it seems Kabak will be sacrificed. Having worked under David Wagner, one of Klopp's best friends, it's safe to assume the club know all about the 20-year-old. 
Pass map shows he's not afraid to go long. Only thing I will note with regards to his passing is the technique is sometimes lacking. Not as easy on the eye as what we're currently used to. pic.twitter.com/hIYoHgCGje

— Sam McGuire (@SamMcGuire90) July 27, 2020
He ticks a lot of boxes, too. Last season he won 70% of his aerial duels, he's good on the ball though aesthetically it isn't always the best. He's aggressive and proactive, these two traits are evident in his defensive actions map. A lot of his success comes just behind the half-way line so he's used to defending large areas of space. 
Of those linked with a switch to Anfield, Kabak is the one who should top the wishlist.