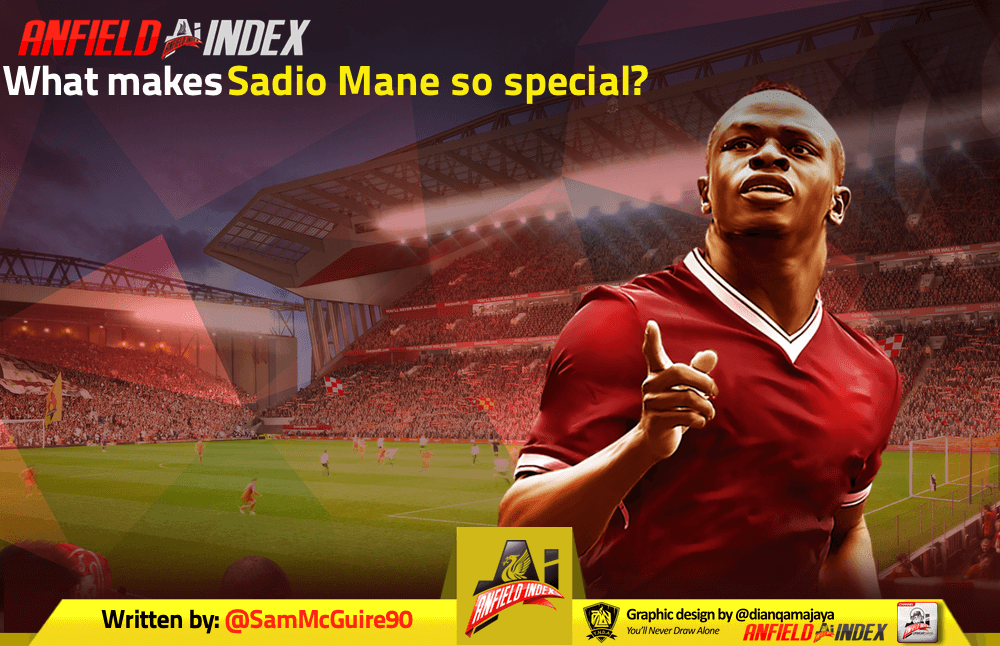 What makes Sadio Mane so special?
Sadio Mane is often overlooked. It's not purposefully done and there's nothing malicious in it, it's just one of the downsides of playing in the best team in the world. Mohamed Salah's ridiculous goal return sees him take centre stage more often than not. Virgil van Dijk is Virgil van Dijk. Alisson makes a monumental difference to the team so is regularly singled out while Jordan Henderson is now getting plenty of plaudits having lifted four trophies over a 12 month period as Liverpool captain. You can almost forgive people for taking Sadio Mane for granted at this stage.
He was one of Jurgen Klopp's first big signings. He's played multiple roles for the Reds now and he's a bit of a safety blanket for us all. When times are tough for the team, the Liverpool No.10 is often the player who steps up to drag us to victory. He missed out on the Writers' Player of the Year award but was named the Fans' Player of the Year. It was more than deserved, too. His goals helped the Liverpool end their 30-year wait for the title. 
But what I've found truly remarkable about Mane's transformation under Jurgen Klopp is that he's managed to remain unpredictable while developing a trademark goal, seen in the video below. What he's going to do is predictable, yet teams can't stop him. 

Breaking down Sadio Mané's goal against Newcastle United. Goes someway to explaining why he's now a regular and reliable goalscorer for Liverpool. pic.twitter.com/KgSUDjfpiB

— Sam McGuire (@SamMcGuire90) August 12, 2020
If you had to describe the perfect Mane goal, you'd probably, without realising end up telling people about the goal he scored against Newcastle United. After all, it was quintessential Mane. 
There's a thread underneath the video on Twitter with different graphics attached. They highlight what he tends to do, where he takes the majority of his efforts and his movement when picking up passes. 
This particular goal is the perfect example of what Mané is all about. He often picks the ball up in that part of the pitch. pic.twitter.com/NoPYfSEG5v

— Sam McGuire (@SamMcGuire90) August 12, 2020
He likes to drag opposition defenders into the middle third of the pitch before carrying the ball into that right-back area. He wants his opponent to be there but not be properly prepared. The best way to do that is to force them into tracking you into areas they don't want to be. Mane's speed with the ball often allows him to cut inside before they're able to get close to him. He then curls an effort into the far corner. Rinse and repeat. 
It's a trademark goal and one he's scored so many times. But why is he able to do it so effortlessly and why can't opponents stop him? His two-footedness helps but the biggest factor is no doubt his explosive burst from a standing start. He breezes part people onto his favoured right foot and the rest is history. 
He, obviously, attempts the majority of dribbles in that area of the pitch. The heat map shows where the majority of his shots originate. pic.twitter.com/EC9OtLo2ze

— Sam McGuire (@SamMcGuire90) August 12, 2020
In many ways, Mane is an enigma. He's unpredictably predictable whilst also being predictably unpredictable. The fact he's managed to merge those traits so seamlessly so that he's a functional, reliable player is astonishing. His goal return is sustainable too meaning he's set for another 15+ campaign next season, so long as nothing out of the ordinary occurs.