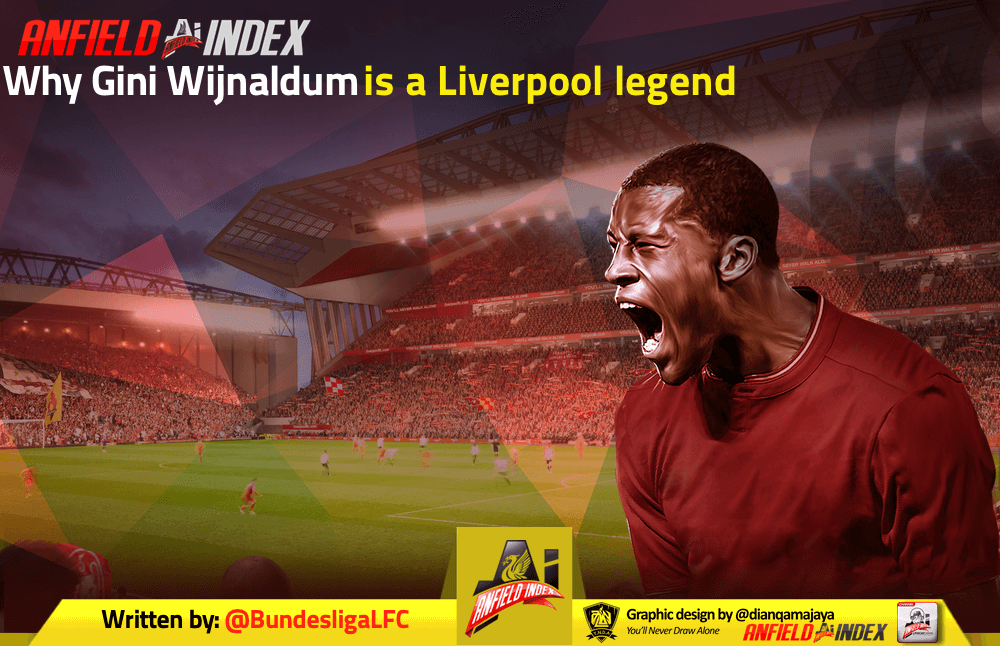 Why Gini Wijnaldum is a Liverpool legend

Gini Wijnaldum doesn't get the respect he deserves. He's one of Jurgen Klopp's most trusted players, he's played a key part in Liverpool transitioning from top four hopefuls to Premier League winners and he's the ultimate clutch player for the Reds. 
Against Boro on the final day of the 2016/17 campaign, Wijnaldum bagged the opener just as it looked as though it might be a frustrating day for Liverpool in a game they needed to win. He also scored the winner against Manchester City during that season. He netted in the semi-final win over Roma in 2017/18 then repeated the feat in the historic comeback against Barcelona the following year. 
The Dutchman started 35 of the 38 Premier League games last year as Liverpool ended their 30-year wait for a title. He's one of the most reliable midfielders in the squad, both in terms of performances and availability. Wijnaldum might not be the most highlight-reel worthy player but every team needs someone like him. A facilitator to allow others to shine. He sacrifices himself for the good of the team, much like Roberto Firmino. However, while the Brazilian is lauded for it, the Liverpool No.5 is criticised. 
It's strange that those who leap to Firmino's defence to say not everything is quantifiable are the same people who use stats to discredit Wijnaldum. Wijnaldum's performances aren't something you can use stats to judge. He creates space for others and he covers for the full-backs. Sounds fairly basic but without him, the team wouldn't be anywhere near as balanced as it is. He forfeits scoring goals to help make sure the team don't concede them. This isn't FIFA, you can't just have a midfield made up of goalscorers, unfortunately. 
The Thiago links have hurt Wijnaldum's standing with some of the Liverpool fans, too. They're comparing the two despite them playing different roles in a different system. But that context is being ignored and instead, fans are eyeing up Thiago like Andy eyed up Buzz Lightyear. In this scenario, Wijnaldum is Woody. 
The former Newcastle United man's reluctance to sign a new deal might be playing a part in how he's being perceived. Had he penned a new contract, the feeling might be a different one now. He might be getting the credit he has earned. But because he's potentially leaving on a free, fans have decided he's not that good anyway. The sad thing about all of this is they're almost rewriting history. 
Wijnaldum has served this club brilliantly. He's not just been on the periphery of it all but a key part, both on the pitch and off it. He arrived as an attacking midfielder but Klopp's used him all over the show, including centre-back and even as a false-nine in a Champions League semi-final. Is Thiago better? Probably. But we'll truly never know because Wijnaldum wasn't ever allowed to just be himself. He was always sacrificing parts of his game for the team. That is what Liverpool needed and that is what he delivered. Ultimately, the Reds built their success on selflessness and he was one of the poster boys for it.