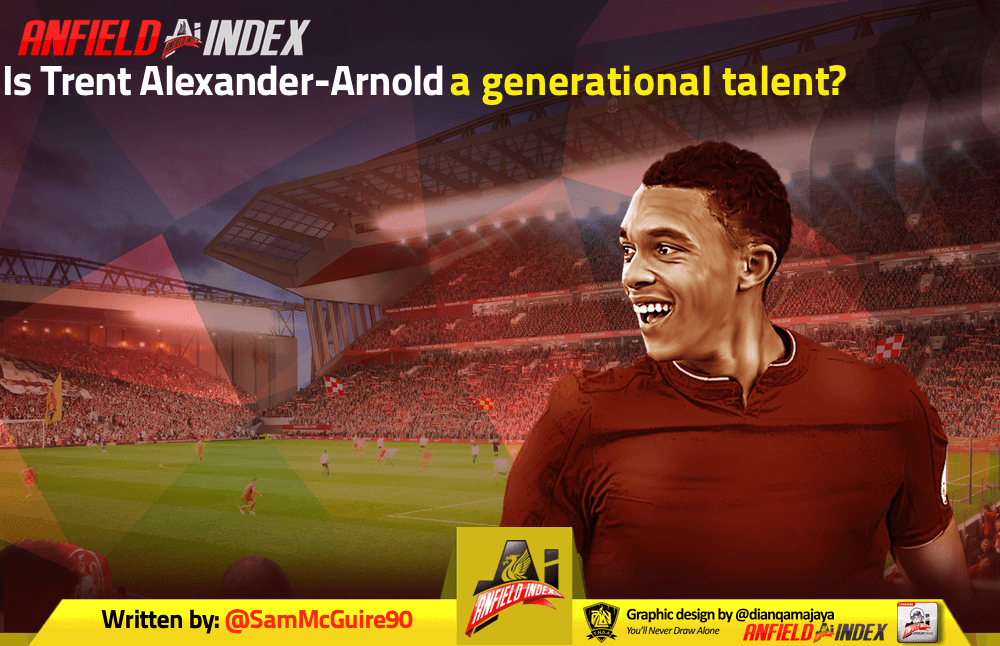 Is Trent Alexander-Arnold a generational talent?

Remember a few years back when Trent Alexander-Arnold had that one bad game against Manchester United? It's the reason rival fans say the Liverpool right-back isn't a good defender. Marcus Rashford netted twice and, if we're being completely honest, Alexander-Arnold was flat-footed for the opener. 
By no means was it entirely his fault but rivals fans needed something to latch onto and this was it. Since that day, he's been labelled as a defensive risk. People choose to ignore his performances against many of Europe's elite during Liverpool's run to two Champions League finals. They overlook his involvement in the Reds racking up 196 points over the past two seasons. 
Instead, he's treated as a cross merchant. The narrative is he just spams crosses into the penalty area and gets lucky that way. Sounds really easy, doesn't it? I'm not sure why others don't try and do the same. Anyway, people are desperate to downplay just how talented Alexander-Arnold is. If I was a rival fan, I'd probably be trying to do the same. I'm not one to loosely throw around the term generational, but the Liverpool No.66 might just be that. 
Think about it. Alexander-Arnold not being good defensively is quite clearly a myth. He's only 21 yet he's a Premier League and European Cup winner. He's appeared in two Champions League finals and he holds the record for most assists by a defender in the English top flight. That is some CV.
Offensively, he's much more than just a hit and hope kind of player. He's a bonafide creative outlet. Twenty3 Sport have new radars. The scale is worked out on a per position basis. So you select a data preset (these are done by position) and then choose the metrics you want to show. The middle circle shows the average while the outer number shows the 95th percentile. If you exceed that, you're in the top 5% for that stat. 
Spotted this earlier in work. Can't believe he's a 21-year-old right-back. pic.twitter.com/vH1R6GlojX

— Sam McGuire (@SamMcGuire90) August 14, 2020
Now, given Alexander-Arnold isn't really a full-back, I used the deep-lying midfielder preset to look at how he fares. To say he's one of the best would be an understatement. However, it is worth noting that due to the fact he plays as a right-back, he does see more of the ball and he's not usually under a lot of pressure. So I expected him to rank highly for passes attempted and passes completed. 
But the other metrics just show how much of a maestro he truly is. He's one of the best playmakers in Europe. He's near the top for passes into the final third and shots assisted. Alexander-Arnold creates high-quality chances and this is highlighted by his expected assist numbers. Fortunately for him and Liverpool, he's got arguably the best front three in the world ahead of him and they're able to convert these chances into goals. 
I get why people think he should be moved into centre-midfield but when he's performing to such a level at right-back, why would you risk it? Why would you risk potentially disrupting his game and losing everything he brings from the wide right?