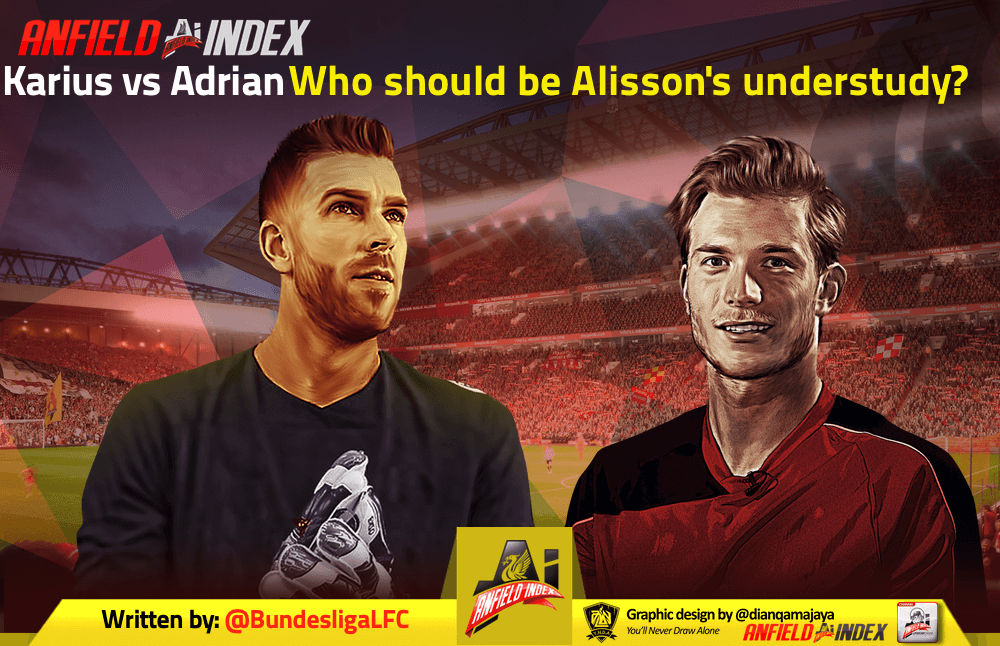 Karius vs Adrian - Who should be Alisson's understudy?

Liverpool have the best goalkeeper in the world. Some won't admit it because of, well, tribalism, others kid themselves into thinking their shot-stopper is peerless as they need something to latch onto while others dispute it purely to be controversial. Alisson Becker is clear at the top, though, and he has been for a few years now. 
The Reds, however, have a bit of a conundrum. Adrian was the second choice last season and his heroics in the Super Cup final resulted in Jurgen Klopp adding to his trophy haul on Merseyside. But then that match happened. 
The hate he's received ever since is unwarranted and uncalled for. People have even taken time out of their day to put together a video of all of his errors. So unnecessary. However, people going over the top shouldn't detract from the fact the former West Ham United man is a little ropey between the sticks. 
Obviously, the club didn't expect him to be playing in the first team as often as he was last season and while he did pull off a number of world-class saves, including that one against Napoli, it did feel as though it was a matter of when and not if he would make a mistake. There was the time he passed the ball to Danny Ings. The time he palmed Willian's shot into the goal and then the Atletico game. 
He wasn't as reliable as Alisson but then not many keepers are. If he was, he'd not be a back-up keeper for Liverpool, either. Despite the mistakes, he always seemed to bounce back. He appears to be mentally strong and very confident. His mindset is what differentiates him from Loris Karius. 
Back from his loan spell in Turkey, the German reportedly has offers from abroad but remains on the books of the Premier League champions. Pre-Kyiv, the ex-Mainz man was doing a decent enough job in goal in place of Simon Mignolet. He, too, made some memorable saves but then he was partial to the odd howler. It's often forgotten due to what went on to happen in the game but against Roma, Karius misjudged Aleksandar Kolarov's effort and he was fortunate to see it ricochet back off the bar.  
He passed the ball out for a corner against Sunderland, failed to hold shots against Bournemouth and in a friendly against Tranmere. The 27-year-old also had a few forgettable moments while on loan with Besiktas. 
I've seen lots of people say they'd prefer to keep Karius as the understudy to Alisson and let Adrian leave. But, with money being so tight, why would you not cash in on the one you can recoup money on? That isn't to say the Spaniard is better than the German, just with the difference being so negligible, it makes sense to cash in on the one that will make the club the most money.  
The perfect second choice keeper doesn't exist so you kind of have to make do with what you can. Adrian is by no means the worst understudy in the league. Could the club upgrade on him? Probably. Is Karius an upgrade on him? Before what happened in Madrid, maybe.