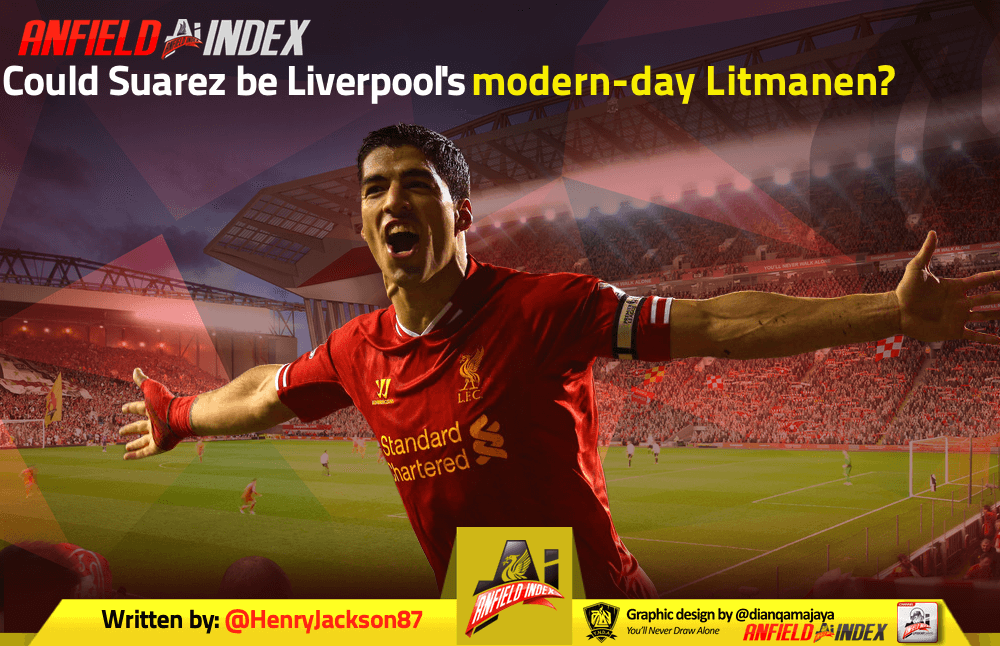 Could Suarez be Liverpool's modern-day Litmanen?
Life comes at you fast as a footballer, with your reputation never too far from taking a battering.
One minute you can be the flavour of the month, earning an infinite amount of praise, and the next you can be a washed-up has-been who has little else to offer.
Luis Suarez finds himself in that very position, having experienced a tough season at Barcelona that ultimately looks like sealing his exit from the club.
Only six years ago he was producing performances on a par with Lionel Messi and Cristiano Ronaldo at Liverpool, subsequently earning him a move to play alongside the former.
He then swiftly became an even bigger global superstar, producing genius at the Nou Camp and cementing his status as arguably the best striker of his generation.
At 33, we have seen the best of Suarez, however, he played his own negative role in Barca's unfathomable 8-2 defeat at the hands of Bayern Munich earlier this month.
He may have scored a clinical goal on the night, but it was sad to watch his all-round quality be so far from the astonishing talent who lit up Anfield on a weekly basis during that memorable 2013/14 season.
With Suarez almost certain to move on from Barca in the coming weeks, there is set to be a battle for his signature, with former club Ajax possibly at the front of the queue.
But what about a return to Liverpool?
While the above may appear to be a damning assessment of a once-great talent, the truth is that Suarez still has undeniable qualities.
Even last season, where his finishing struggles were consistently highlighted, there were moments of a magic, including an outrageous back-heeled finish against Real Mallorca.
It was one of 21 goals in all competitions, in 36 appearances, which shows Suarez still knows where the net is, even if he has become increasingly accustomed to knowing where the stands are, too.
A shock Liverpool reunion is highly unlikely, both because of Suarez's wage demands and Jurgen Klopp's preference for signing younger players, but there are merits to re-signing him.
Suarez would no longer justify being a regular starter, with Mo Salah, Sadio Mane and Roberto Firmino not only making up a perfectly balanced front-three but also proving to be superior individual players now, but he would be a wonderful backup option for Klopp.
If Liverpool's former hero accepted this role – his attitude is exemplary as a team player, even if his much-publicised other antics have been unacceptable – he could be this side's answer to Jari Litmanen.
The silky Finn joined the Reds back in 2001, when his powers were on the wane but he still possessed magic in his boots. He was fourth-choice behind Michael Owen, Emile Heskey and Robbie Fowler, but he still played his part in a famous treble-winning season.
Supporters knew they weren't signing a player at the peak of his powers, but the positives of having him around comfortably outweighed the negatives.
This would be the case with Suarez if a surprise deal was struck, with the Uruguayan acting as a potentially devastating substitute and allowing Klopp to rotate his attack.
Ask any current defender who they would rather face with 70 minutes on the clock out of Suarez and Divock Origi and there will only be one answer. The same applies to Rhian Brewster, despite his emergence as one of English football's most exciting youngsters.
Such is the knee-jerk nature of modern football, there are some who seem desperate to label Suarez as some sort of hapless individual who should be put out to pasture, but it is typical hyperbole.
Suarez is still an excellent player, he just isn't an elite one. He can still score goals that 99 per cent of his peers can't. He can still win a match on his own. He can still terrify the opposition.
Moments of wizardry may have become more sporadic over time, but if the chance to sign Suarez arises, Liverpool would be foolish not to at least consider a swoop.
It should only be a short-term deal if it was to miraculously happen, negating the issue of youngsters such as Brewster seeing their long-term path blocked, but it is one that could prove to be a masterstroke.
Suarez is only a year older than Robert Lewandowski and Sergio Aguero, the same age as Messi and two years younger than Ronaldo – he is not the lost cause he is being painted as.
Adding him to Liverpool's attack would give them that little extra edge they are missing from the substitutes' bench, giving opposition players even more to think about when legs are starting to tire.
It is understandable why others are against the idea, whether it be his waning talents, vast wages or behavioural issues, but the most naturally talented footballer in Liverpool's history isn't done just yet.