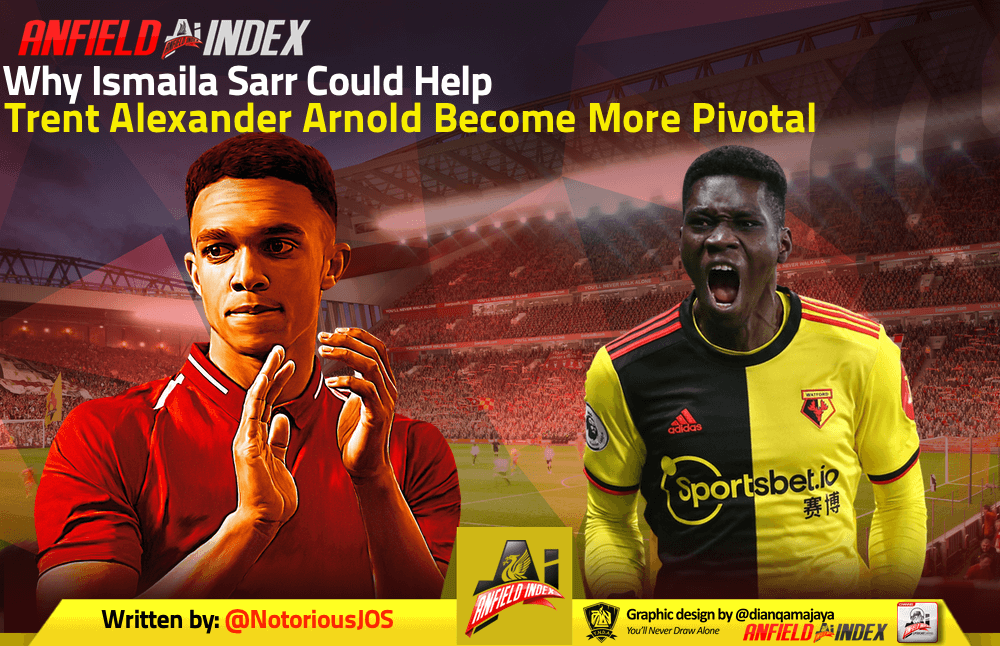 Why Ismaila Sarr Could Help Trent Alexander Arnold Become More Pivotal

Joshua Kimmich, aided and abetted by the line-hugging play of Serge Gnabry, assisted Kingsley Coman for Bayern Munich's winner in Sunday's Champions League final.
Taking up a position in the right half-space, the German, who has mostly played in the engine room this season but reverted to the right side of the Bavarians defence when Benjamin Pavard picked up an injury, accurately found Coman — the former PSG player — to nod an accurate header past Keylor Navas in the Parisians goal to seal a 1-0 win.
Kimmich, who — like Trent Alexander Arnold — has veered between right-back and central midfield in his career to date, was afforded such room to maneuver in by Gnabry holding the width and occupying Juan Bernat on the fringes. For all intents and purposes, the 25-year-old was operating as a central midfielder.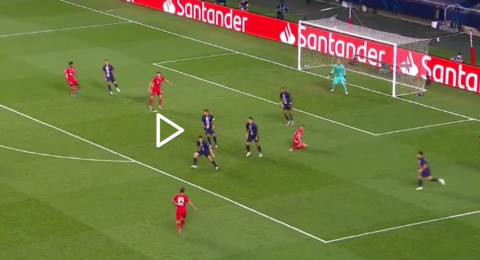 As we can see in the above image, Kimmich is advanced and central and his searching cross was ultimately the difference between the sides.
Amid continuing links to Watford's Ismaila Sarr, Bayern's tactical blueprint down their right-hand side may give Jurgen Klopp and Liverpool food for thought.
The Reds' front-three have been a massive part of the Anfield side conquering both England and Europe in recent times, with Mohamed Salah and Sadio Mane — either side of Roberto Firmino in the middle — playing on the opposite side to their stronger foot, Salah right and Mane left, so they can cut inside from the flanks and shoot.
But Sarr —  who played most of last season in the fashion of a width providing, chalk on the boots winger — could offer Liverpool a new dimension to their attack, if, as rumored, the Senegalese flier elects to move to Anfield in this transfer window.
By playing on the right-hand side and keeping wider — instead of primarily attacking the middle band of the pitch, like Salah — Sarr, who the Hornets reportedly want £40,000,000 for, would stretch teams down the extremities and, as a consequence, create more space infield for his team-mates.
Technically blessed — with vision to boot — Alexander Arnold, already the Reds hub of creativity, could be the player best equipped to benefit from this potential tactical alternation.
Given the latitude to attack wide or to switch the point of attack and flex his incisive passing game through the guts of a team, the Liverpool academy graduate — who finished last season with 12 Premier League assists — could be even more influential.
In the recent 5-3 shellacking of Chelsea in the Premier League, Alexander Arnold — reminiscent of Kimmich's assist to Coman in the European Cup final — showed his capability in hurting teams in the half-spaces by providing a sumptuous assist to Roberto Firmino, as seen in the image below.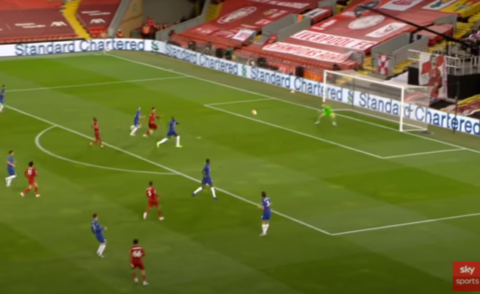 A recurring theme of Pep Guardiola's on-field strategy at Manchester City has been to instruct his full-backs to play infield and — to borrow a Football Manager term — to act as inverted wing-backs.
The full-backs, be it Kyle Walker, Benjamin Mendy or whoever else Guardiola has spent the GDP of a small nation on, stand centrally in the build-up to offer a numerical advantage and allow City to service their attacking players in advanced positions easier.
Raheem Sterling and formerly Leroy Sane — going against the grain of modern tactical fashion — played as natural wingers to make the pitch as big as possible in attacking phases.
It is no coincidence that Kevin De Bruyne, the Silva's, Bernardo and David, and Phil Foden — after being fed the ball by the full-backs masquerading as central midfielders — have thrived with the space afforded to them by City's wide-men.
Liverpool, with Alexander Arnold, Curtis Jones, and Naby Keita — to name but three — all capable of causing carnage when afford space could benefit from borrowing from Guardiola's playbook and tailoring their approach to include a natural winger — like Sarr — against certain opposition.
With Andrew Robertson game as effective as an overlapping full-back and Alexander Arnold — the Scots partner in crime — providing impetus on the underlap, the already dangerous Reds could add a new element to their attack.
Robertson, most associated with getting to the byline and hoisting in crosses, is more effective between the lines than he is given credit for and he proved it with his goal against Salzburg in the Champions League last season.
In a goal which perfectly illustrates the qualities of the Liverpool full-backs — and their ability to provide an attacking versatility — Robertson starts the move by playing infield. The ball, via Jordan Henderson, is eventually worked wide to Alexander Arnold whose sharp cross is prodded home within the width of the six-yard box by Robertson, as seen below.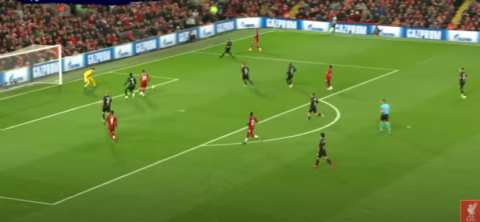 The ambidexterity of Mane, who is comfortable attacking the inside on his right foot or running wide and crossing with his left-foot, could give the Scotland captain the option to hurt teams on the outside or the inside.
On the opposite flank, Alexander Arnold — as a former midfielder — is capable of operating wide or centrally and with Sarr — more so than with Salah, whose game is more predicated on attacking centrally — the young Scouser could have reign to attack with a degree of freedom.
It ain't broke, so it doesn't need fixing but the Reds — whose temporary switch to a 4231, with Salah 9 and Xherdan Shaqiri playing off the right, in the 2018/2019 season showing they are not adverse to reshaping the composition of their atttack — could offer another significant weapon to their armoury by signing Sarr.