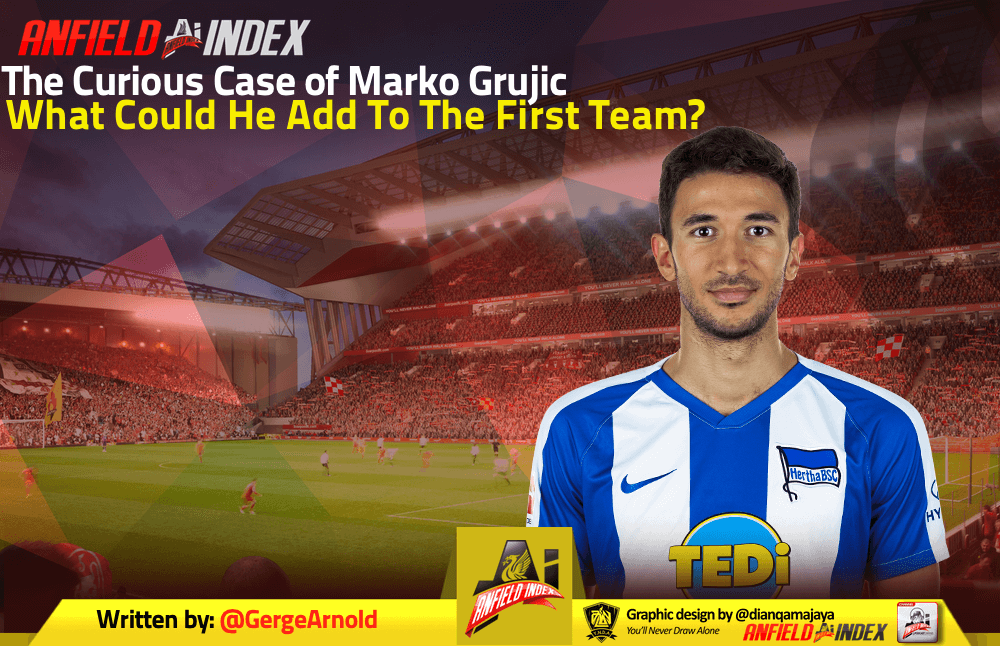 The Curious Case of Marko Grujic - What Could He Add To The First Team?

Marko Grujic's time at Liverpool may be about to come to an end. AC Milan look poised to bid for the midfielder, and it is likely that the Reds will accept. However, the latest reports indicate that Grujic may have the opportunity to prove himself, should these moves not materialise.
The factors that dictate whether he is able to contribute are his performances during his loan spells at Hertha Berlin, his appearances for Liverpool and what he can provide that the Reds currently lack.
Firstly, Grujic was a success at Hertha Berlin. Hertha's former manager, Pal Dardai, labelled Marko as the 'by far the best midfielder' he had seen in his 22 years at the club. The Serbian was a vital part of Die Alte Dame's team, as they established themselves in the Bundesliga's mid-table. Grujic contributed with 9 goals in 51 games. Dardai praised his 'potential', explaining that he was 'robust' for Berlin, but 'could still play'. It is clear that Marko Grujic was an influential player during his loan spell. Jurgen Klopp clearly thought so, as The Reds refused to sell him for anything less that £40million last summer.
Furthermore, the preseason of 2016/17 indicates that the midfielder could slot into the Liverpool side seamlessly, despite his limited game time in a red shirt. The most devastating example of his potential, in the Liverpool midfield, came in a pre-season encounter against Barcelona. Liverpool cruised into a 3-0 lead, and in the match's final moments, Grujic made a late run into the box. He came on to a perfectly weighted ball to loop a sensational header past Ter Stegen. It was a glorious goal, which offered a live-action insight into the unique skills that Grujic can bring to the current squad.
Essentially, Marko Grujic adds an element that the Liverpool midfield lack. The Serbian, at 6 foot 2, towers above other central midfield options. Last season he won, on average, 3.4 headers per game. This is in comparison to Fabinho's 1.3 headers per game. Fabinho plays in the same defensive midfield position as Grujic, and there is no doubt of the Brazilian's superiority. However, as well as his aerial ability, Grujic can also keep it tidy and break up play. Therefore, there is a clear back-up position available. Neat on the ball, his height makes him a threat in both boxes. He would subsequently be equally as adept at scoring a vital goal at one end, as he would be at keeping one out at the other. These factors demonstrate his potential use.
To summarise, Grujic's form at Hertha Berlin, his unique aerial prowess and the glimpses of ability he demonstrated in his Liverpool appearance suggests that he can contribute this season. However, the transfer carousel continues to turn, and the Serbian's role will not be clear until the window slams shut. It is clear that he can contribute to the highest level, and in a window of limited Liverpool additions, he may function as an impressive addition to the midfield.