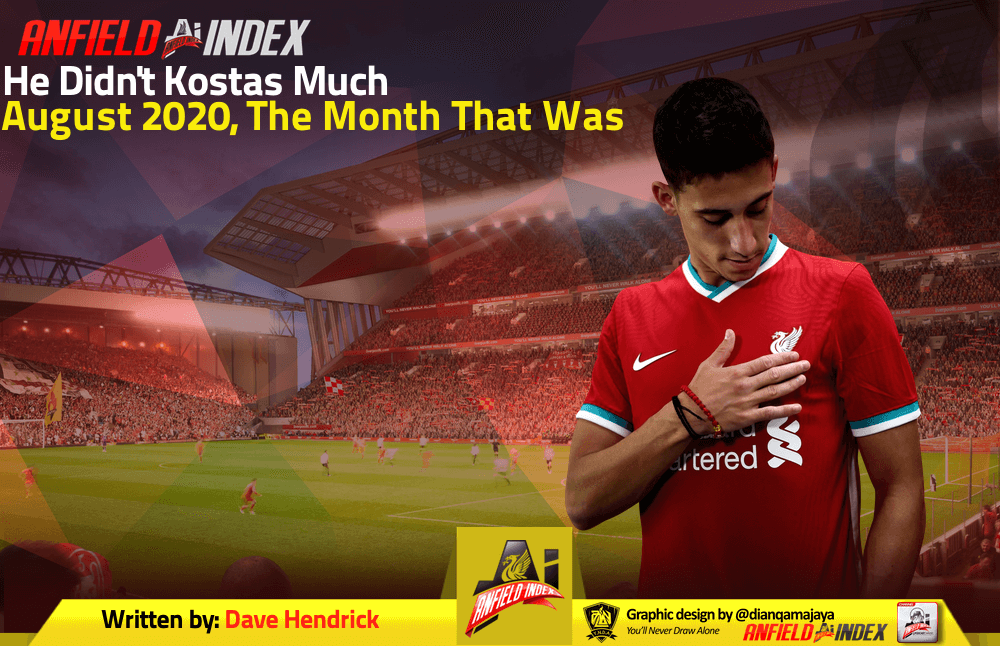 He Didn't Kostas Much - August 2020, The Month That Was
August began with Liverpool unveiling their new kit, the first one released under their new deal with Nike. Alex Oxlade-Chamberlain, Virgil Van Dijk and the boys unboxed the kit and their enthusiasm for the kit was quite striking. Fire! Swoosh! Flamey! Robbo, pay your bills man!
Liverpool did a signing!! Rejoice!
The Reds landed Kostas Tsimikas for a fee in the region of £11.5mil, which looks like a bargain for an international left back with Champions League pedigree. Especially when you consider the fees others Premier League clubs have paid for fullbacks like Aaron Wan-Bissaka, Benjamin Mendy, Ben Chilwell and others over the last few years. £50mil for Wan-Bissaka remains genuinely funny.

Tsimikas arrives with a single mission, give Andy Robertson plenty of competition for the starting left back position. Robertson has been fantastic for Liverpool since arriving from Hull, and the Reds will hope they've repeated the trick with their new addition. Depth at left back was one of the glaring holes in the Liverpool squad. There aren't many, maybe four. Three now. They'll get sorted.
His pre-season debut will remain memorable, not for anything he did but for James "James Milner" Milner being caught swearing at him for not slipping a ball into the channel as Milner rumbled forward from his midfield role. But Tsimikas has had a couple of decent run outs already for the Reds and will hopefully provide the cover needed to give Robertson decent rest during what promises to be a hectic season.
Tsimikas wasn't the only new player to catch the eye in pre-season. 17 year old Billy Koumetio, stepping up from his normal academy duties, looked assured and confident while showing good defensive instincts. The most striking thing about Koumetio is his physique. At 6'5, with a good frame, Koumetio is the prototypical Klopp central defender and while he will spend this coming season playing in the Under 18 and Under 23 teams, it would be no surprise to see him feature in the cup competitions for the first team.
Rhian Brewster and Curtis Jones will have a lot of people excited. Liverpool's academy really is starting to produce incredible talents after the barren run between Steven Gerrard and Trent Alexander-Arnold. Between Gerrard's debut in 1998 and Trent's in 2016, the academy produced only Stephen Warnock (67) Martin Kelly (62), Jay Spearing (55), and Jon Flanagan (51) that came through the academy and went on to make more than 50 appearances for Liverpool's first team  – excluding Raheem Sterling (129), Jordan Ibe (58) and Emiliano Insua (62) who were bought and then spent time in the academy.
Jones in particular looks set to play a big role in the first team squad this coming season, and he's shown already in pre-season that he has the talent to become a regular starter over the next couple of seasons. The kid has bulked up, and his ability and bravery on the ball put some of his more senior colleagues to shame.
The Thiago Alcantara saga continues to drag along. It's become very fucking boring in truth. Are you bored of it?? I'm bored of it. It looks likely that Liverpool will sign him as soon as they've sold a couple of players to fund the move. One of the names being linked with a move away is Gini Wijnaldum.
As ever, social media is split on its opinion of Gini. I won't bother dignifying the idiots who say he offers nothing with a response, I'll just say that he's been a key player for Klopp, plays pretty much every big game and has scored massive goals at massive times. He might not have gaudy stats, but he's a quality player and there's a reason Ronald Koeman is desperate to bring him to Barcelona after making him a key factor in the Dutch National Team.
It would be a blow to lose Gini; it would be much better to keep him AND sign Thiago, but Liverpool can't afford to continually allow players they have invested in to leave on free transfers. Emre Can, Alberto Moreno, Nathaniel Clyne and Adam Lallana cost Liverpool a combined £60mil, and they got no return on that investment when the four left. Letting Gini do the same wouldn't be ideal.
Other players continue to be linked, attackers and central defenders mostly. But Liverpool are doing what Liverpool do. Monitoring. Liverpool love to monitor. Since the glory days of Ian Ayre and his Harley, Liverpool have monitored the shit out of the market. And it works. Can't argue with the results. Klopp and Edwards have put together an incredible run of successful transfers, and a Champions League triumph followed by winning the Premier League means nobody should worry too much about the approach.
Some will. The FSGOut brigade will take any opportunity to shout and have tantrums. You would think that hiring Klopp, signing Van Dijk, Alisson, Mo, Mane etc and winning a Champions League and Premier League in back to back seasons would make the FSGOut lads shut up permanently, but no such luck. There's no logic to their argument. Literally none. Everything good about Liverpool right now, from Klopp, to the team, to the new training ground and extended stadium, and the trophies won, is down to FSG. None of it happens without them. None.
Liverpool are one of the two best run clubs in world football, the other is Bayern Munich. FSG are the reason for that.
Anyway, back to August. Not a lot else happened. The lads went on holiday and then went training in Austria. They beat Stuttgart, Joe Gomez left some lad in a heap and got pelters on social media. They drew with Red Bull Salzburg, Brewster scored a brace. Trent has a knock, Origi and Shaqiri seemed to be kept in storage. Someone apparently has Covid-19.
The local journalists must be pulling their hair out with the lack of reportable news. No transfers in since Kostas, Ovie Ejaria left but he'd been gone on different loans for the better part of three years so it didn't really register. No first team players have left since Lovren.
Side note – Lovren has commandeered freekick duty at Zenit. Fuck sake.
Neco Williams got a new contract, then got abuse on from gobshites on social media because a world class player scored a world class goal against him in a pre-season friendly. Liverpool lost that pre-season friendly on a penalty shoot out. It's a nothing game, and minutes in the legs are the only thing that mattered on the day.
Normally August would have brought us league games. We'll have to wait another while for them. Leeds up first will be tasty. Klopp vs Bielsa. Fuck watching the game, I want to watch those two for 90 minutes.
September will be more exciting.