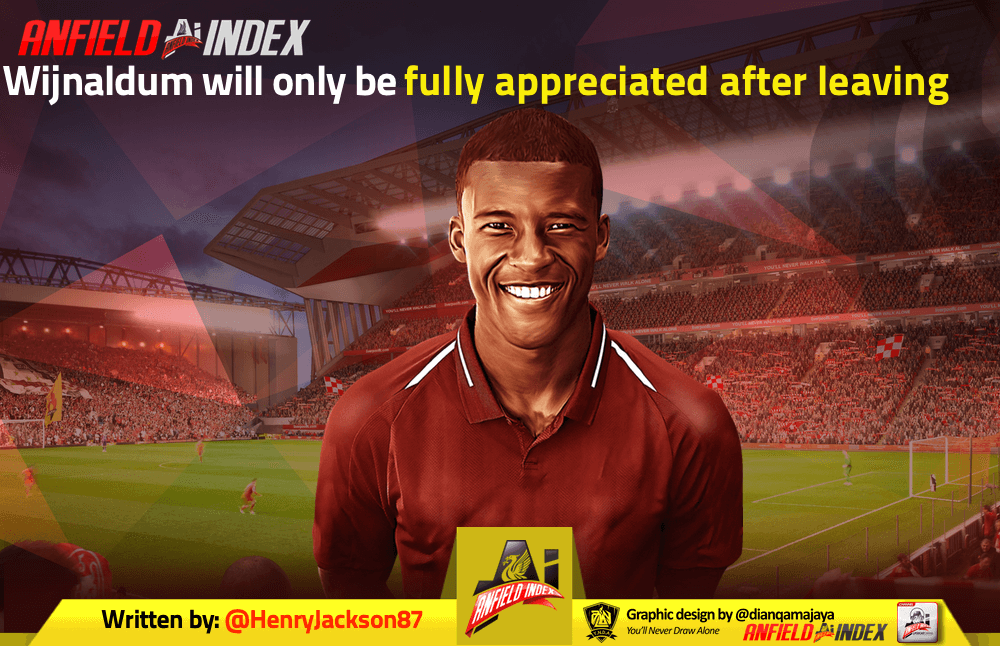 Wijnaldum will only be fully appreciated after leaving
As we prepare for the start of the new Premier League season, there are only two transfer stories keeping Liverpool fans preoccupied.
The continued pursuit of Thiago is the standout talking point, as the Reds try and get a deal for one of the world's best midfielders over the line. It is a frustrating saga that looks set to carry on for the foreseeable future, especially with the transfer window extending to 5th October.
Then there's the future of Gini Wijnaldum, which looks increasingly as though it belongs at Barcelona.
New Barca boss Ronald Koeman has made it clear that he wants to sign his compatriot in the coming weeks, as he starts a major rebuild at the Nou Camp.
There are sure to be twists and turns along the way, but a betting person would say that Thiago will be a Liverpool player come October and Wijnaldum will have waved goodbye to Anfield.
While that is a scenario that certainly has its benefits, because Thiago is an elite footballer who is superior to any of the Reds' current midfielders, the thought of losing Wijnaldum is a sad one.
Contrary to what some are saying about the 29-year-old's apparent lack of influence over these past four years – it is criminal how underrated and misunderstood he remains – he will leave a huge void that needs filling.
Is Wijnaldum the most fashionable, iconic player of this wonderful era at Liverpool? Of course not.
The likes of Mo Salah, Sadio Mane, Roberto Firmino, Virgil van Dijk, Alisson and Trent Alexander-Arnold will be seen as the true poster boys of this team, but top sides need those understated presences to truly click.
That is precisely what Wijnaldum has been ever since he joined from Newcastle in 2016, despite arriving with the reputation of being a goalscoring attacking midfielder.
That may be the case for the Netherlands, who Wijnaldum has scored 18 goals for, including a recent run of seven in 11 appearances, but Jurgen Klopp gave him an entirely different role.
The Liverpool manager saw a player who could master a disciplined, tactically astute midfield role, allowing others to flourish in a match-winning sense while he did the dirty work.
It would be unfair to describe Wijnaldum purely as a 'water-carrier', however, considering the attacking input he has produced in big matches over the years.
The Dutchman has scored against Man City, Arsenal, Tottenham, Chelsea and Everton in the league, while his Champions League double against Barcelona will forever go down in history.
Add to that a semi-final strike away to Roma, and a crucial header against Atletico Madrid last season, albeit in a losing cause, and Wijnaldum's pedigree speaks for itself.
The truth is that he is only going to be truly appreciated when he is gone, when the time arrives that the midfield is lacking energy and an ability to do the easy things efficiently.
His injury record has also been a huge positive, with 42 appearances the fewest he has made in a single campaign, and 187 over four seasons overall. While other midfielders have been in and out of the team, Wijnaldum has always been a mainstay.
There should be no debate over whether or not Wijnaldum is a Liverpool legend, having been such a key man in a side who became English, European and world champions, and a firm favourite of the world's best manager.
He will be remembered with great fondness by those who watch football like adults and don't treat it like FIFA, and his impact will never be forgotten.
There is a chance that a move to Barca may end up not materalising, which is the ideal outcome, as long as Thiago also joins Liverpool, but it does feel as though his future is decided and Spain is his next destination.
If Wijnaldum has played his final game for the Reds, it is a mighty shame, and it may be that his brilliance is only fully realised when he is gone.
There may have been some anonymous performances thrown in from time to time, but what a fantastic player he has been.