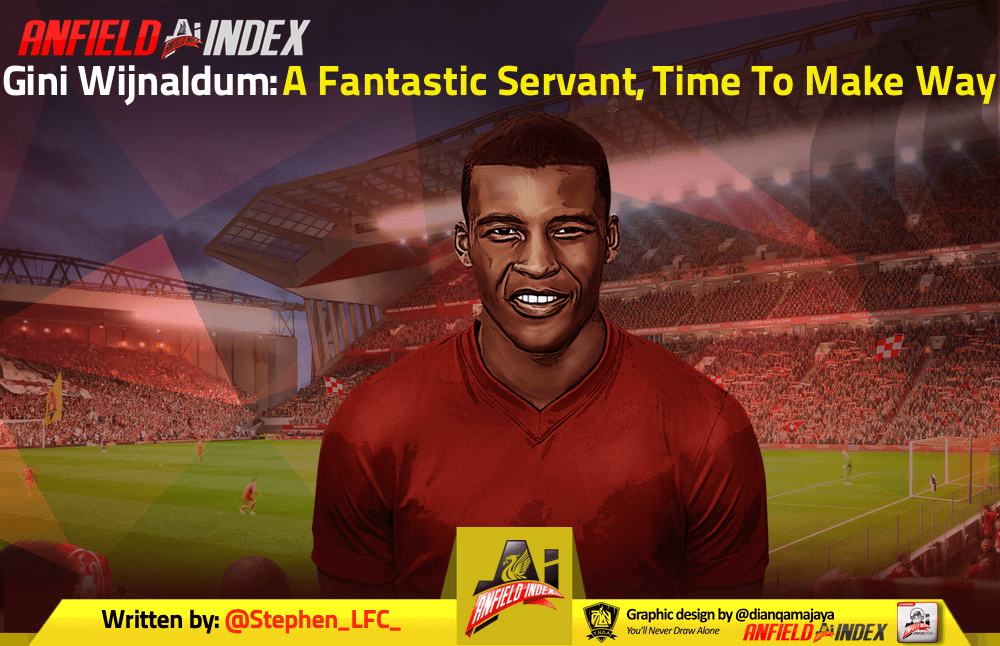 Gini Wijnaldum: A Fantastic Servant, Time To Make Way

The deal that had been proposed for weeks is finally taking shape.
There have been many players whom have divided opinion amongst the Liverpool fanbase in history – Dirk Kuyt, Luis Garcia, Danny Murphy are amongst a few. And with Georginio Wijnaldum potentially set to leave the club and wrap up a £15million deal to Barcelona in the coming days, the Dutchman could be joining that list soon.
Wijnaldum joined Liverpool in the summer of 2016, signed for £25million by manager Jurgen Klopp from relegated Newcastle. The general consensus was that, the Reds had a versatile player on their hands who could contribute goals and assists – as evidenced in the season prior to arriving on Merseyside at the North East club, where he scored eleven and set up five. Liverpool had lacked depth in the middle of the park for years, and the 29-year-old's capture ticked a lot of boxes.
His debut campaign at the club, in 2016/17, he enjoyed his most productive year at the club yet – managing 17 goals and assists in 45 appearances. However, there were still many supporters and even pundits alike who were left questioning what his role in the side really was, on occasion.
Back in the Netherlands, with PSV Eindhoven, he had been entrusted more of a free role offensively; often being deployed as a No 10 behind the striker. This resulted in him having more of an impact in the final third in terms of creating chances and scoring goals, which was a key reason why Steve McClaren, the then Newcastle manager sought to bring him to England in the first place.
At the Magpies, he was then shifted in a variety of different positions throughout the front line. Most frequently, he was either playing behind the striker like he did at PSV, or out wide as a left midfielder in a 4-4-2. This gave Wijnaldum the freedom to roam forward and be involved more in attacking patterns of play, as predicted. Many Newcastle fans had highlighted his tendency to 'go missing' in many away games that season though, as he went that entire season without scoring a single goal on the road.
When he arrived on Merseyside, however, his role in the side did become more limited. As highlighted previously, Wijnaldum's goalscoring record in his career prior to joining Liverpool was significantly superior on the surface, due to the fact that he had been given more of a license further up the pitch by previous managers.
This is also something which can also be observed in his position whilst fulfilling international duty for the Netherlands – he plays as an attacking midfielder in the 4-3-3 on multiple occasions, leading to his highly influential displays. But whilst he does have his obvious strengths in contributing to attacking passages of play, his defensive work at Newcastle often went under the radar; and was a key reason why Klopp sought to give Wijnaldum more of a disciplined role in midfield.
His tackle success was 84% in 2015/16, averaging 228 recoveries and making no errors leading to goals. For context, Chancel Mbemba, who was their starting centre-back for most of that season, achieved less tackle success and only made twice the number of tackles that Wijnaldum did. Klopp demands high energy levels and work rate from his midfielders, something which the ex-PSV man has achieved to high degrees of success.
It has been well-documented that, since Trent Alexander Arnold's breakthrough into the first team and Robertson's arrival at the club in 2017, Liverpool have derived a large chunk of their creativity from their full-backs. Philippe Coutinho, the team's creative fulcrum for years, departed in January 2018 – and was perhaps a turning point which led to Klopp having to rejig the team's style of play. In turn, this would take the pressure off Liverpool's midfielders to create opportunities.
Throughout this period, it was to Wijnaldum's knowledge that he would possibly have to limit his burgeoning abilities in the final third. The role that he performs in the side is primarily to win the ball in deep situations and help retain it, as well as pressing the opposition. It is a unique role that not many No.6's can perform in Europe – so it's very much a testament to Wijnaldum that he has come to terms with what Klopp's asked and transitioned into the side seamlessly.
However, that's not to say that he's not had his fair share of big moments, however. That semi-final display against Barcelona in the second leg is something that not many in his position in world football would be able to emulate over 90 minutes – and undoubtedly, without his services, Liverpool would never have progressed to the Champions League Final in Madrid in 2019.
Yet, there have been questions raised over the lack of flair and creativity in the midfield – which are justified. Since the winter break, performances have been often questioned and on occasion, they have found it difficult to get to their full throttle.
Of course, the title was already wrapped up by then and possibly a slack tempo could be partially attributed to some of those results. In particular, sides have snuffed out the Reds' style of play and the importance of the full-backs to the side. Atletico Madrid demonstrated in the first-leg, to great effect that by depriving Robertson and Trent of space in dangerous areas, that Liverpool can indeed be stopped in their tracks.
When the aforementioned players are nullified by the opposition, that's when you need other men to step up in the side, and provide the flair and cutting edge to break down deep-blocks. Arsenal followed Diego Simeone's blueprint by defending compactly, and shutting out Liverpool's dangerous crossing opportunities of the ball. Outside of Naby Keita, there is nobody in the midfield that is capable of supplying chances in tight situations. That's where of course, the infatuation with Thiago Alcantara comes in.
Thiago is a player which Klopp has been notoriously interested in for months on end, and the Spaniard's performances throughout Bayern Munich's European winning campaign will only intensify that obsession. The 30-year-old's ability to play passes breaking between the lines is adept and matched by few others in world football – although he ostensibly takes on the role of a deep-lying playmaker rather than the central midfield role that Wijnaldum does.
Liverpool's inability to break Arsenal down for the second time of asking in the Community Shield on Saturday only serves to emphasise what a fantastic addition Thiago would be to the midfield ranks. However, the club have made it clear on occasions that he would only come in at the expense of another player leaving. In this case, the links connecting Wijnaldum and his former national side boss Ronald Koeman at Barcelona would render the former's departure to the Catalan outfit and Thiago's arrival at Liverpool to make the most sense.
Personally, I am not in any hurry to see Wijnaldum leaving. However, the implications are that he wants a new challenge elsewhere, and a new contract extension is appearing highly unlikely at this stage. Therefore, it is a deal which would seem plausible and benefit the club in the long-run, as Thiago is an upgrade on Wijnaldum in every regard.
I have been critical of Wijnaldum in the past, particularly on this very site. But when you understand the role he truly performs in this monstrous Liverpool side currently, it's clear to see why Klopp values him so highly.
A terrific servant for the club, but time to make way.