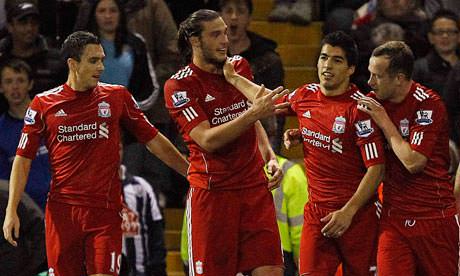 Opta Stat Attack | Andy Carroll's time at Liverpool FC
Most Liverpool supporters have made their minds up on Andy Carroll. A lot of rival club supporters believe he's been one of the worst transfers in recent history, arguably the worst (well, maybe the best if you're a Newcastle supporter). However it is way too early in his career to be labelling him with such a moniker. He has only started for Liverpool FC on 13 occasions in the Premier League, scoring four times. Do you believe this is enough to judge him? Do you not think 30 or 40 games would be a decent time? Or at least after he has had a run of games in the first team?
Let's look at some of Andy Carroll's stats so far, and although they may not make very good reading for Liverpool FC supporters at the moment, there may be a ray of light in the stats from his time at Newcastle showing what he is capable of.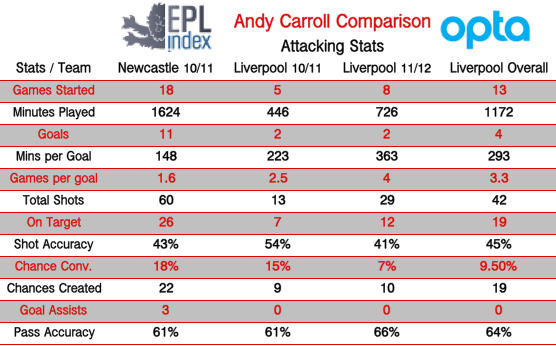 At a first glance you can see that Andy Carroll has not played as many games for Liverpool since January as he did for Newcastle from August 2010 to January 2011. It's also clear that his goal scoring ratio has been more than halved with him scoring one in every 1.6 games at Newcastle and one in every 3.3 at Liverpool. However when you combine the tally since the start of 2010/11 season the calculation is very interesting. When combing the total time played (2,796) and dividing it by total goals scored (15) you get a minutes per goal value of 186.4 which is equivalent to a goal every two games. Not bad when adding his Newcastle record then eh? Unfortunately the reality is that he'll only be judged on his Liverpool record which is at 3.3 games per goal at the minute which isn't really that bad at all and these stats are only Premier League remember. No cup goals have been added here although we don't know what effect they'll have on numbers.
Chance conversion is a problem for Liverpool FC and it's the same for Andy Carroll this season with a conversion of 7%. Proving that Liverpool's problems are throughout the squad and not just a few individuals (Suarez) who are wasting chances. At Newcastle his chance conversion was a respectable 18% and even last year at Liverpool it was more than double this seasons figure and sat at 15%. It's when looking at the overall number that you find that Carroll has almost halved his chance conversion from his Newcastle days to 9.5%. A combined chance conversion since 2010/11 is 15% (again pushed up by his Newcastle record in 2010/11).
Shot Accuracy overall is very similar moving up from 43% at Newcastle to 45% at Liverpool although in his five games last year it sat at 54% but his tally this year of 41% (down from 2010/11) moves his overall Liverpool figure to 45%. His overall record since 2010/11 in the Premier League for shot accuracy is 44% so not too bad really.
Goal assists and creativity are another statistical area that we all find interesting. As you can see on the table above Andy Carroll has created almost as much for Liverpool as he did for Newcastle whilst playing five games less. The difference is that he had three goal assists for Newcastle. However we're back to that old chestnut of can we blame this on Andy Carroll? Answer? No we cannot. A goal assists has two parts to it's equation. The first being the provider and the second being the goalscorer. In this case Andy Carroll has provided a chance for a team-mate to score but unfortunately they've missed their chance meaning Andy hasn't got an assist and the team-mate doesn't get his goal. This has happened the other way round too, for example Stewart Downing's lack of assists has occurred because players like Andy Carroll are heading his pinpoint crosses onto crossbars, wide or into keeper's arms! However that's another blog for a later time!
So what about clear cut chances? How many of these opportunities for Andy have been "clear cut"?

A quick analysis shows that Carroll performed better at Newcastle converting 35% of his clear cut chances whilst at Liverpool his overall tally is 15% lower at 20%. It's improved this season though as he's converted 2 out of 8 however it's again the reason why Liverpool are struggling for goals. So for comparisons sake how is his strike partner at Anfield doing? Let's take a look.

Suarez performed brilliantly last season converting 75% of his clear cut chances but again it's this season that is letting him and Liverpool down. Suarez' record very similar to Andy Carroll's with a conversion rate of 27%. It's just not good enough for the strikers. A clear cut chance is one that is pretty much handed on a plate to the striker. You can see why Liverpool have struggled here. Overall since the players have been at Anfield they have had 29 clear cut chances and scored only 9 – 31% chance conversion. This number is masked by Suarez' 75% conversion rate last year so if we look at the numbers for 2011/12 alone they are: 23 clear cut chances, 6 goals and a conversion rate of 26%. Liverpool strikers should be putting away chances with a much higher conversion rate. Let's have a look at table topping Manchester City's strikers:
Ballotelli – 4/6 – 67% conversion rate
Aguero – 6/11 – 55% conversion rate
Dzeko – 7/12 – 58% conversion rate
City Strikers overall – 17/29 – 59% conversion rate 
So as you can see from our calculations, above, the Manchester City strikers are more than doubling the conversion rate for clear cut chances. As we've mentioned before this stat is for a chance that should really be scored, examples include one Vs one against the goalkeeper, un-marked headers/shots on goal in the six yard box etc.
Anyway we must get back to our Andy Carroll profile as we've digressed a little but we believe it was a tangent that needed to be addressed!
So what are Liverpool doing wrong in terms of Andy Carroll? Does he not fit the pass and move groove that Liverpool have been playing as of late? If so you'd have to question his purchase because Kenny Dalglish would have known that his side was always going to move into this style of football. However he's a Liverpool player now and we must play to his strengths whenever he's played. So what example can we give of a game in which we've seen Andy at his devastating best? Well it wasn't in a Liverpool shirt but rather against Liverpool for Newcastle in their 3-1 last season at St James Park (that was the stadium's name back then!). Here are some Guardian Chalkboards from the game:
The first goal demonstrates one of Andy Carroll's traits as a provider. Getting on the end of crosses/free kicks at the far post and heading them back across goal. Liverpool felt this first hand with the opening goal of the game. Barton crossed in, Carroll headed it back to Nolan to tap in. A simple goal but not one that Liverpool have attempted as much as we'd have liked. We've seen Carroll head back into space in the box but no Liverpool players are alive to this. It's obviously not been worked on as much as Newcastle did. The question is why not? Liverpool must play to Andy Carroll's strengths when he is on the pitch and this is one of his strengths.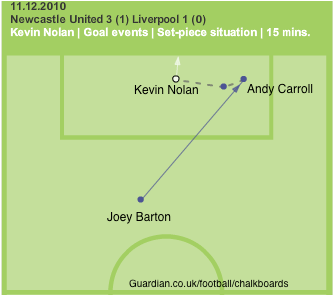 Andy Carroll has a lethal shot as we've seen in the game against Manchester City last season but Liverpool also felt the brunt of his thunderbolt when he crashed the third goal in against them in the game referred to above. This goal involved Jose Enrique (now a Liverpool player) running off of Andy and giving him some space and room to fire in a shot. Another tactic not really used by Liverpool. We need to get the ball to his feet and give him some options, take away some defenders and let him have a crack. We've just not seen it enough at Liverpool.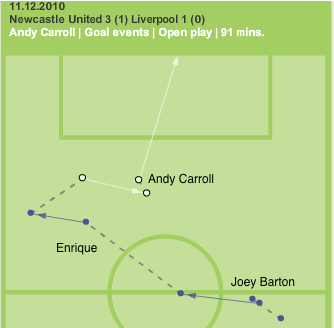 There are a few common denominators in how Carroll performed, he was settled at Newcastle and had played a season before that with Kevin Nolan and Joey Barton at Newcastle. Have Liverpool got anyone who has struck a chord with Andy like these two players did? Not really. Steven Gerrard hasn't been fit and we're yet to see Charlie Adam provide a consistently dangerous cross into the area. Liverpool need to get players to work with Andy and they need to have an understanding. This will only come with time so it's exactly what Liverpool supporters should give Andy: plenty of time. Once he knows his role in the side and Liverpool can adapt (most important is adaptability) to his style of play when he's on the pitch Liverpool will have a plan B and another style. Personally we don't believe Andy will hinder the style at all. He's proved at Newcastle that he can be an asset if used properly and at this moment in time, whether that's down to his own confidence or the tactics of the side, he just isn't the same or being used similarly.
Another asset to his game was shown against Liverpool last year: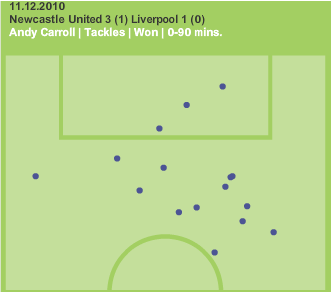 As you can see Andy Carroll won many aerial duels in the game at St James' Park last season. We have yet to see something similar for Liverpool. He won 17 out of 20 duels with Andy winning 16/18 aerially that day.
This Chalkboard only shows the attacking half as he'd won one in Newcastle's 18 yard box so there should be fifteen aerial duels in this image.
Three duels inside Liverpool's 18 yard box and a lot of them tending towards the right hand side too. You can see that Newcastle had plans and used them efficiently.
A lot of Liverpool supporters don't want the long ball game and we agree, we want to see pass and move but there can be the need for a nice chipped pass here and there and they need to be used when Andy is on the pitch. Maybe we shouldn't ever play Jamie Carragher and Andy Carroll in the same side? Hoof? Anyone?
We're running a little short on time now else we'd have analysed a little more but what we will leave you with is how Andy Carroll has been performing in terms of his duels and tackles whilst he was at Newcastle in comparison to his time at Liverpool FC.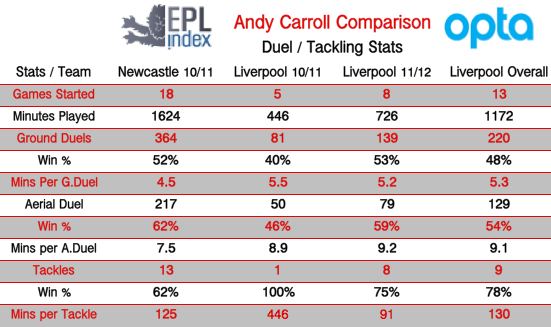 His duels win percentage has decreased substantially in the air and on the ground. The tackles can be ignored as there really aren't enough of them attempted to take notice of them but we've included them for completeness. Andy is 8% down on his aerial duel win % and 4% down on his ground duels win%. This could be down to confidence more than anything but if we want a full firing Andy Carroll we'll need him to win at least the same amount of Aerial Duels as he did at Newcastle and a 62% figure is very respectable.
We think we've shown in this article that Andy hasn't improved his game whilst at Liverpool but there are ways to improve Andy's game and maybe get the best out of him. We, at AnfieldIndex, believe that Liverpool can get a lot more out of Andy Carroll by playing to his strengths a little more – maybe against the correct opposition too. So picking and choosing which games he's required in etc. Whatever tactic is chosen Andy Carroll can be an asset to Liverpool and although his stats don't show that at the moment we believe Liverpool supporters should do exactly that, support Andy and get him through this rough patch and you may just have an expensive jewel in your hands.
Please do leave a comment if you agree or disagree with the post, all feedback welcome!

All stats used are from the EPLIndex.com's Opta Stats Centre – you can subscribe here.