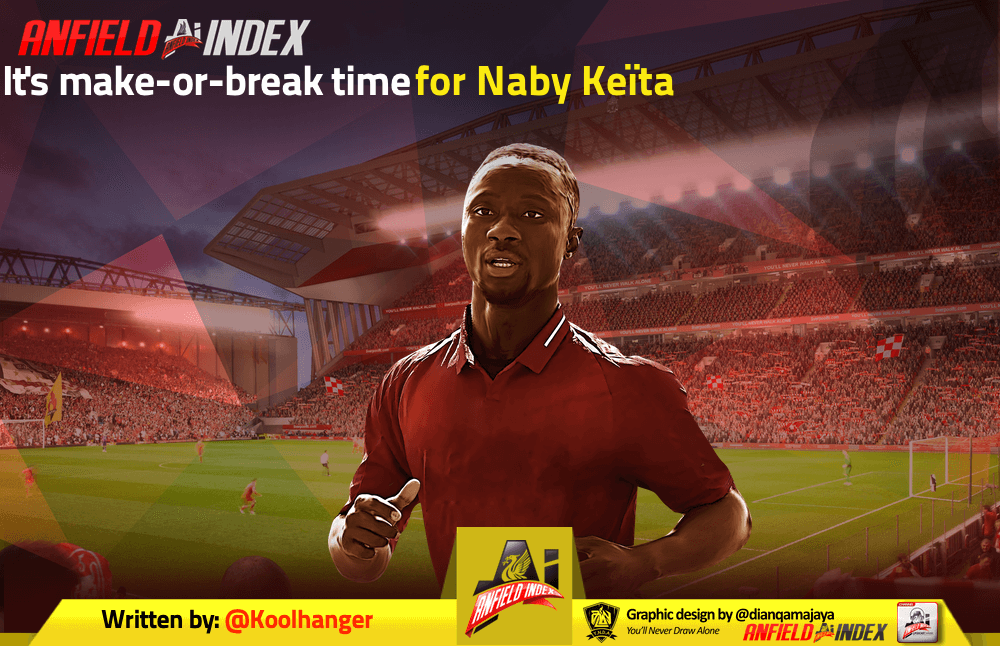 It's make-or-break time for Naby Keïta

As Liverpool gear up for the start of the 2020/21 Premier League campaign next weekend, Naby Keïta knows that now is the time to stake his claim for a regular starting spot in The Reds' midfield.
The Guinea international who wears Steven Gerrard's famous number 8 jersey has endured a stop-start couple of seasons since his arrival from the Bundesliga in 2018.
Liverpool paid £54 million for Keïta who had attracted the attention of several of Europe's top clubs – Barcelona included. Keïta had really impressed over four years between sister clubs RB Salzburg in Austria and RB Leipzig in Germany. Once he proved his talents in the German Bundesliga, there was a clamouring for his signature. Jürgen Klopp and Michael Edwards won the race for the midfield dynamo.
Unlucky on Merseyside
Unfortunately, since joining Klopp's Red revolution, Keïta hasn't had as consistent a spell in the first-team as he would have liked.
During his four years in Austria and Germany, he was unavailable for just 12 games overall. That's an average of missing only three games per season for his time at the two clubs. At Liverpool, Keïta has missed 21 first-team games over two years or 10.5 games per season.
The good news is that he has been fit and available for Klopp since February. When the Premier League returned to complete the 2019/20 campaign in June, Keïta was one of the in-form players who really shone as Liverpool sealed their 19th league title success.
Upturn in form
Keïta featured in all 9 of Liverpool's remaining league games in June and July, starting five and coming on as a sub in the other four. He scored one goal – the beauty of a strike against Chelsea – while providing two assists in those 9 fixtures.
Klopp has certainly utilised Keïta as much as possible during pre-season too. Keïta played 45 minutes in the 3-0 win over VfB Stuttgart and also scored in that game. He played the full 90 minutes in the 2-2 draw against his old club RB Salzburg. In the Community Shield, Keïta came on as a sub for the final half-hour against Arsenal. Last Saturday, he played another 90 minutes in Liverpool's 7-2 victory over Blackpool.
With rumours of Gini Wijnaldum possibly leaving for Barcelona, Keïta knows that now is his chance to become a mainstay in Liverpool's midfield triumvirate. Wijnaldum played more minutes than any other midfielder for Klopp last season. If he goes, his loss will be huge. Of course, the whole transfer saga between FC Bayern's Thiago and Liverpool rages on with the Spain international viewed as the perfect replacement for the potentially outgoing Wijnaldum. However, can Keïta plug that gap himself?
And now for something completely different
Keïta certainly offers a far more offensive option in Liverpool's midfield than Wijnaldum. The question, therefore, has to be asked, is Keïta replacing Wijnaldum an ideal solution or would it be a case of forcing a square peg into a round hole?
Keïta has the stamina and energy levels to act as a box-to-box midfielder for The Reds but his strongest traits come to the fore in the opponent's half. In a 'worst-case scenario' of Wijnaldum leaving and Thiago NOT signing for The Reds, will the midfield then lack solidity?
Klopp's Liverpool depend largely on creativity coming from the attacking full-backs, Trent Alexander-Arnold and Andy Robertson. With Fabinho, Jordan Henderson and Gini Wijnaldum, The Reds possessed an extremely stable and disciplined midfield. Players like Alex Oxlade-Chamberlain were generally preferred as an option off the bench if Liverpool needed more of a 'breaking-the-lines' approach from the middle of the park. If Wijnaldum leaves, Klopp is likely to stick with a midfield trio of Fabinho, Henderson and one of Keïta or Oxlade-Chamberlain. James Milner, now 34, is a squad player these days while Curtis Jones and Xherdan Shaqiri are likely to only be used as options off the bench from time-to-time.
How Keïta ranks among the other midfielders
Keïta has often been lumped into the same category as Oxlade-Chamberlain. While both players certainly add impetus from the midfield, Keïta normally does this via 'take-ons' and dribbles thanks to his quick-thinking, close control and excellent agility. Alex Oxlade-Chamberlain has a higher pass accuracy in both the opponent's half and the final third (92% and 89% respectively). One of the main issues with 'The Ox', however, is his persistent injury problems. Oxlade-Chamberlain missed 81 games for Arsenal over five seasons. That's an average of just over 16 per season. At Liverpool, Ox has missed 54 games over 3 seasons, meaning his average 'unavailability' has increased to 18 games per season. As it stands, Klopp will not regard Oxlade-Chamberlain as a midfielder he can rely on for at least 30 league games. While Keïta has had his own injury problems since arriving on Merseyside, his history doesn't point to that of an injury-prone player as such.
Though Keïta only made 9 starts for Liverpool in 2019/20, his performance levels improved in comparison to his first season in the Premier League. Last season, he had an 82.1% dribble success rate compared to just 51.1% the year before. For context, Oxlade-Chamberlain had a dribble success rate of 53%. Keïta's shot accuracy was up from 33.3% in 2018/19 to 58.3% now. This was the highest shot accuracy rate of all of Liverpool's midfielders last season – Wijnaldum was 41.7%, Henderson 40% and Oxlade-Chamberlain 25%. His goal conversion rate also increased from 7.4% to 16.7% which is a significant improvement in how Keïta was taking any chances presented to him.
From a creative point of view, Keïta was setting up a chance on average every 54 minutes last season. Again, this was a huge improvement on his 'chances created' rate of every 155 minutes of play the year before. Oxlade-Chamberlain averaged a chance created every 88 minutes in 2019/20, while Henderson averaged every 94 minutes and Wijnaldum was every 164 minutes.
With regards to making himself available for his teammates, Keïta also improved from receiving a pass every 1.5 minutes in 2018/29 to every 1.3 minutes in 2019/20. Henderson was the next 'most-involved' midfielder, receiving a pass every 1.4 minutes. Oxlade-Chamberlain and Wijnaldum both averaged receiving a pass every 2.1 minutes of play.
Out of focus
There's little doubt that having played significantly fewer minutes than the likes of Henderson and Wijnaldum, it's easier for Keïta's stats to impress. Yet, we can't rule out the possibility that he could improve some aspects of Liverpool's midfield if he's able to stay fit and enjoy a prolonged spell in the centre for The Reds. As Simon Brundish of AI Pro has pointed out on many occasions, availability is the most underrated ability. If Keïta can maintain fitness, it's likely he will become one of the first names on Klopp's team-sheet on a regular basis.
With players like Takumi Minamino and Curtis Jones coming into the fold more-so this season, Keïta could have some time out of the spotlight at Liverpool. If Thiago arrives, that will definitely be the case for Liverpool's number 8. With less pressure on him, Keïta may be about to show us exactly what all the fuss was about when Michael Edwards acquired his signature ahead of the rest of Europe's elite.
Credits