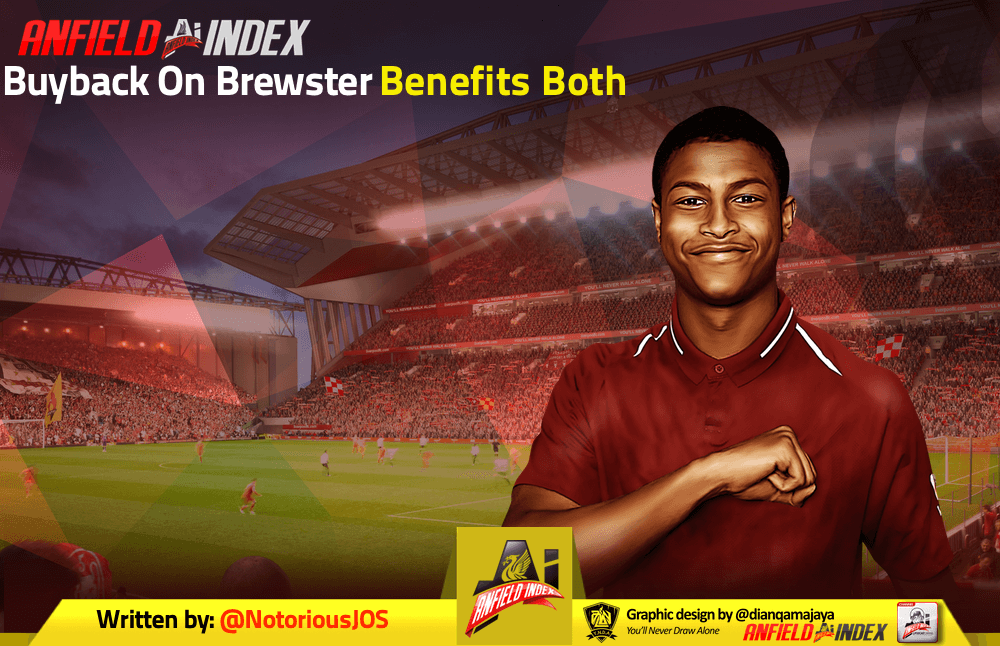 Buyback On Brewster Benefits Both
The future of Rhian Brewster has proved to be a major talking point in the last few weeks.
The talented forward enjoyed a strong pre-season for Liverpool, scoring three goals in two games, a run of form that led some fans to suggest that the Reds ought to keep the England youth international for the upcoming campaign instead of letting him depart on another loan.
Mike McGrath of The Telegraph, however, reported that the English champions — who were initially thought to only be open to entertaining loan offers for the 20-year old — would consider selling Brewster for a price in the region of £20,000,000.

Aston Villa, Sheffield United, Crystal Palace, Newcastle United, Burnley, and Brighton, among others, have expressed their interest in signing to Under 17 World Cup winner and the Reds could have a big decision to make.
Should they decide to sell the former Swansea loanee — who scored 11 times in 22 appearances in south Wales last season — the Merseysiders wouldn't necessarily be calling time on Brewster's Anfield career, despite what it may look like.
Real Madrid's dominance of the European Cup in the last half-decade has been built on — in part — the performances of right-back Dani Carvajal and defensive midfield shield Casemiro.
What the Spanish and Brazilian internationals share in common is the fact that both were sold by Los Blancos — to Bayer Leverkusen and Porto respectively — but both sales had a buy-back clause included in them.
For all intents and purposes, Carvajal and Casemiro were loaned out but with the benefit of Madrid receiving bigger fees for their services and the fact that — because they invested financially in them — the loan clubs had a bigger incentive to play and develop both players. Both clauses were triggered after a season away, for a fee marginally bigger than what they were initially sold for.
Clubs will often — in the case of a close selection call — side with the player they own over a loanee because it's more advantageous to them to develop a player they can profit from — either financially, by selling them, on in terms of performances — years to come. Loans, by their very nature, are temporary and often they benefit the parent club more than the loan club.
In the case of Brewster, Liverpool could take a leaf from Madrid's book and kill two birds with one stone.
By all accounts, because of the economic downturn brought on the ongoing pandemic, the Reds' transfer strategy will be sell to buy and in their goal-hungry young forward — who has doubts over his capability to potentially carry the attacking can for a Jurgen Klopp team — they have a saleable asset that could provide the funds to strengthen elsewhere.
A fourth choice centre half, an additional forward — perhaps one that immediately suits Klopp's style of play more than Brewster would — and, given the possibility Georginio Wijnaldum leaves, Thiago have all been reported as the reigning champions transfer priorities this summer.
Taking that at face value, any sale of Brewster, provided it includes a buy-back clause, could make an abundance of sense for a club who needs funds to add to their squad for a player who — despite his promise — they clearly still feel has lots to learn, given they are supposedly open to a sale.
Should Brewster — whose goalscoring instincts would suit many clubs with a more rudimentary tactical approach than the Reds — thrive at another Premier League club and add to the parts of his game that are considered weaker — including, as Klopp says, his overall involvement in proceedings on and off the ball — Liverpool can re-sign the forward for an agreed fee in the future.
Mohamed Salah, Sadio Mane and Roberto Firmino will all be 29 at the start of next season and with a season of Premier League football under his belt — potentially at a club with an added motivation to develop him — Brewster could return to Anfield a better, more rounded player and challenge for a place in the Reds front line.
Meanwhile, Liverpool — with the proceeds of a sale — could add to their squad ahead of what will be a compressed, energy-sapping season where rotation will be a prominent feature.
No fan wants the curtain to be drawn on the promising Brewster's Liverpool career, but a sale with a buy-back — a deluxe loan, if you will — could suit all parties.