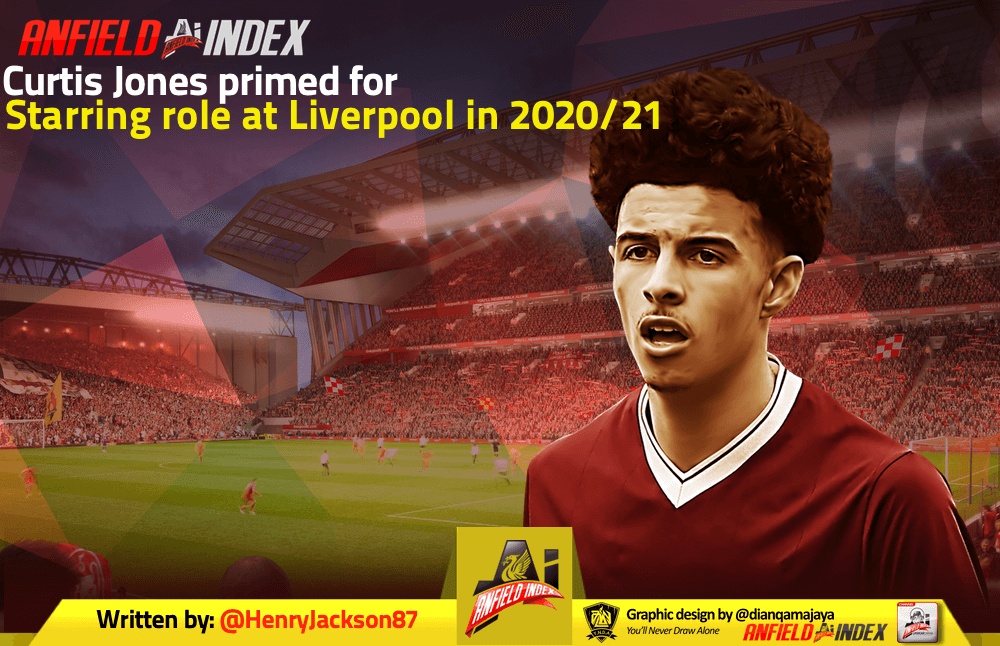 Curtis Jones primed for starring role at Liverpool in 2020/21
It is a rare thing to see a young Scouser make the grade at Liverpool, backing up their early promise and becoming a hero to millions around the world.
Trent Alexander-Arnold is the most recent homegrown talent to become a star at Anfield, but it has been slim pickings for many years.
For every Alexander-Arnold, there are many who aren't good enough, whether it be Jon Flanagan, Jay Spearing or Jordan Rossiter, not to mention the endless individuals who aren't even lucky enough to make a single first team appearance for the Reds.
In the last few years, Curtis Jones has emerged as the most exciting Liverpool-born prospect, maturing from gifted academy youngster to Under-23s captain, then to being a regular in Jurgen Klopp's squad.
While the 19-year-old still finds himself down the pecking order in a midfield littered with depth, the waves do appear to be parting and Jones is on the verge of playing a more prominent role.
If his stunning FA Cup winner against Everton last season was an indicator of Jones' natural brilliance, his mature performances at the back-end of the campaign were arguably more impressive.
Jones looked at home every time he took to the field, oozing class on the ball and doing his defensive duties with an increasing level of professionalism and ease. His first-ever Premier League goal, against Aston Villa in July, was typically well-taken in front of the Kop.
The teenager has also shone in Liverpool's very short pre-season, particularly in last weekend's 7-2 drubbing of Blackpool at Anfield.
Bringing guile to the middle of the park, and an underrated physical presence – he is 6ft1in tall – Jones was superb, standing out as one of the Man of the Match contenders, along with Naby Keita, Takumi Minamino and Roberto Firmino.
As the new Premier League season fast approaches, Jones is no longer the young kid who can do a job in domestic cup matches – he is becoming the real deal. Blessed with a healthy belief in his own ability, the midfielder has made it clear that he thinks he should be playing more, and it is justified.
It could actually be argued that Jones is swiftly becoming a more reliable long-term choice than Alex Oxlade-Chamberlain, who is yet again sidelined for a noticeable period of time, and whose performances can be erratic at times.
At 27, and with numerous fitness issues over the last three seasons, is Oxlade-Chamberlain really worth trusting as much as a 19-year-old with the world at his feet?
That's not say Oxlade-Chamberlain should be disposed of – far from it, he is still a strong option, when fit – but Jones may have leapfrogged him, as he did Adam Lallana before he left to join Brighton.
At one point, Jones' pathway into Liverpool's starting lineup looked very blocked, at a time when Fabinho, Jordan Henderson, Gini Wijnaldum, James Milner, Keita and Oxlade-Chamberlain were all ahead of him in the reckoning.
The times are changing, however, with Wijnaldum seemingly closing in on a move to Barcelona, Milner's legs finally starting to show signs of wear and tear and Oxlade-Chamberlain an injury-prone figure.
Klopp's faith in youth is well-known, and while there is a clamour for new signings to come in – Thiago is still a must-buy if Wijnaldum leaves – the manager may feel that Jones' rise means no other additions are needed.
When Steven Gerrard was 19 during the 1999/00 campaign, he made 31 appearances in all competitions, starting 28 of the games and becoming a vital part of Gerard Houllier's plans.
Jones should be looking to do similar in terms of appearances this season, even though this Liverpool side is far harder to get into than the outfit that graced Anfield 20 years ago.
When you look for the attributes that Klopp demands in his players, Jones has it all.
He is magnificent in a technical sense, combining balance, dribbling ability and creativity on the ball, but he is also intelligent in his off-the-ball work. He is no luxury player.
Jones' eye for goal from midfield is something that has been lacking from Liverpool's other middle men – he has a Gerrard-esque ability to arrive late into the penalty area with pace and power – potentially adding another dimension to the attack, too.
On top of that, he still has so many years to perfect his skills and become an even more rounded footballer, so the sky is the limit for him.
With some youngsters, heaping pressure on them can be negligent, but with Jones you feel it will only massage his ego further and make him believe he can star for the world's best club team.
It is slightly premature to be calling for Jones to be starting league games regularly, but he is now a great first option off the substitutes' bench and it would be no risk having to use him from the start in a lot of matches.
There was a point when it looked as though Jones would be like so many Scousers before him and fall away, having to play elsewhere and accept the fact that he wasn't good enough for Liverpool.
He has enjoyed a meteoric 12 months, however, and has every chance of joining the likes of Alexander-Arnold, Gerrard, Michael Owen and Robbie Fowler, becoming the next local Anfield superstar in the process.