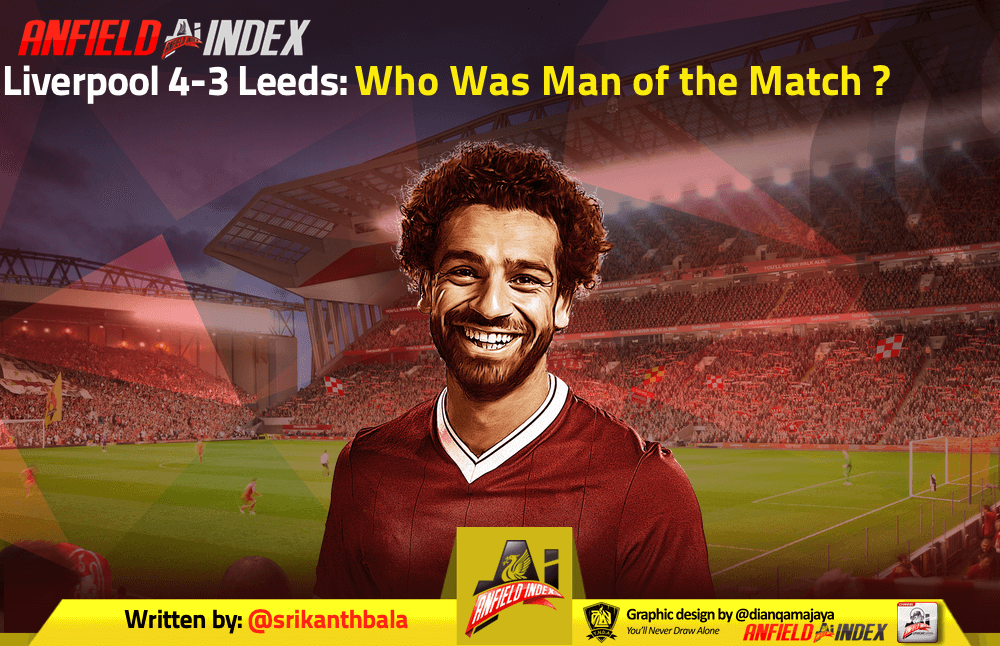 Liverpool 4-3 Leeds: Who Was Man of the Match ?
Liverpool got off their Premier League defence in the most rollicking manner, winning by odd goal in seven, in what was a thrill-a-minute game. Liverpool took the lead three times and they were pegged back three times by the newly promoted side, but were not to be denied on the fourth such attempt.
Alisson started in goal while Trent, Gomez, Van Dijk and Robertson started in the back-line. Alisson was beaten by some fine finishes, though he was a tad unlucky for Leeds' second goal as he got a touch but was not enough to prevent the goal.
The defence had a really average game, with Trent and Gomez unable to stop Harrison to stop for the first goal. Van Dijk's careless attempted clearance opened up the opportunity for Bamford to equalise for the second time in the game. This was after Van Dijk beat the man marking setup with an intelligent run from deep to put Liverpool into the lead.

In midfield, Henderson made a surprise comeback after missing the whole pre-season alongside Naby Keita and Wijnaldum. Klopp made a reference to Henderson's natural movement as an antidote to Leeds' man marking as one of the reasons to putting him in. The midfield performance was quite pedestrian though, with very little impact in both attack and defence. Fabinho came in late in the game and won the decisive penalty.
In attack, the familiar sight of the front three of Mané, Firmino and Salah lined up.  In what was a reversal from pre-season, Salah looked razor sharp and got his season off to a great start with an early penalty. A sweet finish doubled his goal tally which was rounded off with the late winning penalty. Mané, in direct contrast missed a handful of excellent opportunities to get his name on the goal scoring charts. Firmino was his usual self, keeping the team moving with his intelligent movement and one-touch football.
Man of the Match is a no brainer. Salah has now scored on opening day four seasons in a row. He looked razor sharp tonight with multiple attempts on goal and was alert to set up Mané couple of times. He looks ready to wrest the Golden boot back once again. An opening day hat trick in such a close result means he gets the Man of the Match along with the match ball.