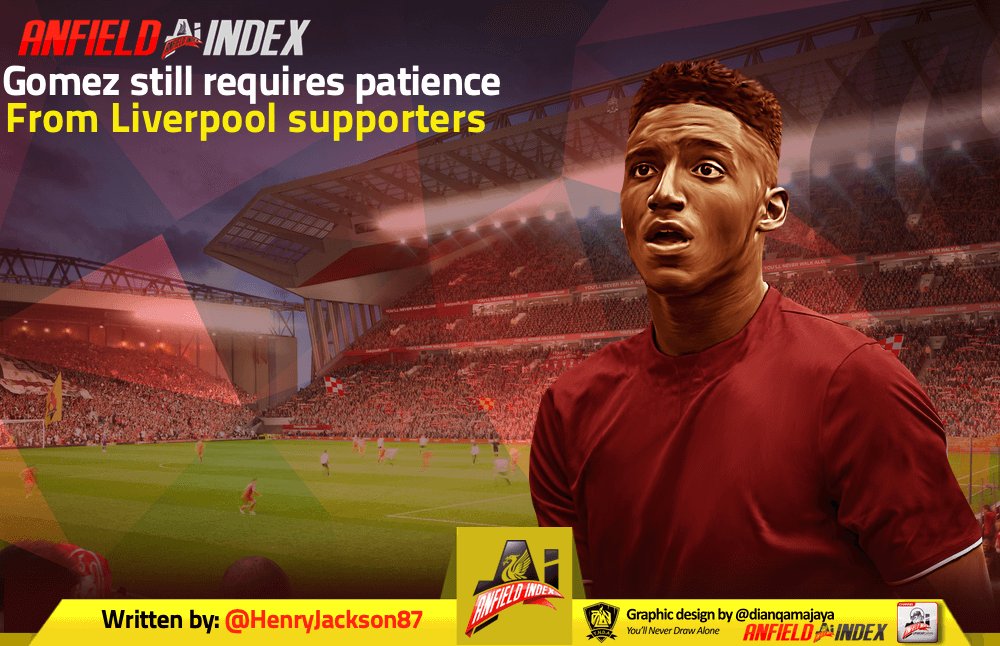 Gomez still requires patience from Liverpool supporters
Who else saw that coming last weekend then?
Liverpool played out a Premier League classic against newly-promoted Leeds, getting their title defence off to an entertaining-but-unconvincing start at Anfield.
Having not been able to watch the game first time around, I can confirm that following it on Twitter, while fellow supporters lost their minds, was not an experience to treasure. Don't ever do it.

On a defensively-sloppy evening for the Reds, the one man who seemed to come in for the most criticism was Joe Gomez, as his shaky post-lockdown form continues.
Virgil van Dijk made an uncharacteristic error for one goal – let's switch back on now please, Virg! – and the whole defensive unit didn't cover itself in glory, but Gomez was singled out.
It can be argued that it was harsh to do so, considering the performances of those around him, but it is hard to deny that the 23-year-old isn't in a poor spell of form by his high standards.
As mentioned, Gomez hasn't been himself since football returned to our lives in June, failing to cut the same assured figure that looked so dominant in the first half of last season.
Lapses in concentration have become more common, his relationship with Van Dijk hasn't been the same and the return of the injured Joel Matip means his place is now arguably under threat.
While an excuse could be used when Liverpool had wrapped up the league title, namely a natural drop in intensity, must-win games are now back and dropped points so nearly occurred in the first outing of the campaign.
Gomez isn't the sole reason for this, of course, but he is looking the least convincing of an out-of-sorts defensive bunch, and has done for an extended period now.
But this is all to be expected and shouldn't be treated as some sort of major crisis.
Such has been the mature nature of Gomez's performances in the last couple of years, it is so easy to forget how young he still is.
Twenty-three is no age for any footballer, but especially for a centre-back plying his trade for the best club side in the world. Every second of every display is under the microscope, with even the slightest mistake remembered and stored in the 'Gomez is a fraud' vault.
Jamie Carragher hadn't even become a centre-back when he was the same age, instead honing his skills at full-back while he matured as a player. Meanwhile, Van Dijk was still at Celtic and was yet to even make the leap into the Premier League.
Neither Liverpool legend grew at the rapid rate Gomez has, which is easily forgotten.
The bottom line is that young footballers are going to have inconsistent runs of form, as they become more rounded, complete players into their mid-20s.
It is easy to assume that a 23-year-old Steven Gerrard was a colossal presence for Liverpool every week, but that wasn't the case at all. There were times when he went through struggles of his own, long before he became one of the best players in the world.
Patience is something that has increasingly disappeared in football, with managers and players never given an ounce of leeway.
In the past, there simply weren't the number of platforms to air your views, and there was a less hysterical reaction to everything. If things were the same now, Gomez would have the chance to improve at his own speed and get away with this drop-off.
He isn't being afforded that luxury, however, instead having to deal with calls for him to be dropped immediately and replaced by Matip, and some even doubting his long-term worth to the team.
This is a player who has actually outperformed Van Dijk for small spells in the past and overcome serious injury problems to become the best defender at Gareth Southgate's disposal for England.
Gomez has done more than enough to justify our faith in him and he is far too good a footballer not to conquer this dip and hit top form again soon.
It's Chelsea up next and a fearsome attacking unit containing Kai Havertz, Hakim Ziyech, Christian Pulisic and Timo Werner. It will be another huge test for Gomez, but if he struggles, there shouldn't be an overreaction.
Some criticism is fair, and if he keeps under-performing then Matip could merit coming in for him, but he is an integral part of Jurgen Klopp's all-conquering team and his peak years still lie ahead of him.