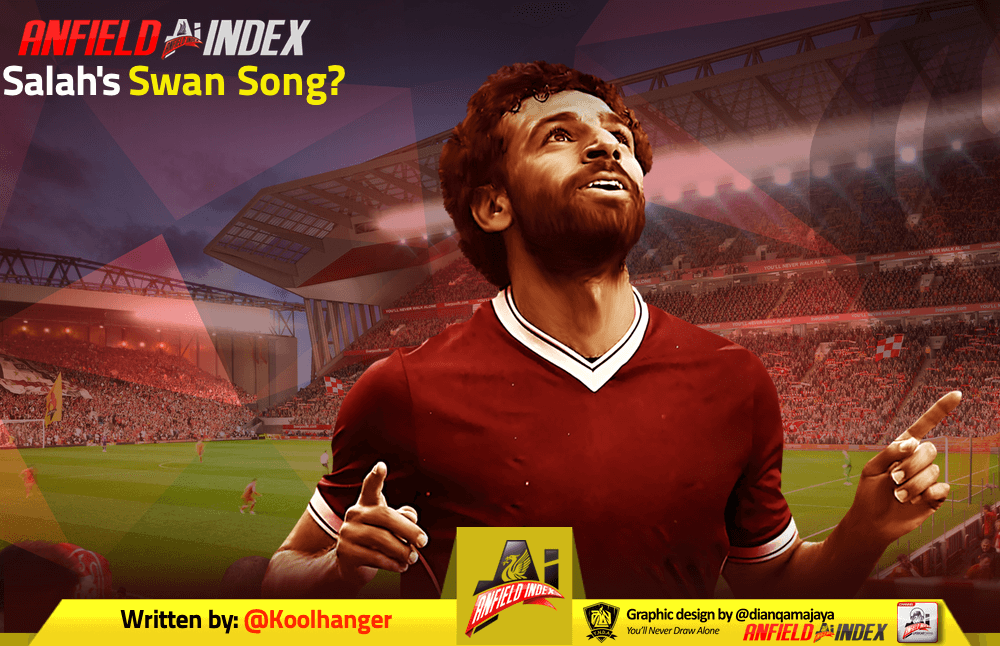 Salah's Swan Song?

After Mohamed Salah started the 2020/21 campaign with a red-hot performance against Leeds, is it time for us Liverpool fans to recognise the real possibility that this season may be his last at the club?
Salah joined Liverpool from Serie A side AS Roma in the summer of 2017 after Jürgen Klopp was convinced he was the right fit for his squad by The Reds' scouting team. Speaking just months after Salah's arrival at the club, Klopp said:
"Our scouting department did a ­fantastic job around Mo.

"They just didn't get out of our ears about him.

"It was, '100 per cent he is ready, he is ready'. They did a great job, absolutely."
Here we are, at the beginning of Salah's fourth year as a Red and our number 11 is still drawing superlatives from every possible source. So, why would I even consider the possibility of this phenomenon – and yes, he has been a phenomenon at this club – leaving Liverpool next summer?
Let's look at why such a scenario may be likely…
Regeneration of the forward line
Liverpool's first-choice front three consists of Mohamed Salah, Roberto Firmino and Sadio Mané. It has been that way since Salah rocked up at Melwood in the summer of 2017. Mané had arrived the year before as one of the earlier signings of the Klopp era. Firmino was brought to the club at the latter end of Brendan Rodgers' time in charge – reportedly wanted more by the transfer committee than by Rodgers himself.
All three frontmen are currently 28 with Firmino the first to turn 29, Mané next and then Salah – in October, April and June respectively.
At Liverpool, we have benefitted hugely from these three players developing together as a unit. Now, they are entering the prime years of their careers at Anfield. However, to the analysts and decision-makers behind the scenes at the club, Salah, Firmino and Mané will be at 'peak value' levels. All three of their contracts are not due to expire until June 2023, meaning the good news is that if anyone leaves, it won't be on the cheap.
Mané would command a significant fee but, like Firmino, it feels his long-term future is at Anfield. A player like Salah, who has become a global superstar, would be a huge signing for one of the LaLiga giants, Real Madrid or Barcelona. Ligue 1 side Paris-Saint Germain is another possible destination. They may see Salah as the ideal replacement for Kylian Mbappé if the France international leaves at the end of the season.
Maintaining the standard
With Liverpool's risk-averse behaviour in the transfer market this summer – deciding against Timo Werner and the drawn-out negotiations in their pursuit of Thiago Alcântara – it's likely the club won't be making any big-name signings like anytime soon. It's also evident that because of the loss in earnings through matchday revenue and the unpredictability of how COVID-19 restrictions are going to change over the coming 12 to 18 months, FSG is looking to fund transfers through the sale of existing players.
Many Liverpool fans cannot understand why their club seems unwilling to buy players. Surely they should be awash with cash after winning the Champions League and then the Premier League? This thread looks at where the money has gone and suggests why they are not buying #LFC

— Swiss Ramble (@SwissRamble) September 7, 2020
Up until now, outgoing transfers during Klopp's time at the club have mainly consisted of fringe players, besides the sale of Philippe Coutinho, of course.
With the experience of the likes of James Milner thrown in, Klopp moulded a team of hungry, talented young professionals. His group has climbed Everest together in the football world over the last few years. They reached two Champions League finals in a row, winning the second one. That was followed up by success in the UEFA Super Cup, FIFA Club World Cup and, most importantly, the Premier League.
Klopp would have loved nothing more than to produce the next generation of attackers from the club's youth setup but such is the level those players would have to reach now, it's almost certainly unachievable via those means. Even if squad members like Divock Origi, Harry Wilson, Rhian Brewster and Xherdan Shaqiri are offloaded, it's unlikely to raise enough revenue to enable The Reds to buy a ready-made star to come straight into the front line. And that's what Liverpool need at this stage.
It was fine to polish rough diamonds in Klopp's early years when Liverpool were climbing back up their perch. Now they've reclaimed their spot at the top, they must do their utmost to stay there. If that means making tough decisions regarding the sale of superstars whose value is likely to drop once they reach 30, then so be it. Salah, if he continues this season in the same vein in which he started, will fetch a significant transfer fee for The Reds and, like with the sale of Coutinho, could prove to be the cornerstone on which further Liverpool accomplishments are built.
The player's next step
Liverpool may be one of the top club's in European and World football again and it's a great period for us as Reds fans. But it's quite likely that Salah sees a move to LaLiga is the ultimate dream. We've witnessed it with Coutinho. Many players still regard being signed by Barcelona or Real Madrid as validation for progression in their own career – it's that 'final step'.
Does Salah, having won a Champions League and Premier League at Liverpool, think he has achieved all he can with The Reds? Would he like a new challenge? One last big-money move that allows him and his family to enjoy the Meditteranean climate? Only he can answer those questions and maybe he will next summer.
Whatever happens, our Egyptian King will forever be a club legend, one of the stars who brought us our sixth European Cup as well as ending the club's 30-year wait for a domestic league title.
If this is to be Salah's final season as a Red, let's hope he brings us as much joy as he has done in the past three years. We've been on a hell of a journey with Mo and we haven't reached our final destination just yet.