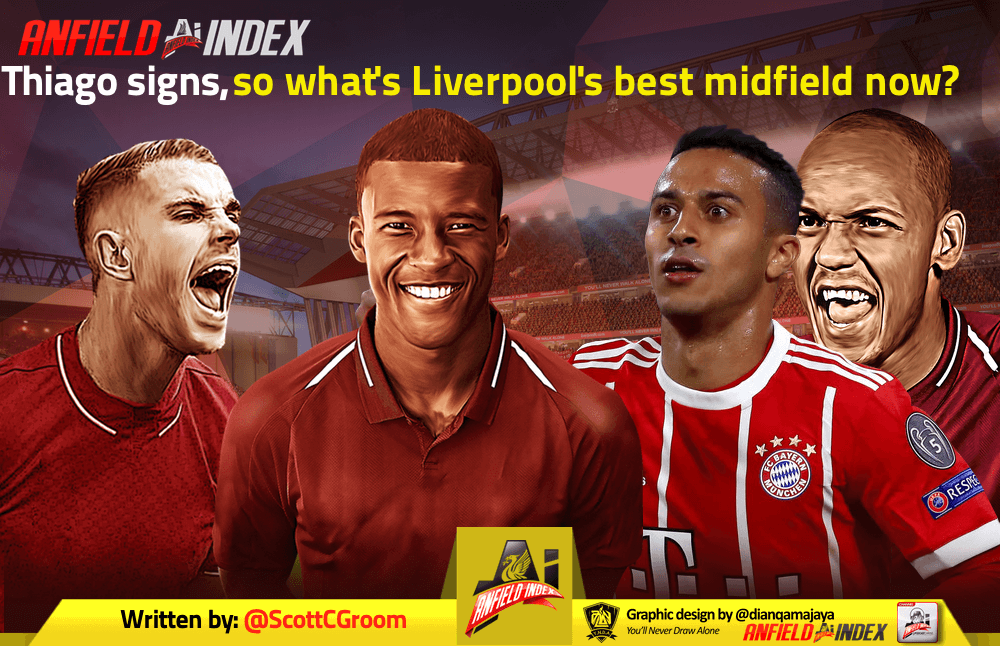 Thiago signs, so what's Liverpool's best midfield now?

It's the news we've all been waiting for. Thiago Alcantara is finally on his way to Merseyside to complete a highly anticipated switch from Bayern Munich.
The 29-year-old Spanish maestro has long been linked with Liverpool over the summer transfer window and now, after seemingly reaching an impasse, a deal has been struck between the two clubs.
Liverpool fans are rightly excited about seeing Thiago don his favoured number six shirt in Klopp's team, and he will undoubtedly bring him experience, class and that extra attacking and creative edge that the Liverpool midfield has often been accused of missing in recent times.
But where does Thiago fit in to the strongest midfield line-up in this current Liverpool set up? This is the best kind of tactical dilemma a manger can have, and Klopp will certainly have fun figuring out where Thiago slots in to greatest effect.
There's no mistaking Thiago's attacking prowess. If you're anybody who's anybody you will have seen his style of play over recent years and seen how devastating his turn of pace and passing ability is.
He certainly adds a much needed incisive nature into the midfield, and he will be relishing the chance to play with the likes of Firmino, Salah and Mané making darting runs ahead of him, and the general style of Klopp's Liverpool will suit him down to a tee.
But he is an attack-minded player, and that poses questions as to who best to put him with in the middle.
All guns blazing
You would think that either one of Henderson or Fabinho sits in behind the other two chosen midfielders in the starting XI, unless Klopp shakes things up a bit in terms of the shape of the team.
One option is that he plays alongside Naby Keita in front of the 'number six', possibly at the expense of Gini Wijnaldum to add a bit more of an attaching thrust to the team. This is a mouth-watering prospect, and it is a combination that oozes pace, power and precision and would cause defences all sorts of problems.
But does it leave the midfield too open to being countered?
While Naby and Thiago are hard workers and both more than capable of the dirty defensive work, they are predominantly forward-thinking players.
There's also the possibility of adding Curtis Jones and Alex Oxlade-Chamberlain into this mix too, but again, it's very attack minded in this instance.
The last thing Klopp will want is for his defence to be exposed and for his team that have proven so hard to break down in recent years to become more vulnerable. So this may well be an option, but in the right moment and potentially against the right opposition.
Bringing a bit of balance
This brings us on to the argument for slotting Thiago into a more balanced midfield with a more composed, defensive mind next to him.
Here's where potentially a midfield three consisting of Fabinho and Henderson, or Wijnaldum in place of either of those, providing a set-up that we're more accustomed to seeing.
But maybe that's the problem, and is that why Thiago has been brought it, to break up that norm?
Even so, playing in something more familiar, Thiago still drastically improves the options available in terms of going forward, and we mustn't forget that he's not work shy himself, so is more than happy to get stuck in.
It would certainly diminish the old claims of a Brexit midfield that is banded around from time to time, but I don't think this is something we'll see used too often.
Why bring someone of Thiago's class in if you are going to potentially stifle his play in this set-up?
Double pivot or other less spotted formations?
We're not flies on the wall of Klopp's tactical planning meetings. We'd all love to be, but we're not.
My point being, we don't know what he's got up his sleeve. Thiago's qualities improve Liverpool's midfield in a big way, there's no questioning that.
The questions that remain are as to how he's going to be utilised – and these are only good questions and ones which, in theory, pose very nice answers.
He's not going to detract from the team. He's going to give us something extra and something that's been missing. How that looks exactly, at this stage we're not sure.
But what a dilemma to have. Liverpool's midfield choices are envious, with so many multi-talented players able to fulfil a number of roles, a mixture of youth and experience and now a sprinkling of added class with Thiago's arrival.
It's going to be really good fun watching him find his feet on the hallowed Anfield turf, that's all we do know for certain.