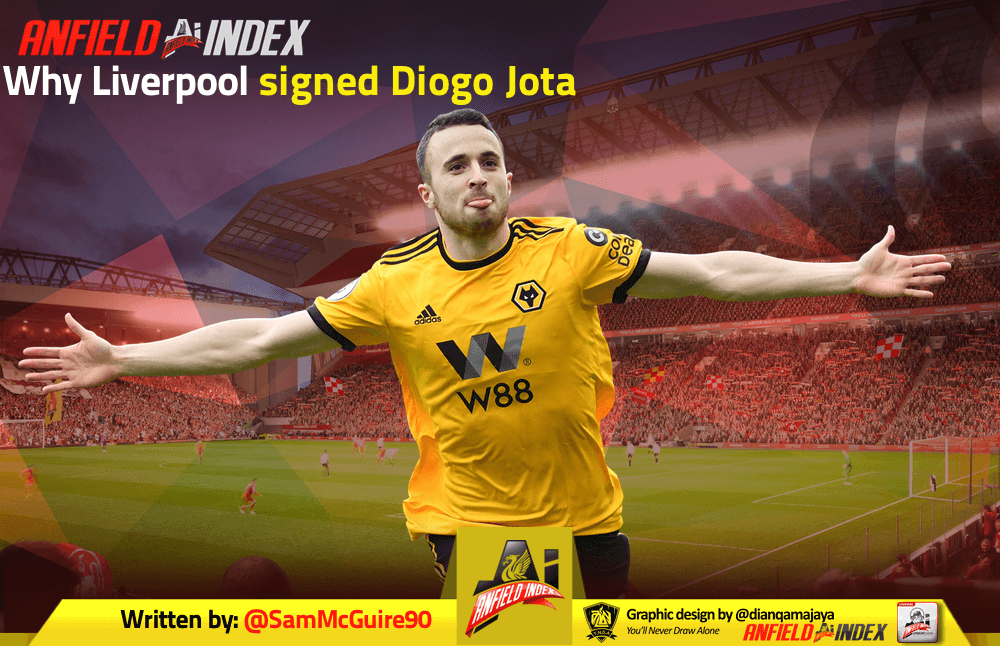 Why Liverpool signed Diogo Jota

Last year, I spent about a week working on a project for work. With Liverpool in need of a fourth attacker, I took it upon myself to draw up a list of potential candidates. But before that, the challenge was to profile Sadio Mane and Mohamed Salah before they moved to Anfield in order to spot trends. The idea was then to use those as a base to find players who might be on Michael Edwards' list. 
Liverpool forwards need to be genuine goal threats, regardless of whether they're consistently prolific. So, the open play expected goal contribution (xGC) per 90 was a metric used to flag viable options. This stat combines expected goals and expected assists.
Goals from inside the penalty area was also taken into account. If this percentage is high then it's more likely that their goals are repeatable and sustainable.
From my piece last year. Jota's numbers are near identical to what Mané was posting at Southampton. Wolves fans say Jota is inconsistent but so was Mané before Klopp got hold of him. pic.twitter.com/BheOgQATcW

— Sam McGuire (@SamMcGuire90) September 18, 2020
Touches in the opposition box was a key metric, too, with players needing to be able to be comfortable in these areas. It shows composure and it shows they're used to these situations easing the adjustment period.
For this list, we went with players with an xGC total of 0.43 and above, with a minimum of four touches in the box and a percentage of goals inside the area of 70 per cent or higher.
The final list included Federico Chiesa, Leon Bailey, Julian Brandt, Inaki Williams, Nicolas Pepe, David Neres and Diogo Jota. 
To round off my Jota write-up, I said something along the lines of If he was looking to move, he's the sort of player who would look right at home in this Liverpool side. However, I never thought Wolves would part with the player, and if a club somehow convinced them to do so, I expected them to want £60million for him. 
Jota is more of a goalscorer than he is a creator but this was the same with Salah and Mané. Liverpool want their wide forwards to be goal threats so he ticks that box. pic.twitter.com/PbmN8geJdV

— Sam McGuire (@SamMcGuire90) September 18, 2020
The fact Liverpool have managed to get him for around £32million when you factor in the sale of KI-Jana Hoever represents superb value for money. Jota may not be as exciting as Adama Traore in the eyes of many or as prolific as Raul Jimenez, but the Portugal internal ticks all of the boxes for a wide forward at Anfield. 
He has an open-play expected goals per 90 average of 0.34 in the Premier League. That comes from a decent enough sample size of near 5,000 minutes. His expected assists average is 0.13 but Mane's was only 0.17 while at Southampton. Combined, it takes Jota's xGC total to 0.47 and that's while playing in a conservative, counter-attacking side. 
Decent shot map, doesn't take too many low value efforts. Gets into good, goalscoring areas. What I will say is Jota's output does seem transferable and scalable. pic.twitter.com/TfY1mCxYS5

— Sam McGuire (@SamMcGuire90) September 18, 2020
The former Wolves man is a lot more similar to Mane than he is to Salah. Jota is frugal with his efforts, averaging just a little over two per 90. Mane's average since moving to the Premier League has been around 2.5, Salah's is near double that. The 23-year-old has one of the best shot maps around, though. Very few are outside the box and the majority come between the width of the six-yard box. His shot assist map shows that he's creating a number of high-quality chances for team-mates, too. 
Twitter will have you believe Jota's form is streaky and that he's inconsistent. But Mane was predictably unpredictable during his time with Southampton. He could go months without a goal and then he'd score eight in four. 
Scoring is down to luck, getting into the dangerous areas is the real skill. If players show they're able to do that, Jurgen Klopp and his coaching staff refine their approach and help develop them into more reliable outlets, just as they did with Salah and Mane. 
Primarily operates on the left. Might mean we shift Mané to the right and use Salah centrally. pic.twitter.com/1BOYwAmc4G

— Sam McGuire (@SamMcGuire90) September 18, 2020
Finally, the last thing to look for in a potential Liverpool attacker isn't something you can quantify. Versatility is vital. The Reds use a system reliant on specific profiles in certain roles. The arrival of Jota means Mane can be moved to the right, for example, and Klopp's men don't lose the pace, directness or the goal threat on the left. 
The former Atletico Madrid man can also play on the right and he's played in a two-man attack for Wolves. He can cover across the front line and given his playing style is identical to the two wide forwards used by the Premier League champions, he can play in place or alongside the famed front three. 
It might not seem like it right now but Jota for £45million is a bargain in the current climate. He may not have been the first choice but more often than not, the second choice signings are the best ones Liverpool make.