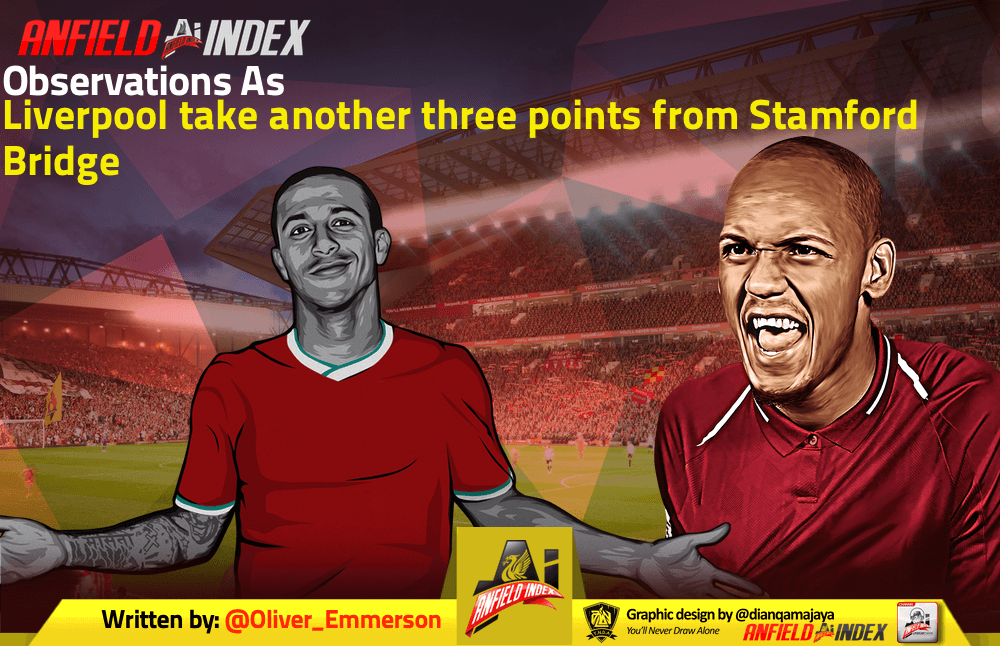 Observations as Liverpool take another three points from Stamford Bridge
It was Sadio Mane's turn to get amongst the goals as Liverpool made it two wins from two in the Premier League by virtue of a 2-0 victory away to Chelsea on Sunday evening.
With a cagey first half winding down to a goalless close, Andreas Christensen delivered what would be a fateful blow to his own team by hauling down Mane as the Senegal international was looking to burst past the much maligned Kepa for a tap-in. Receiving a red card after a VAR inspection, Christensen watched from the stands as his team struggled to match up to a Liverpool side playing 11 v 10, Mane's second-half brace enough to earn three points for Jurgen Klopp's men.
Here are a few things I observed as Frank Lampard was left disappointed by the Reds once again.
Thiago is different, especially in Klopp's eyes
Whilst much will be made of Thiago's record breaking 45 minutes, completing more passes in one half of Premier League football than anyone ever has, it's not the most surprising thing. After all, a number six playing for the best team in the league against ten men with 10 team mates eager to get him the ball on debut should expect to see a lot of the ball. Unsurprisingly, he used it quickly and tidily, offering Liverpool fans a glimpse of what we can expect over the course of his four year deal.
What was surprising was Klopp's willingness to use him so early. Over the course of his tenure we've scarcely seen a signing thrust into competitive action just days after signing, with Virgil van Dijk sticking out as an obvious exception (and even he missed the first league game post arriving). Klopp signalling for Thiago after 45 minutes not only shows the manager's faith in the Spaniard to hit the ground running, but also highlights the exceptional nature of this signing.
Fabinho rocks, but will we roll with him as a centre-back option?
If Liverpool opt against signing another centre-back in the remaining weeks of the transfer window, Fabinho will be the best fourth choice centre-back in the league. Heck, after today's performance, some fans are crying for him to partner Van Dijk long-term.
Shaking off doubts about how he'd cope against the pace of Timo Werner, the Brazilian delivered a tremendous display of concentration and assurance to consistently snuff out Chelsea's new superstar, winning battle after battle to help Alisson Becker and co to a clean sheet. Whilst Mane picked up Sky's Man of the Match award, Fabinho would've been a worthy winner.
With Thiago's arrival stretching Klopp's options in midfield even further, there is an argument to suggest that we might see a lot more of Fabinho at the back this season, partly in order to create more minutes for the excess amount of players looking to get into the midfield three. However, the likes of Wijnaldum, Thiago and Henderson don't quite offer the same defensive solidity that Fabinho does when used in the deepest midfield role, leaving an interesting question as to how Klopp will choose to utilise his number three over the course of the next nine months.
As Chelsea offer little threat, has Klopp got to Lampard?
Despite losing three times to the Reds last season, Frank Lampard's Chelsea side did gain an FA Cup win over Klopp's men and caused genuine problems to the defence in each league game as well as the UEFA Super Cup.
That said, you wouldn't have believed it on Sunday as a fairly negative 4-3-3 setup left the hosts lacking in attack, Werner often looking as if he felt he had to do it all on his own. This was obviously further impacted by Kai Havertz being hooked to make way for a centre-back at half-time, but Chelsea had threatened little before that.
Lampard often made use of a three man defence against Liverpool last season, allowing his side to score eight goals over the course of four meetings between the two teams. Sacrificing that attacking bravado for defensive solidity this time didn't work out at all, leaving one wondering whether the consistent sight of Jurgen Klopp celebrating has left Lampard second guessing himself when it comes to setting Chelsea up against Liverpool.