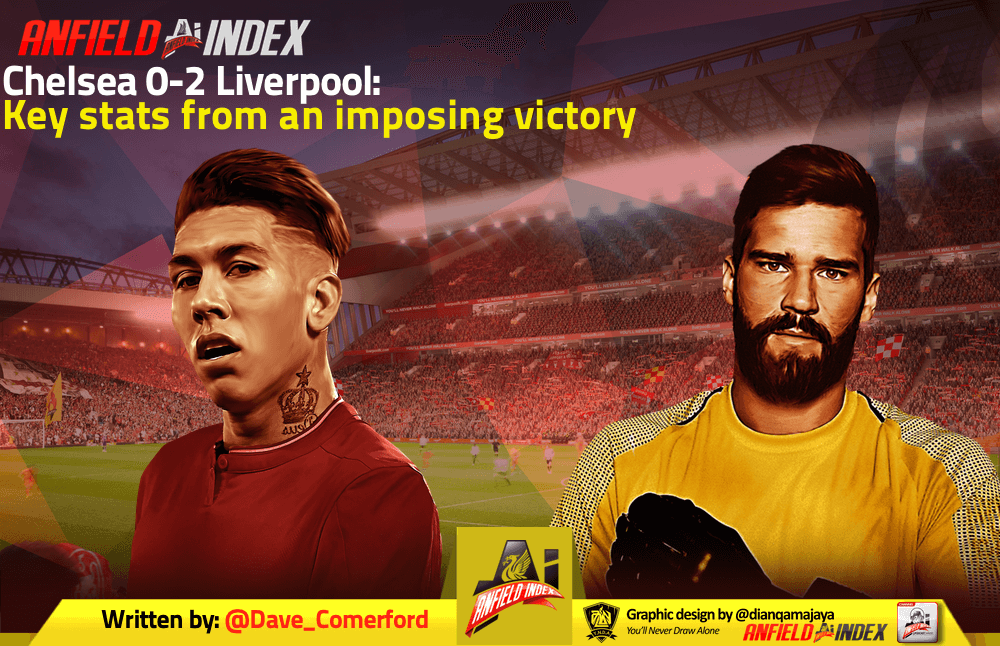 Chelsea 0-2 Liverpool: Key stats from an imposing victory
Liverpool capped off a glorious weekend with a commanding triumph against potential title rivals Chelsea at Stamford Bridge, maintaining their 100% start to the season.
Here are some of the standout facts and figures from a key early win against Frank Lampard's 10 men.
Outstanding Fabinho unruffled at centre-half
Back in February 2019, Virgil van Dijk's suspension and Joe Gomez's injury forced Fabinho to slot-in as a centre-half when Bayern Munich visited Anfield. He was up against Robert Lewandowski and, together with Joel Matip, he passed one of the game's trickiest defensive tests.

On Sunday, he faced another, this time next to Van Dijk after training-ground injuries for both Gomez and Matip. Kai Havertz lined-up in the centre of Chelsea's attack, but really his fight was with Timo Werner, menacingly drifting inside from the left channel.
Yet again, Fabinho carried out the role with distinction. He made more tackles and more interceptions (four apiece) than anybody else in red. And he also topped his team's rankings for successful passes, further evidence of a seamless adaptation.
Werner averaged 3.5 shots per game in last season's Bundesliga but he was restricted to one, 0.03 xG effort here. It proved to be an immensely frustrating afternoon for the man who was close to joining Liverpool.
Alisson boost as Jorginho finally thwarted
"I didn't manage to save any of the penalties against Arsenal and when the goalie doesn't save any it makes you feel down and think you should do more," Alisson admitted after the match.
Jorginho's penalty, which could have set-up a somewhat nervy finish, was only the third Alisson has faced in the Premier League. But, if you factor the back-to-back shoot-out defeats in the Community Shield, Alisson had beaten from the spot 12 times in a row.
Few, then, were backing him against a man with 100% conversion rate at Chelsea (eight out of eight before Sunday) but he prevailed. And perhaps that will be an important step in recapturing his very best form.
Mane flying on the road
Within the space of four minutes, Sadio Mane scored his first brace against 'big six' opposition since February 2017, when an even swifter double condemned Tottenham Hotspur.
He has now scored in three successive away games (when you factor in Newcastle and Arsenal at the back end of last season) and netted 10 times on his travels since the start of last season.
Salah, whilst supreme at Anfield, has only managed half as many.
Firmino pitching in again
Perhaps Roberto Firmino hasn't received quite enough credit for the piece of play that led to the Liverpool opener – an intelligent one-two followed by a lofted cross that came with a knife and fork.
Mane gobbled it up, confirming Firmino's third direct goal contribution in his last four league games.
Why is this significant? Well, the positive run comes after 11 games without a goal or an assist stretching from February to July. Better from Bobby.
That Thiago stat
You've all heard it by now, I'm sure. And it should be taken with a pinch of salt.
Thiago's 75 successful passes were the most by a player who played a maximum of 45 minutes since Opta began collecting full passing data in 2003/04.
Add to that his 10 successful long balls, a Liverpool-high, and you get a sense of just how comfortable Thiago in his new surroundings.
Of course, the circumstances were favourable – Chelsea were necessarily standing off given their numerical disadvantage – but the signs remain encouraging.
I dare say the numbers will continue to reflect very favourably on this box-office signing.