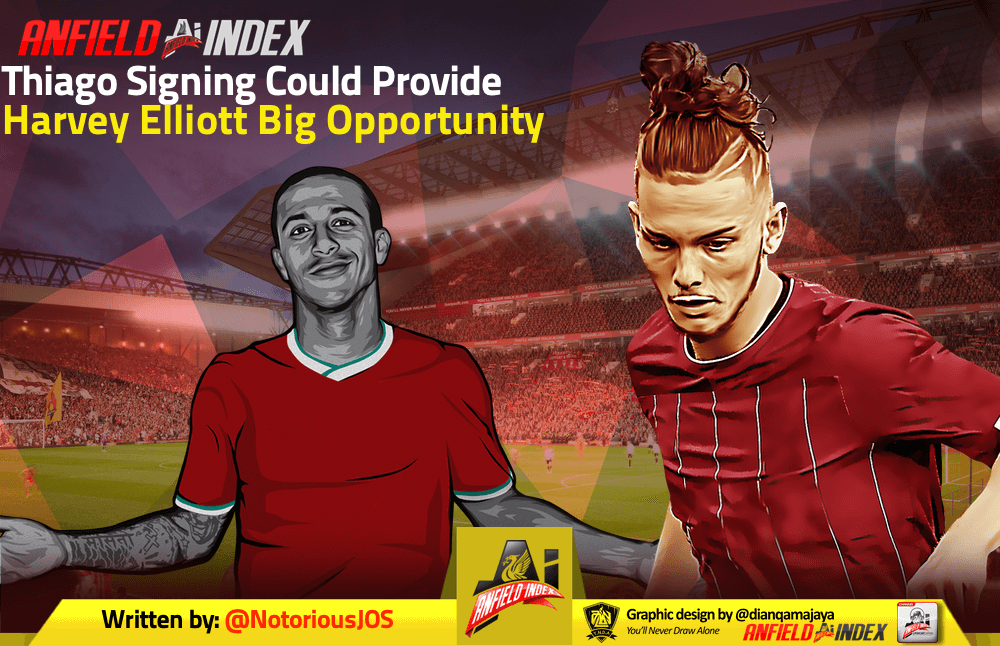 Thiago Signing Could Provide Harvey Elliott Big Opportunity

The signing of Thiago Alcantara has provided a major shot in the arm for Liverpool.
The Spaniard, whose £20,000,000 transfer from FC Bayern was completed last Friday, will 0ffer the Reds the midfield creative dimension that they have missed at times against deep defending sides.
The former Barcelona academy graduate will also offer Jurgen Klopp the tactical scope to change shape and to play with different formations.
Klopp experimented with variations of 4231 and 4222 in pre-season and Thiago — who played in a double pivot midfield in Bayern's successful treble-winning campaign of last season — could provide the German the option to commit to a 4231 alignment.
One player who could benefit from Thiago now calling Anfield his footballing home — and any change in formation that it could lead to — is Harvey Elliott.
Despite only making two appearances in the league last season, the 17-year-old is extremely highly regarded by the club and he exhibited his talents in all their technically refined glory with an extremely impressive showing away to MK Dons in last season's League Cup.
However, with a world-class front three in situ Elliott — the youngest player to make a league appearance in Fulham's history — will find opportunities few and far between in Liverpool's favoured 433 formation.
With Thiago's arrival, though, and the chance that it leads to a 4231 shape being used, two potential slots in the team could open for the England youth international.
Diminutive in stature — although he is deceptively strong — Elliott isn't the player to lead the attacking line as a false 9 up against behemoth centre-halves in the Premier League. Nippy and definitely not slow, the former Fulham attacker also lacks the explosive speed to play as the right-hand attacker in the Reds 433.
But with a Ph.D. level football intelligence, a polished passing game, and the aggression to play with an ambition to make things happen the top-knotted teenager could provide the Reds with an additional creative outlet if they hitch their tactical wagon to a 4231.
In the 2018/2019 season, Xherdan Shaqiri — a player of a similar profile to Elliott, not least in terms of being vertically challenged — scored six goals and laid on three assists from the right-hand side of a 4231 with Mohamed Salah becoming the centre forward.
The Egyptian has the strength — in the manner of a traditional, old school number 9 — to bring other players into play, creating angles and avenues that intelligent footballers — which the Reds' number 67 indisputably is — can thrive in.
Also, with the electric burst of pace and accurate finishing that saw him break the Premier League single-season goal scoring record, Salah is clearly adept at playing off the last shoulder of the defence and offering himself as a runner for players with an expansive passing game to hit.
Under the tutelage of Rafael Benitez, Yossi Benayoun — another physically nondescript player — revelled as a wide player in a 4231, using his intelligence to pick up pockets of space between the lines to provide the ammunition for Steven Gerrard and Fernando Torres to score regularly.
This is the role that Elliott — acting as the Benayoun and Salah mirroring Torres' function — could eventually establish himself in and have a long term first-team berth target to aim for.
During his trophy-laden stint at Borussia Dortmund, Klopp was extremely successful in utilizing Mario Gotze and or Shinji Kagawa — two relatively small players without huge amounts of speed — as the number 10 off Robert Lewandowski.
This is, again, an area where Elliott — with all the ball progression abilities, vision and capability to play in congested areas of the pitch — could well maximize his broad skill-set and bring an incisive and creative touch to proceedings.
It would be naive to expect the 17-year-old to suddenly establish himself in the team this season — especially with the signing of Diogo Jota further obstructing his path to first-team minutes — but, moving forward, any long term Thiago inspired switch to a 4231 could provide Elliott a long-term route into the first team.