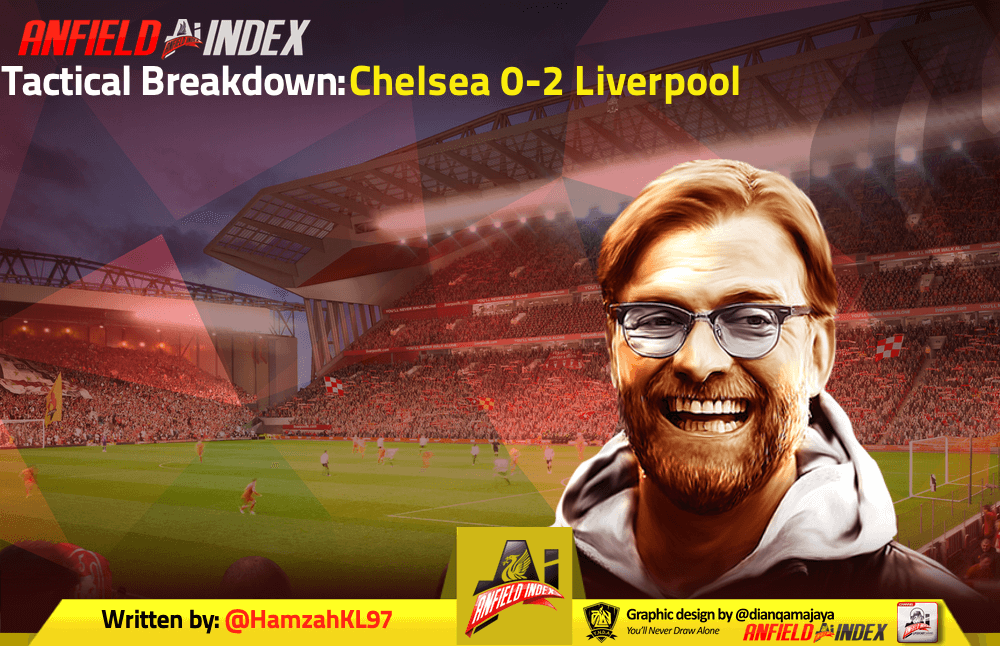 Tactical Breakdown: Chelsea 0-2 Liverpool
An uncharacteristically error-strewn opening game left Liverpool much to atone for. Against Chelsea, the side played with fanatic verve and doctrinal discipline, banishing the demons that had led to questions over Liverpool's commitment and ability to retain the title. This was, by a distance, the best Liverpool have played since March, six long months ago.
Tactically, the instruction from the manager, Jürgen Klopp, was crystal clear: press high, and press hard.
On paper, Liverpool's 4-3-3 was balanced against Chelsea's 4-3-3, but in practice, it was anything but a 4-3-3.

Alexander-Arnold and Andy Robertson were positioned up the field, alongside Liverpool's number 8s, thereby pinning Chelsea's wingers, Mount and Werner, back, and unable to support Havertz.
Salah and Mané were instructed to press the Chelsea centre-backs and fullbacks, supported by Firmino, who used his cover shadow (the area behind him which an opposition player cannot pass into) to block passes into Jorginho.
To counter this, Chelsea attempted to use Kante and Kovacic in deeper positions in order to help circulate the ball from their defensive line up the pitch. Liverpool's number 8s, Wijnaldum and Keïta, both pushed up accordingly. Consequently, Henderson alongside both Fabinho and Van Dijk moved up the field in order to reduce the space between themselves and Liverpool's other midfielders. In doing so, they further compacted the area to play in, making it harder for Chelsea to play out, and making Liverpool's press even more effective.
Kai Havertz was tasked with occupying the space in front of Fabinho – deployed at centre back – in order to drag him out of position, and create opportunities for Werner to attack the spaces vacated. Fabinho showed great tactical awareness and discipline in refusing to be drawn out, and together with both Henderson and Van Dijk, the trio played around Havertz with the ball, and when defending against him allowed him to drift, but into non-threatening areas.
Over the first ten minutes, Liverpool exerted clear control over the game, dominating possession and controlling space extremely well. When Chelsea were in possession, they were forced back, following which, Kepa attempted to pass into both Mount or Werner – positioned on the touchlines – in an attempt to take advantage of Robertson and Alexander-Arnold pressing up high against the Chelsea fullbacks. When Kepa did so, Liverpool seized upon the second balls, swarming around either player whilst the ball was in the air. Keïta and Wijnaldum were key to this, and they were also extremely important in both holding and driving the ball up the field.
Early on, Keïta combined on the right to help manufacture a few cutback attempts, which were cleared. However, Liverpool found far more joy down the left side, where Mané was able to isolate Reece James on a number of occasions and was supported by an extremely advanced Robertson. With Robertson's and Wijnaldum's presence in the left channel, Chelsea were unable to double up on Mané, and consequently, he ran riot, pressing mercilessly and providing a constant vertical threat. On the opposite side, Salah was advanced, and was supported by Keïta, who found himself dropping deeper and occasionally rotating with Henderson. Henderson passed to Keïta on six occasions, and Keïta returned the compliment eight times. These passes were almost exclusively short passes in the middle third, with Keïta playing the supporting role that we typically expect to see Wijnaldum in.
This is demonstrated by this passing map graphic, from @topimpacat.
You can find more of Omar's work below.
Premier League Gameweek 2:

Liverpool (A) vs Chelsea (2-0) pic.twitter.com/tqX50GNUO8

— Follow @topimpacat (@topimpacat) September 21, 2020
Liverpool's pressing structure encouraged the Chelsea fullbacks to receive the ball. But through pressing the fullbacks, Liverpool enticed them into playing into the central area, where a pressing trap lay, in order to turn over the ball and then fire it into the forwards. If the ball was then shuttled back to the fullbacks by any one of the Chelsea midfielders, Liverpool would harry the fullback into clearing the ball, following which Liverpool would use their physical advantage and aerial dominance over the diminutive Chelsea side to regain possession.
When Liverpool were pressed, they used a number of movement patterns to establish clear passing lanes in order to progress the ball forward and reestablish control. For example, when Henderson dropped deep, alongside Fabinho and Van Dijk, both Keïta and Wijnaldum dropped into the central area. In these cases, one forward (usually Salah) would stay up, in order to keep the Chelsea line positioned up, whilst Mané and Firmino would position themselves in the halfspaces between the Chelsea midfield and defensive lines to offer a triangular link between the Liverpool midfielders and the fullbacks.
Chelsea did manage to escape the Liverpool press on a few occasions, with the press resistance of Kante and Kovacic proving particularly important. On the occasions Chelsea were able to break and pass the ball into Werner, he was often isolated and unable to effectively combine with Alonso or Havertz. Nonetheless, he did still manage to have to one-on-one situations on the counter against Fabinho. The first of these encounters saw Fabinho force Werner wider, following which, he won the ball back; in the second instance, Fabinho realised the numerical advantage he had, and allowed Werner to come inside, towards Van Dijk, who doubled up on Werner and turned the ball over.
Through extremely effective pressing and brave positioning by the Liverpool fullbacks, Liverpool were able to maroon the Chelsea forwards, and render them largely useless, leaving them to drop back into ineffective areas during the first-half.
Despite controlling the game, Liverpool were not able to create a big chance of their own through open play in the first half. The only big opportunity came from a deflected pass which Salah reached and crossed to Firmino. However, there is no doubt that had Mané not been fouled by Christensen, he would have had a one-on-one opportunity against Kepa, an opportunity which resulted from an overexuberance from Chelsea to get forward after being pinned back for nearly 45 minutes. The Chelsea fullbacks and forwards all attacked the box, as a result, Kovacic went across to mark Salah, and Kante was too deep to press Henderson. This lapse in defensive discipline meant Mané was positioned against the Chelsea centrebacks, and Henderson received the ball in the centre of the pitch without any pressure at all. A delightfully weighted, well-struck, direct pass from Henderson into Mané's diagonal run followed, and the game from a tactical perspective was over as soon as Christensen was sent off.
Those patterns of play briefly mentioned earlier were far easier to exploit with a numerical advantage and Liverpool's three most technically gifted and proficient midfielders on the pitch together.
Liverpool's opener was nothing short of artistry. The ball moved from left to right, with Robertson passing across to Thiago. At the same time, Wijnaldum moved up, into the false 9 position, in order to occupy the Chelsea centre midfielders as Firmino moved into the LB-CB halfspace.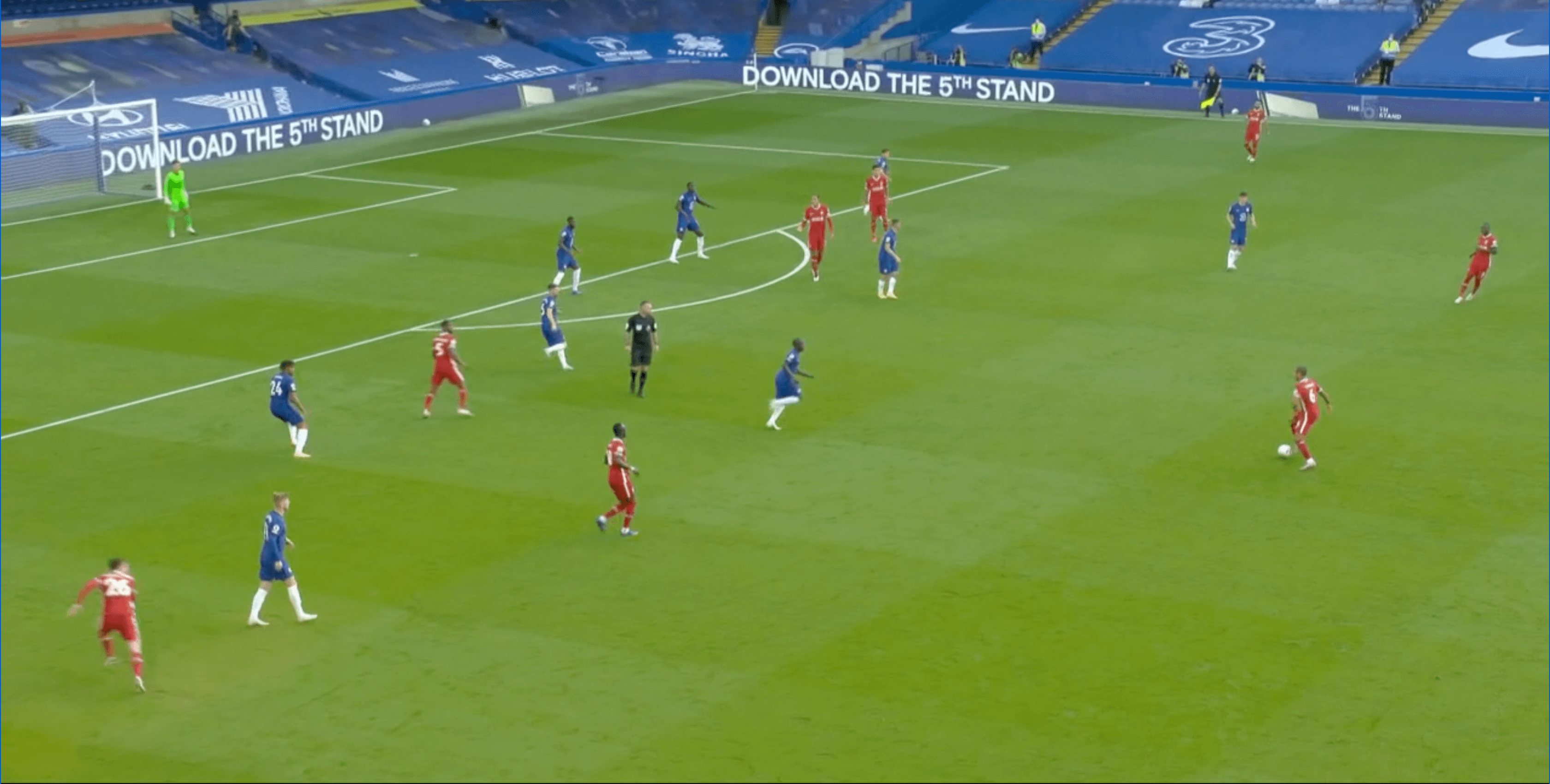 Salah, positioned against the touchline, was faced by Alexander-Arnold, who used his body position to entice Alonso into pressing Salah. Once Alonso made his trigger movement, Alexander-Arnold smuggled a pass into Firmino.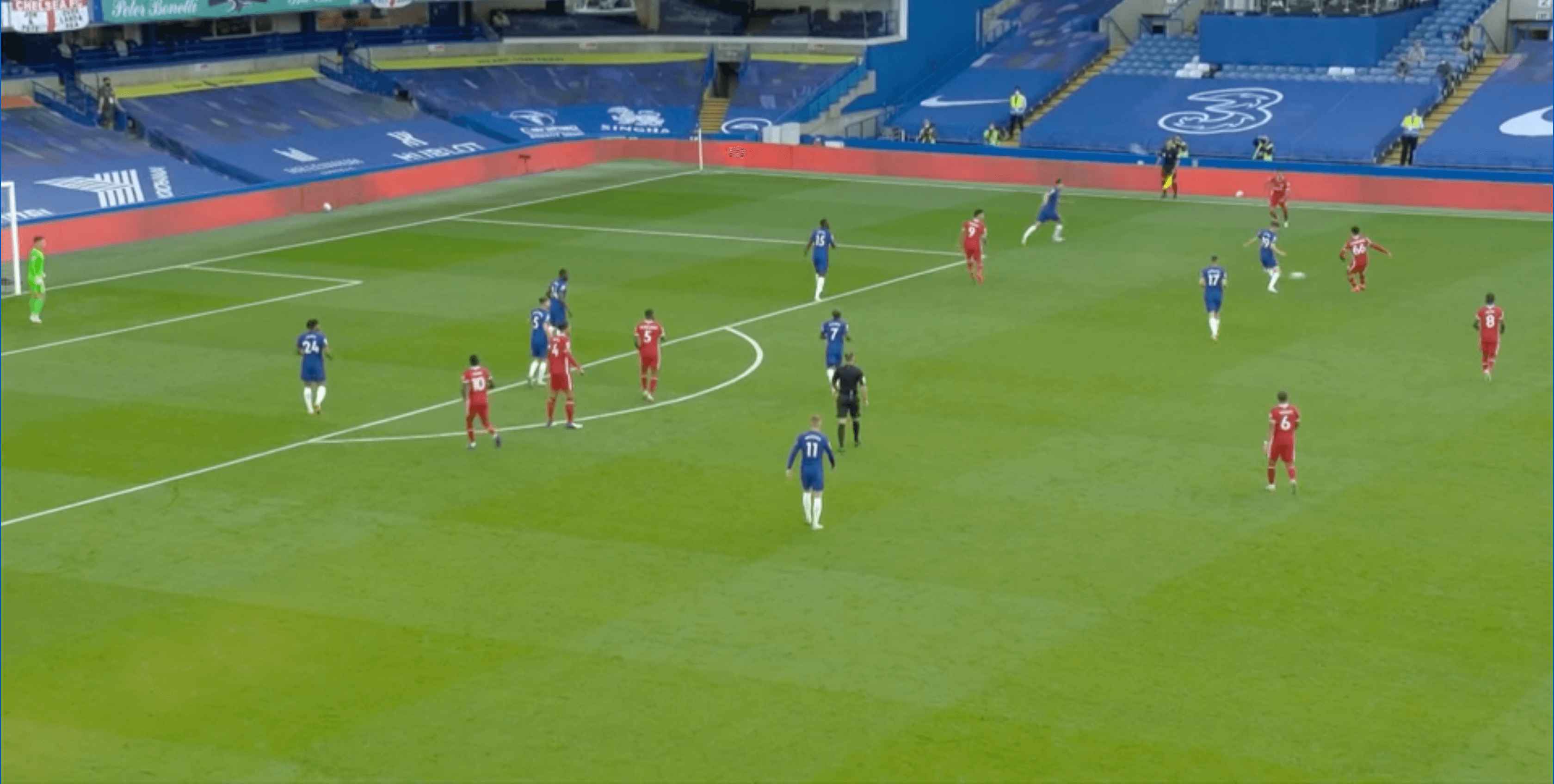 This prompted Salah to come inside, and link up with Firmino, who then drifted into the vacant right half space.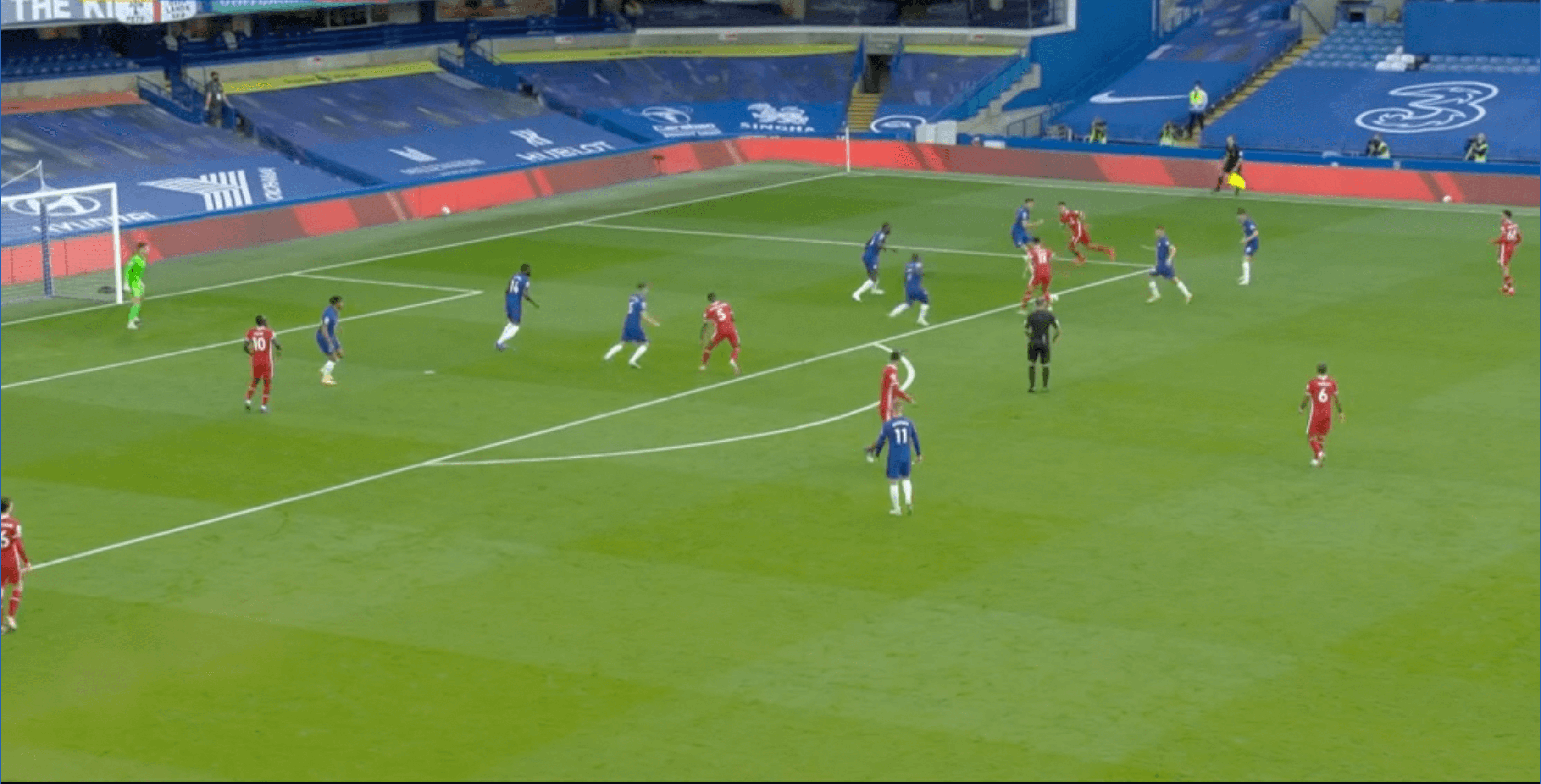 A delicate cross, followed by a magnificent header by Mané established Liverpool's lead, and ended the tie as a contest, as from that moment onwards, Liverpool had near total control, underscored by Mané's second goal – a personal pressing effort rewarded with an interception in a high value area.
The tactical contest may have been over prior to Thiago coming onto the field, but his 45 minutes as the no.6 demonstrated the value of an extraordinary talent with vision and an acute sense for exposing and attacking space at the base of midfield. The vertical impetus he added, alongside his range of passing and nous for direction has diversified Liverpool's in-possession game. Previously, when opposition teams looked to stop Liverpool, the key would be to press Alexander-Arnold and Robertson, thereby reducing Liverpool's width and access to their wingers, and forcing them to play through the middle. Now though, should any team wish to stop Liverpool's in-possession game they will have to consider the near impossible task of stopping Liverpool building up through either flank or the middle of the pitch. Thiago is not just another string to Liverpool's bow, nor is he a capstone, he is an arsenal in himself, a holy weapon of precise, surgical and breathtaking destruction.
With this addition to the side, and one of the most complete defensive and pressing performances in recent memory, Liverpool have a lot of positives to take forward into the coming games. Should the side retain this intensity and demonstrate that the errors in the Leeds match and in the last few games of 2019/20 were misnomers, this season could well be as exciting and enjoyable as the last.