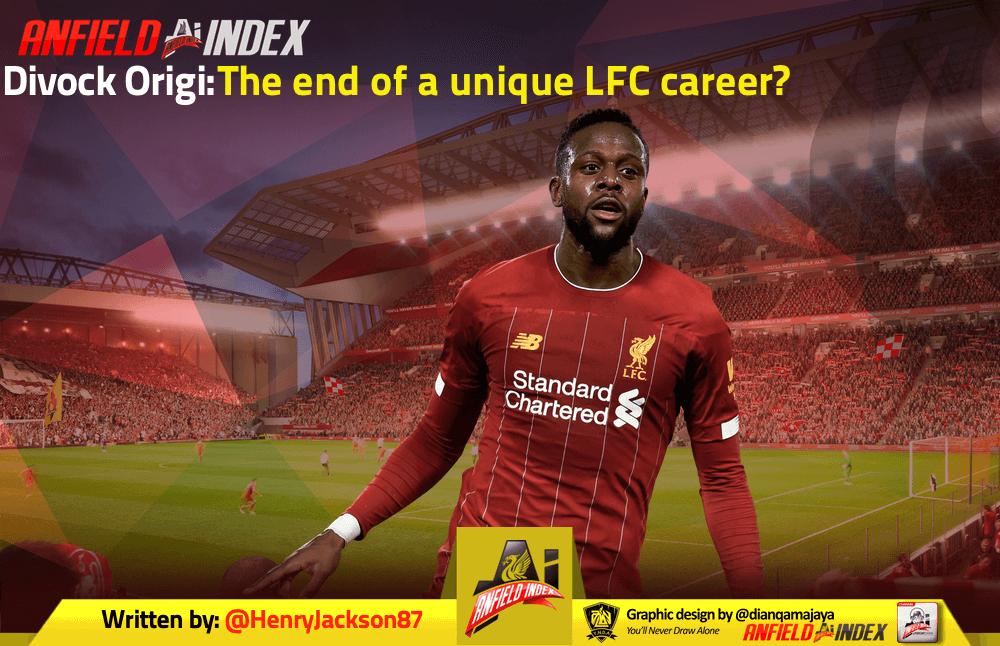 Divock Origi: The end of a unique LFC career?
Divock Origi's time at Liverpool looks to be coming to an end, following an Anfield career that has seen a mix of unforgettable highs, infuriating lows and plenty in between.
The Belgian continues to be linked with a move away before the transfer window closes early next month, as Jurgen Klopp aims to get rid of dead wood in his squad.
Brighton are reportedly the latest club tipped to acquire his signature – an ideal next step for Origi, allowing him to earn more regular playing time in the Premier League.

Should Origi depart Liverpool, talk will immediately turn to the legacy he leaves behind, and just how fondly he should be remembered on Merseyside.
The 25-year-old has to be considered a Reds legend, when you look at what he has achieved since arriving from Lille back in 2014, with a loan spell back at the Ligue 1 club, and one at Wolfsburg, sandwiched in between.
A man for the big occasion, Origi has stepped up and delivered some of the most iconic moments in Reds history, showing ice in his veins when others would have wilted.
That unforgettable last-gasp winner at home to Everton was a mere taster of what was to come, heading home in front of the Kop to score a Merseyside derby goal every bit as famous and dramatic as Gary McAllister and Sadio Mane's.
The double that Origi scored against Barcelona was even more legendary, on a night when Liverpool pulled off the greatest comeback of all time, and when they had to make do without Mo Salah and Roberto Firmino.
The striker stepped up when so many had lost hope, opening and closing the scoring and sending his side into the Champions League final. His finish for the all-important second goal remains hugely underrated.
What happened in the final in Madrid goes without saying. Origi conjured up one of the few moments of real quality in a dour contest, firing past Hugo Lloris to clinch European Cup number six.
Those contributions alone have been enormous, so it is no surprise to see many supporters view him as a legendary figure, before even mentioning the late header at Newcastle or the expertly-taken brace at home to Everton.
Frankly, when you have a major hand in such iconic moments, your shortcomings will be swiftly forgotten about by most, and understandably so.
But it hasn't all been good with Origi, which is precisely why Klopp is happy to sell him.
Away from those contributions, it has been a long time since he felt like a reliable option for Klopp – someone who could come in and consistently deliver in the absence of one of the front-three.
Too often, he has been a deeply frustrating player to watch, blunting Liverpool's attacks and not looking in-tune with his side's playing style. Seeing his name on the team-sheet has been more likely to receive a collective groan than a positive response.
Origi has only scored once in 2020, on the final day of last season at Newcastle, and the arrival of Diogo Jota has further sent him down the pecking order. Let's not forget Takumi Minamino as well, who looks to be coming into his own and is also a superior option.
It is for this reason that Liverpool are right to cut their ties with Origi, even though he is still only 25 and is a footballer with undoubted big-moment pedigree.
The reality is that the Reds have moved on while he has stood still.
He joined when they were about to struggle during Brendan Rodgers' final year, and while he has failed to improve noticeably as a player  – his best run came before injury in the latter stages of 2015/16 – the Reds have become the leading club side in Europe.
Like so many individuals who have since been sent out to pastures now, whether it be Nathaniel Clyne, Dejan Lovren or Adam Lallana, to name just three, Origi is not good enough now, to put it bluntly.
There is no shame in that, but Liverpool have reached a level where their backup players need to be top class, if not even threatening to be world class. Origi isn't either, and never will be.
Should he leave, however, he doesn't need to worry about how Reds supporters view him overall.
Yes, there were times when he was almost painful to watch, not least in the Champions League final before he scored, but he delivered moments of unrivalled joy to the fans and that will ensure he is always considered a bona fide Anfield hero.