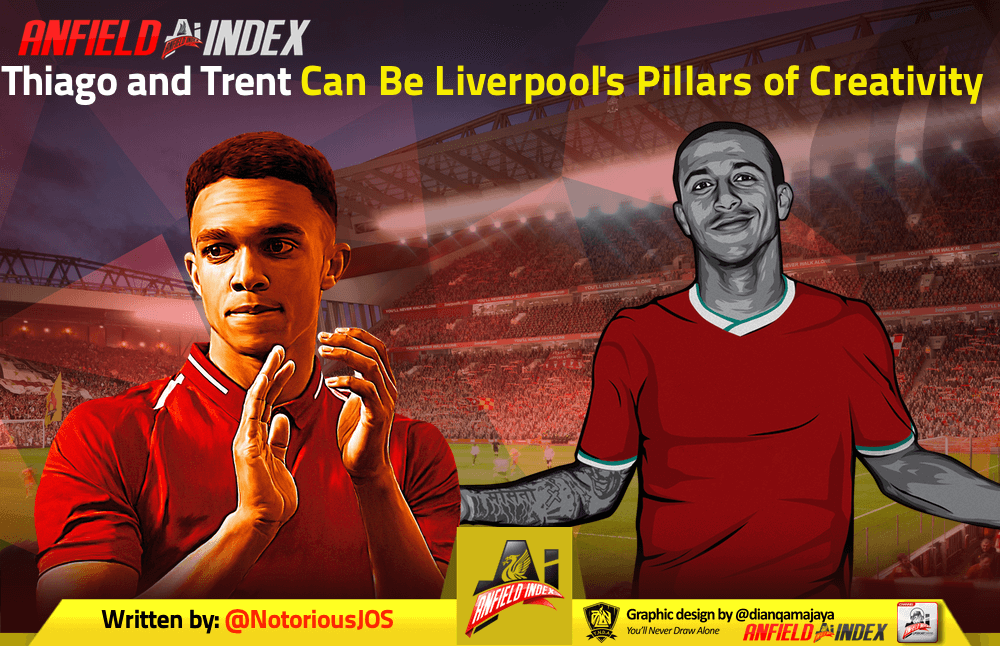 Thiago and Trent Can Be Liverpool's Pillars of Creativity

The signing of Thiago Alcantara has sent a jolt of excitement throughout the Liverpool fanbase.
And justifiably so, given the £20,000,000 Spaniard is indisputably among the finest midfield players in the world.
Making his debut against Chelsea, the newly minted Reds number 6 broke the Premier League passes record in a single half of football with 75 after replacing Jordan Henderson at half-time in the 2-0 win at Stamford Bridge.
The preeminent passing prominence on show offered the Liverpool faithful a glimpse into Thiago can offer their build up play.
Previously, the English Champions delegated much of their creative responsibility to their full-backs, Trent Alexander Arnold and Andrew Robertson, but now they have the option of varying their centre of creative gravity and funnelling their attacks through both Thiago and Alexander Arnold.
Last season, as Bayern won all before them and claimed a treble of Bundesliga, German Cup and European Cup, the former Barcelona linchpin operated off the left of a double pivot midfield with Leon Goretzka — and occasionally Joshua Kimmich — his partner to the right.
If Liverpool were to station Thiago in the left-sided midfield slot, either in a two man midfield or in a 433, they could have two world-class playmakers on either side of the pitch with Alexander Arnold — despite being a right back — offering vision and passing incision from the right.
The below image, supplied courtesy of Twenty3Sport, shows the variety of areas down the right flank the Reds' young full-back supplied assists from in the 2018/2019 season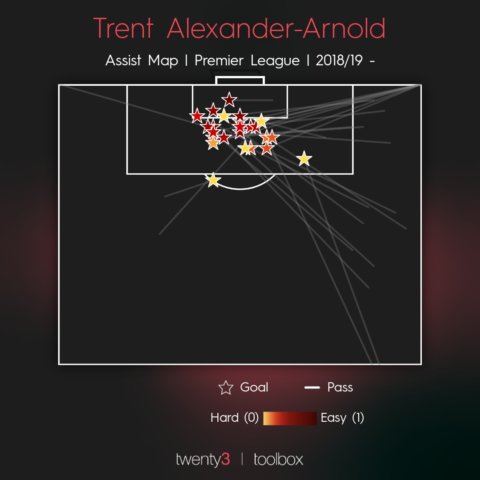 Assists aren't the only way to gauge creativity, though, and both Alexander Arnold and Thiago — as seen in the image below — rate among the best in Europe at supplying hockey assists, which is making the pass before the assist.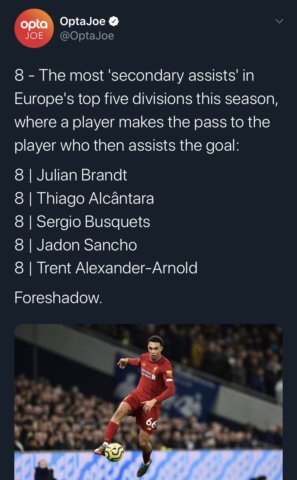 Having two supreme passing players on either flank would give Liverpool's opponents a Sophie's choice. Either they man mark one or both — which opens space for the Reds' other players — or they stand off and let both players have the time and space to pick passes.
There is a template applied by many teams — no doubt encouraged by Napoli and Atletico Madrid's neutering tactics against the Reds in Europe last season — to try and stop Jurgen Klopp's team. A deep sitting 442 formation, with the wide players being tasked with man marking Robertson and Alexander Arnold.
But now, with Thiago in situ, Liverpool have an option between the lines that can carry the creativity can, attributes that all their other midfielders — with the exception of Naby Keita, whose frequent injuries have prevented him from playing consistently since joining the club — don't boast in spades.
With Sadio Mane, Robertson, and potentially Diogo Jota down the left and Mohamed Salah, Keita, Georginio Wijnaldum, and Jordan Henderson on the opposite flank, the Reds' playmakers have plenty of quality options — like an NFL quarterback with an array of quality receivers to hit — to find with their passes.
The intelligence of Roberto Firmino, who consistently offers himself as option for passes deeper down the pitch, also provides a backboard presence — almost like a back to goal target man — for Liverpool's other players to make runs off; especially Mane and Salah, and possibly even Wijnaldum, in behind.
The mistakes of Adrian ultimately saw Atletico Madrid knock the Reds' out of last season's Champions League, but another contribatory factor was the lack of quality opportunities — especially away in Spain — that the Anfield men created against Diego Simeone's well drilled Colchoneros. 
But now, with their twin towers of creativity — Thiago and Alexander Arnold — Liverpool should be much more successful when facing nulliyfying tactics.