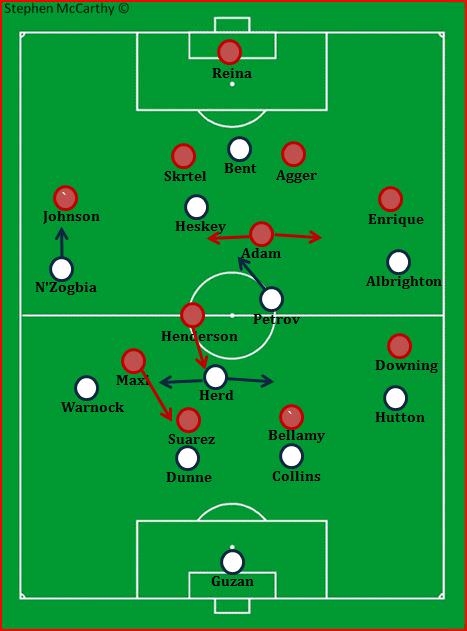 Liverpool V Aston Villa | Stats & Graphical Preview
Next up is a trip to Villa Park where we lost our final league game last year 1-0. The goal scorer for Villa that day our very own winger Stewart Downing. Villa go into the game in 9th position in the table on 19 points from 15 games with a form guide and last six that reads WLDLWD. Those 2 losses coming at home to Man United and away to Spurs. If they beat us on Sunday they could move up to eight in the table only 4 points behind ourselves. They recorded a 2-1 away win at Bolton last Saturday with Petrov and Marc Albrighton the goal scorers. A decent win but I'd hazard a guess that Villa fans would like a bit more consistency this season.
Liverpool go into the game with a last six that reads WLDWDW. Of course that only underserved loss coming against Fulham at Craven Cottage a couple of weeks ago. We sit in 6th place in the table on 26 points with 15 games played. It's worth noting we are still only 5 points behind Chelsea in 3rd place. Arsenal sit above us in 4th on 29 points – and with them playing Man City away on Sunday we could jump above them (if the goal difference works out) if we win our game against Villa.
Winning at home against QPR ended an unenviable run of four successive home draws on Saturday. Whilst we only won the game 1-0 we dominated in all areas of the pitch. Our ground duel win % was only at 41%, which was the lowest it has been in any game this season; however, having a mind-boggling 61.9% possession meant we had control of the ball for long periods of the game, so in turn we didn't get the opportunity to be involved in the amount of ground duels we normally would. The fact we completed 433 accurate passes throughout the game, matched only at Fulham, tells its own story. However, as is a familiar sight at Anfield this season, we were left to hang on in the game in the last 20 minutes when really the game should have been put to bed a long time before that. Of course our old mate 'missed chances' popped up a number of times, something I will go into in greater detail below.

I expect Kenny will play an almost identical side to the one that started against QPR, however I would like to see Dirk Kuyt replaced with the speed of Craig Bellamy. Don't get me wrong, I think Kuyt is a fantastic player to have in the squad but this year he doesn't seem to have his goal scoring boots on. Despite having started nine games this season in the league, he has yet to register a goal. Granted, some of those games he may have operated on the right hand side of midfield, having said that, you would expect him to have at least scored one goal.
Last week Kenny played a 4-4-2 with both Suarez and Kuyt operating all across the front line, with both playing in a Messiesque type 'false nine role'. The advantages of that position means your attacking players can be quite fluid and interchangeable, which causes problems for defenders as they are never sure who to pick up, and when and where to step out and follow their man. Having said that I'm not too sure that is the best way to go about disrupting Villa's back line. I would like to see Suarez play a more central role (see my formation graphic) with Bellamy roaming across the back four as a false nine, linking up play with the other attackers and pulling defenders out of position to create space. The reason for this is I believe both Collins and Dunne (in particular) are not the most mobile of defenders and aren't the fastest defenders on the turn. In a positional sense I'd like Suarez to play in and around Richard Dunne and to try to capitalise on his weaknesses (as Henry at Arsenal done on many an occasion), this will push Suarez over towards Maxi's position and will also capitalise on the almost telepathic understanding he has with him.
With Henderson playing on the right side of central midfield this will create a formidable attacking threat. All three of Suarez, Maxi and Henderson have great ability to play quick passing triangles and interchanging positions – and with all three probably up against Dunne, Warnock and N'Zogbia on Villa's left side, I believe we can get some success attacking wise if we employ this tactic.
Last week Kenny played with both Maxi and Downing as inverted wingers, both cutting inside on their stronger foot, however, I'd like to see them switched back this week. Maxi for the reasons all ready mentioned and Downing because I think we will need genuine width on the left side if Maxi is going to play on the right tucked in. The onus will be on Johnson to create width on the right side and get ahead of the ball to support Maxi, and with Enrique, Downing and Bellamy all trying to link up on the left side I think we can create all sorts of problems for Villa.
When it comes to our defence I think it picks itself at the moment. Enrique and Johnson have performed admirably this season, and provide a great attacking threat when we have the ball. And our two centre backs Agger and Skrtel are in the process of forming a formidable partnership. Which is a vitally important ingredient for centre backs to have. As a result, We now have the best defence in the Premiership with only 13 goals (see Chart) conceded all season. We have kept 5 clean sheets as well this season, only Fulham (6), Arsenal (6) and Swansea (7) have kept more clean sheets than us.
You can see from the stats table above we have a great mix in our defence. Skrtel is the battler with a phenomenal 17/16 of his tackles won at 94% The ground duel win percentages of both our centre backs are above 70% and Skrtel (84%) and Johnson (90%) both have aerial duel win percentage well above the average. So at the moment I don't think it would be wise to change our back four.
Lastly I'd like to move on to our inability this season to finish our chances. There has been a lot of things flying about the media, blogs and social networks regarding our low chance conversion percentage, and the lack of creativity/assists from some of our players, namely Downing.
First off, what is not explained is the fact the chances created are not merely a chance created per se. It can be quite a mis-leading description. A chance created is a pass from player A to player B which leads to a shot from player B. What the stat doesn't tell us is what type of shot player B has. Is it a shot from 20 yards at the centre of the goal, or is it a shot from the half way line? Or is it a shot under pressure from an opposition defender with two more opposition players closing player B down. Furthermore, if it is a shot from 40 yards out should it really be considered a chance? To a run of the mill football fan this is not what we consider a chance in the real sense of the word. It really is a shot assist. Which I will call it for the remainder of the article. But how important is the shot assist conversion rate and is there a direct correlation with a high shot assist conversion rate and where you finish in the Premier League? Take a look at the tables below that I created.
Firstly, the teams marked green are those in the Champions League places, the team marked red is top of the EPL, and the teams marked in bold are those in the relegation zone.
You can see from the this season's table that so far there does seem to be a correlation between the two. Especially for the top teams. All of the teams in the Champions League places have a high shot assist conversion ratio, with City and United the highest on 23% and 19% and both being first and second in the Premier League. You can see how badly we are doing this season. With the Premier League average being at 14% we are not even above that. However Blackburn and Bolton have high shot assist conversion rates yet are in the bottom three. So maybe not as clear cut a correlation as you might think. What about previous years?
What is clear is that if you want to win the Premier League or finish in the Champions League places then the higher your shot assist conversion rate the better chance you have. However, there are a few anomalies on the tables. For example Chelsea in 10/11 only had a 12% conversion rate and finished second, lower than the season's average (13%) for that year. Blackpool who were relegated last year had the same conversion rate as Arsenal who finished in 4th. In 09/10 Spurs finished 4th and only had a conversion rate of 13% which was the EPL average for that year. And finally Chelsea again in 08/09 had a conversion rate of 12% and finished third that year.
So what conclusions can we draw from these tables? All though the shot assist conversion rate as a metric is important, and there is some correlation between it and the place you finish in the EPL, it is not the be all and end all. As Chelsea and Spurs have proven in past years, you can still finish in the Champions League (or runners up) places and have a conversion rate as low as 12%. At the moment, with us on 9% we do need to increase it, however not by as much as you might think.
So how should we measure our performance in front of goal? I think the 'clear cut chances' metric is a much better way to judge our ability in this area. So how do we fare against the top six this season?
As you can see from the above chart this is where we are really falling down. All though we are creating (37 created) as much as any other team (kudos to Downing and co. here) this year we are missing an enormous amount with 27 of those missed. That's a very poor conversion rate of only 27%. To think that we have missed 27 'sitters' in front of goal really puts our plight into perspective. If we had even maintained Man United's rate at 42% it would have meant an extra 6 goals. That could be the difference between winning 6 drawn games with an extra 12 points which would see us joint top with City on 38 points.
At the moment we are creating 2.47 chances per game and scoring from 0.67 of them. Over a 38 game season that works out at 94 clear cut chances created and 25 goals scored from them. So how bad are we really doing, and how does that compare to last season and to the teams that finished in the Champions League places last season.
As you can see Arsenal were the one's missing most of the clear cut chances last season with chances scored rate of 29.8 which is not much higher than ours this season at 27%. However they created more, (124 – 3.26 per game) and scored from more, which would have undoubtedly led to them winning more games because of it. Last year we scored 34 goals in total from our clear cut chances, and if we maintain our rate this year of 0.67 goals scored per game from clear cut chances we are on course to score only 25 in total for the season. That is a nine goal difference from last year. Which obviously could be the difference between finishing fourth and fifth. What is also notable however, is that we only created 77 clear cut chances in total last year, at 2.03 per game. So in the creativity stakes so far this season (kudos to Downing and Co. again) we are on a par with our rivals this season, and are outstripping our last year's per game rate, United's, and City's per game rate from last season.
So in summary:
In the past 3 years no team has finished in the Champions League places with a shot assist conversion rate lower than 12%. We are currently at 9%
Last year we created a total of 77 clear cut chances. This year we are on course to create 94 clear cut chances.
Last year we created 2.03 clear cut chances per game, this year we are creating 2.47 clear cut chances per game.
Last year Arsenal finished 4th with a clear cut chance conversion rate of 29.8%. This year we currently have a clear cut chance conversion rate of 27%.
This year (of the teams in the top 7) we have created more clear cut chances than Man United, Chelsea and Newcastle.
Last year we scored a total of 34 goals from our clear cut chances. This year we are on course to score 25 from clear cut chances. Last year Man City finished second having only scored 24 goals from clear cut chances.
Conclusion: it would seem that in the creation of shot assists and clear cut chances this season we are on a par with our rivals, if not better, and we are outstripping the amount of chances we created from last year. However, we need to improve our shot assist conversion rate and our clear cut chances conversion rate by smaller margins than we are led to believe.  Here's to 3 points and a win against Villa.
You can follow me on Twitter here: https://twitter.com/#!/stemc74