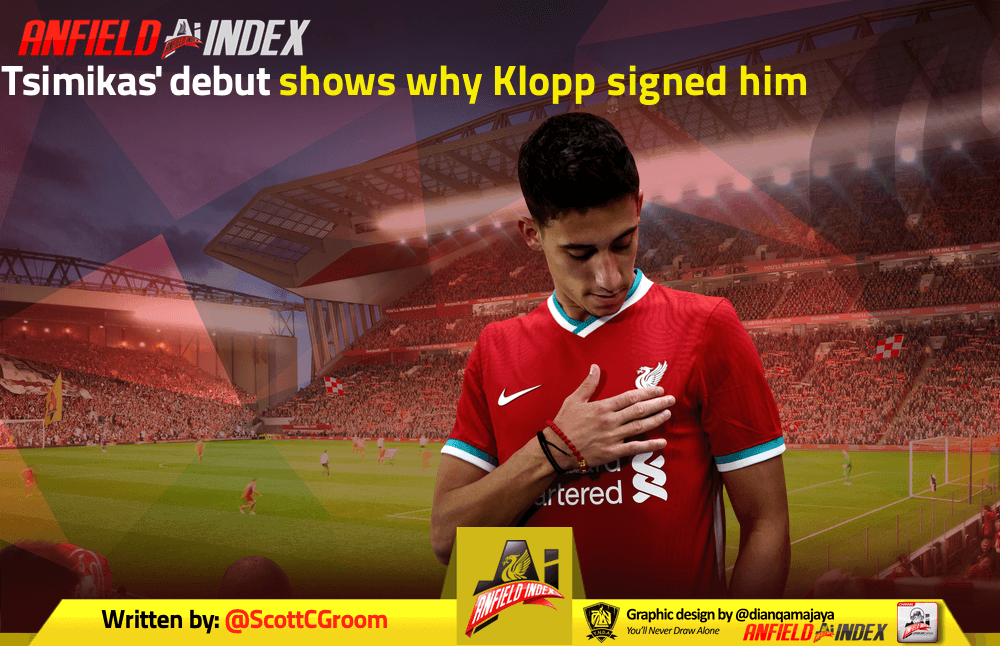 Tsimikas' debut shows why Klopp signed him
During this week's 2-7 rout over League One Lincoln, many of Liverpool's players caught the eye.
Takumi Minamino put in another eye catching shift with his pressing, pace, skill and vision all on display, and getting two goals to boot, too.
Curtis Jones stole the headlines with his dominant midfield display, also grabbing two goals and the man of the match accolade.

But it was Kostas Tsimikas who went under the radar and showed exactly Jürgen Klopp made him his first signing of the summer – and you could even argue he was channelling his very own inner Andy Robertson.
First glimpse
It was our first chance to get a proper look at the Greek full-back since he arrived from Olympiacos and it was a performance that will provide some degree of assurance for fans.
Little was known about him before his switch (at least by myself) so his name was a surprise one to see on the back of a new shirt during his announcement.
But we got a glimpse as to what he's about at Lincoln. The opposition may not have been the calibre of player that Liverpool are used to coming up against, but it was a chance for Tsimikas to show what he could do.
And that is bomb forward. With pace. At will. All the time.
It was really nice to see him marauding down the left flank at pace, linking up with the front three for some intricate bits of play.
Although a little askew once or twice, his delivery into the box was also dangerous and asked all the right questions of the defence.
As we've become accustomed to seeing with Trent and Robbo, the importance of full-backs to this Liverpool team is paramount.
The worry always used to be that, should Robbo pick up an injury, we'd be left with Milner at left-back which, isn't the worst, it's not the best either.
We lose that attacking edge and speed that Robertson brings so readily, and Tsimikas looks cut from the same cloth.
This should be one of the biggest positives from his debut as it should give a degree of assurance that the seemingly irreplaceable Robertson seems to have an able deputy to coax along now.
But what about defending?
All in all, he looked pretty solid. Yes, it was only against Lincoln, but we don't have anything to judge him against yet.
Plus let us not forget Alberto Moreno who didn't look like he knew what defending was sometimes, no matter who he was up against.
Tsimikas was robust in the challenge, persistent, stood his man up well and generally had a rather good game.
But it is too early to give a definitive answer here.
Green shoots of encouragement
What it's not too early to say is that this was a good start to life at Liverpool for Tsimikas, and that will give him confidence to go on from here.
With this season being like no other and set to be more congested than any that has ever come before, it's likely Tsimikas will get meaningful game time this season in order to rest and protect Robertson.
So I'm sure we'll find out in more detail more about his game going forward.
But for now, we know that his playing style seems to be a direct fit into Klopp's Liverpool and I'm sure that ferocity and intensity will serve him well when he gets further chances later on this season.
We can't give a full verdict on him yet, but there are real signs of encouragement here.