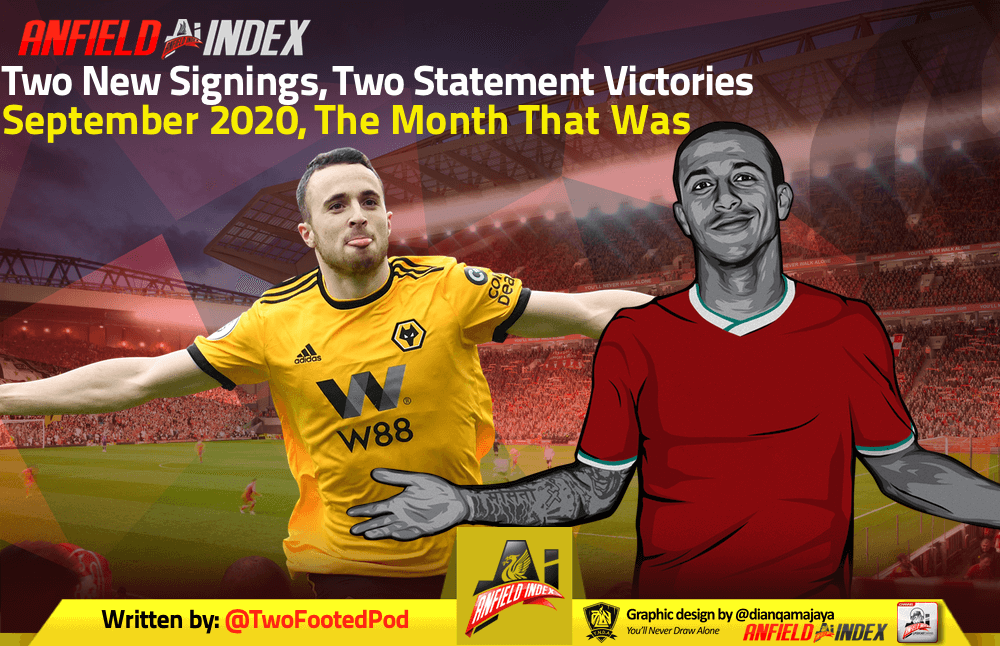 Two New Signings, Two Statement Victories - September 2020, The Month That Was
THIAGO … THIAGO ALCANTARA!!! The summer's most anticipated, or drawn out, depending on your point of view, transfer has been complete. News broke late of an evening that Liverpool had agreed a fee for Spanish midfield wizard Thiago Alcantara, and while we had long expected Thiago Thursday we instead got Thiago Friday. And fucking hell, it was fun. But before we start drooling over him again, let's go back to the start of the month.
Liverpool got themselves ready for the new season with a 7-2 walloping of Blackpool in a warm up game at Anfield. The game was notable for Blackpool taking a 2-0 lead before Liverpool woke up. Once the Reds realised there was a game of football going on, the goals began to flow into Blackpool's net. Seven goals with seven different scorers, including Harvey Elliott, Takumi Minamino and Sepp Van Den Berg.
The season began in earnest with the Reds claiming a 4-3 home win against newly promoted Leeds as Klopp took on Bielsa for the first time. The Championship Champions showed very little regard for Liverpool's status as Premier League Champions and pushed the Reds as hard as any team has at Anfield in a league match for quite some time.

Luckily for Liverpool, Mo Salah was in no mood to allow upstarts to spoil his season opener and the Egyptian King banged in a hat-trick, including two penalties to secure three points and set the Reds off on the road to back-to-back titles.
The following week seemed to be ambling along slowly with nothing much happening until early on a Thursday morning new broke that a fee had been agreed. And not just a fee. The fee. The fucking fee. The one that meant Thiago Alcantara was going to be a Red. After the frustrations of reliable journalists being coy about the deal, a local news reporter routinely insisting that it was "rooted in fiction" and that he had been "told for the fourth time that Thiago was not an active target", and the usual social media bullshit, finally there was a deal. FINALLY the moment we'd all waited for had arrived.
What seemed like an eternity later, Thiago Friday arrived and the man himself was at Anfield taking pictures and doing interviews. Did you see how good he looked in those kits? DID YOU SEE?? He was born to wear them. Only Virgil has come close to looking as marvellous.
Before the club had even made an official about Thiago the transfer activity picked even further with a surprise move. A fee had been agreed to send highly rated youngster Ki-Jana Hoever to Wolves for around £10mil. This came out of nowhere and immediately Liverpool fans, the smartest in the land, began to sense that something else was going on. Hoever was seen as a future first teamer, so surely Liverpool weren't letting him go without it being part of something bigger.
As it turned out it was something much bigger. Melissa Reddy, fresh from laying the smackdown on "real football man" Tim Sherwood, announced that Liverpool were attempting to sign Diogo Jota. Only hours later the deal was in place and the Portuguese attacker was on his way to join Kloppo's magic Reds. Anfield Index's resident statto Dan Kennett was very happy with this deal, as was Sam McGuire who did delved into Jota in depth and showed really promising comparisons between Jota and pre-Liverpool Sadio Mane.
Sure, Liverpool paid a high price for the player but he's the one Klopp, Michael Edwards and the recruitment staff identified as the perfect target and who can doubt them?
There was, of course, some cryarsing that Liverpool should have been willing to spend the money for Timo Werner if they were willing to pay for Jota, but that ignored many key aspects such as timing, more certainty over finances now than there was in June, and most importantly the payment structure of both deals.
Jota was announced and unveiled on the Saturday finishing off a fantastic 48 hours for the club in terms of transfers. Thiago is a world class midfielder who improves the team, and Jota adds quality depth in attack and has the talent to become a long term starter. Those two, plus Kostas Tsimikas, mean Liverpool have ticked off three of their four squad needs this summer.
After that it was back to more pressing matters, Chelsea away. Always a tough game, even with Chelsea being managed by an unproven upstart like Lampard. Liverpool's task appeared to become tougher when Joe Gomez was ruled out and Fabinho was forced to fill in at centreback against the aforementioned Werner. A tight first half ended with Chelsea having a man sent off after Andreas Christenson hauled down Sadio Mane as he raced on to Jordan Henderson's long ball forward. Chelsea will argue that Kepa was getting to the ball first but there's no way to tell and the red card was not disputable.
Henderson was forced off at half time and Thiago, with just one training session with his new teammates under his belt entered the fray. His debut could not have gone better. He took control of the midfield and ran the game as Liverpool scored twice, through Sadio Mane, in quick succession and then turned the game into a training session. Outside of Thiago's performance and Mane's two goals, the most notable performance was Fabinho's complete dominance of Werner.
Next up for Liverpool was a trip to Lincoln for a Carabao Cup clash, Virgil Van Dijk was a somewhat surprising starter but given the injuries to Matip and Gomez, Jurgen Klopp had no choice really. Liverpool swept aside The Imps ruthlessly. A 7-2 thrashing included goals by Shaqiri, Grujic and Origi, and a brace piece for Minamino and Jones. Rhys Williams made his debut for the Reds, and put in a good showing next to Van Dijk, and Fabinho who replaced Virgil at half time.
The aftermath of the game was marred by a gang of dickheads who took to social media to abuse Neco Williams. Williams had struggled slightly in the Lincoln game and that gave the troglodytes who fester in the deepest darkest corners of Twitter the opportunity to slither from their crevices and send abuse to a 19 year old kid who's still learning his trade and still adapting to senior football. I really can't emphasis enough how much of a scumbag you have to be to abuse players directly on social media. Especially young players who likely don't have a person who handles their social media for them and are naive enough to read their mentions. If you're reading this and you sent Neco abuse, go fuck yourself.
After the cretins had crawled back where they came from, serious business commenced once more and Arsenal came to Anfield. Having beaten Liverpool at the Emirates at the end of last season and then winning a penalty shoot-out to decide the Community Shield pre-season friendly, the Gunners must have felt more confident coming to Anfield than they had in years.
Any such confidence was misplaced because barring a bad error by Andy Robertson which gifted Arsenal the opening goal, this was a near perfect performance from Liverpool. One of the best of the Klopp era, and possibly the best allround midfield performance in that time. The front grabbed the attention, as they do, but Keita, Fabinho and Wijnaldum were absolutely incredible in this game. Whether it was snuffing out Arsenal attacks, winning the ball back, or pressing the life out of Arsenal's defenders, they were absolutely everywhere. And on the ball they linked everything up brilliantly, joined the attack at the right moment and didn't put a single foot wrong.
Sadio Mane was in ridiculous form, whilst Mo Salah just tortured Kieran Tierney all game long. Bobby Firmino buzzed around and did all manner of Bobby Firmino things, and all in all the Reds were just unreal. Every player came away with massive credit. Trent kept Aubameyang quiet and was great going forward, Big Joe was back to his best, Virgil was ridiculous and broke Thiago's record for most passes in a half and Robbo overcame his error to score Liverpool's second and completely take Willian out of the way.
Alisson had very little to do, but when called upon for Arsenal's one self-created chance he came up with a big save in a one vs one situation with Lacazette. Alisson had been a doubt for the game but was ruled fit to play early on the Monday, while Thiago was ruled out.
The club confirmed that Thiago had tested positive for Covid-19 but that he was doing well and should only miss the cup match against Arsenal and Villa away in the league. It should also, hopefully, keep him away from international duty.
The only other news in September was that some outgoing loan deals got finalised. Karius joined Union Berlin where he will link up with Taiwo Awoniyi who heads out on his SEVENTH loan in five years. Kamil Grabara has headed to Denmark to join AGF on loan for the season. Grabara had a successful loan there in the second half of the 2018/19 season and will hopefully progress and develop over the next 9 months.
And that was that. October brings us the next round of the League Cup, which will have taken place before you read this. The Champions League draw has just been made. The Reds landed in group D with Ajax, Atalanta and Midtjylland which is potentially the most entertaining group the Champions League has ever seen. Klopp vs Gasperini will be incredible. Thomas Gronnemark won't know which way is up with his associations with three of the four teams! Luckily for him it was Atalanta that came from pot 3 rather than RB Leipzig or he may have had to go into hiding for a few months.
September was fun, October will be better. The Reds march on.