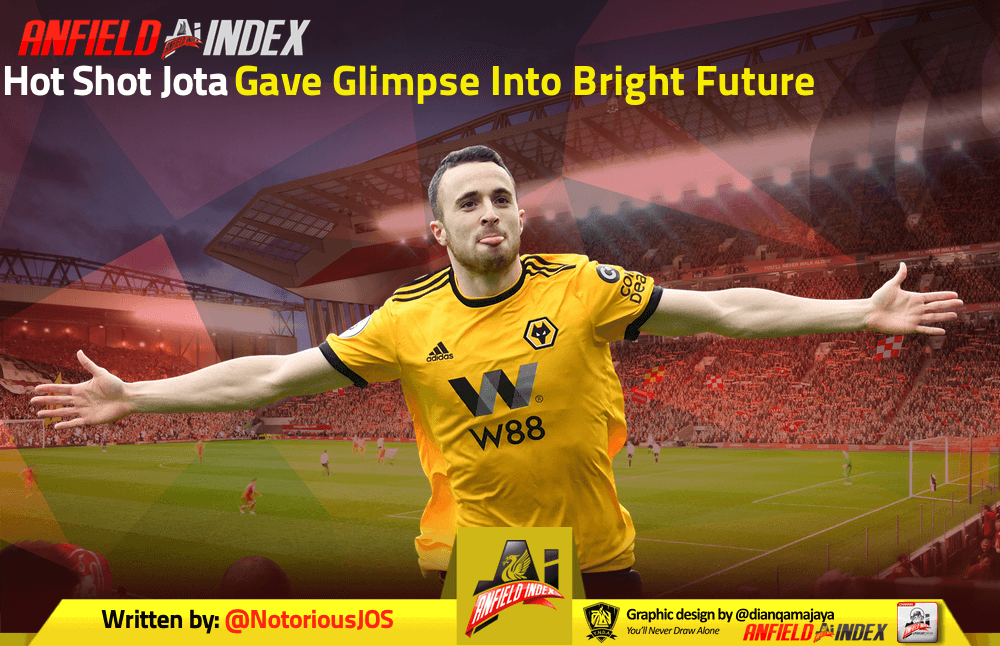 Hot Shot Jota Gave Glimpse Into Bright Future
Diogo Jota marked his Liverpool Premier League debut with a goal in the Reds' 3-1 defeat at Arsenal.
Latching onto a David Luiz header, the Portuguese international deftly controlled the ball before dispatching a half volley accurately into the low corner past Bernd Leno.
https://twitter.com/LFC/status/1310716961869963264?s=20

The former Wolves attacker came close twice earlier, hitting the side netting after receiving a Mohamed Salah pass and the Egyptian wasn't as selfless on another occasion when he took the ball off Jota's toe in the box.
Aside from the goal, the 23-year old's performance augurs well for the future. Jota's movement, manipulation of space, and shot selection are all at a high level and, once he acclimates more to his new surroundings, goals should flow in the future.
In his two Premier League season at Wolves, the former FC Porto wide player scored 16 times — equally spread between left foot and right foot — and the below-shot map, provided courtesy of twenty3 sports, shows how judicious he is with his shot selection.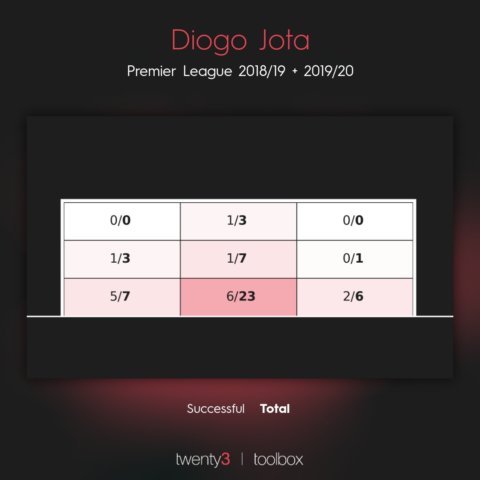 The majority of Jota's shots are low and he attempts to hit the corners, a nightmare scenario for any goalkeeper. It may not look as nice as a top corner hitting strike, but there's an efficiency to the Portuguese's attacking play that brings back memories of Maxi Rodriguez or Dirk Kuyt.
Another element to consider is the benefit of playing in a dominant team whose movement and pace causes carnage for opposition defenses.
At Wolves, as admirable as Nuno Espirito Santo's management and organization is, chances were at a premium with the teams onus focusing, first and foremost, on being solid and hitting teams on the counter-attack.
At Liverpool, especially with the signing of Thiago already enhancing an already brilliant team, Jota should get ample chances to score, like in his cameo against the Gunners.
Late in a game, after a team has spent 75-80 minutes of chasing shadows and being harassed by the Reds' counter-pressing and pressing on the rare occasions they have the ball, the opposition will naturally tire and spaces will open and Liverpool have the players to punish these lapses of energy and concentration.
In this season of all seasons — while nominally a back up to Mohamed Salah, Sadio Mane, and Roberto Firmino — Jota will have plenty of game-time to settle into his new surroundings in the most congested of fixture lists.
Such is the reigning champions depth in attack, that even two changes to their front three would see players the ilk of Jota and Takumi Minamino playing together, with the hailstorm of games meaning there is the chances to build on-field synergy together and fitness, despite not being first choice.
There is also the tantalizing prospect of Jota playing in the same team as Mane, Salah, and Firmino, a likelihood that is even more realistic with the arrival of Thiago.
The 433 formation isn't sacrosanct to Jurgen Klopp — as evidenced by the German experimenting with 4231 and 4222 shapes in pre-season — and a move to a 4231, which would include the regular front three™ and Jota, could work in an attacking sense but also provide the required defensive balance.
Fabinho was imperious in dominating the midfield against the Gunners, winning the ball, setting the tempo, and starting attacks with an awesome combination of physical and tactical supremacy. Such a combination of abilities is almost like having two players in one.
Naby Keita and Georginio Wijnaldum also impressed with their haranguing off the ball, their spatial awareness, and their defensive discipline, showing their capability — traits that Thiago and Jordan Henderson also share — to play in a two-man midfield, which any switch to a 4231 would entail.
In the years to come, Jota — whether it's as a starter or a back up — could well be a brilliant acquisition for Liverpool and he really whet the appetite and showed what may come with his performance against Arsenal.