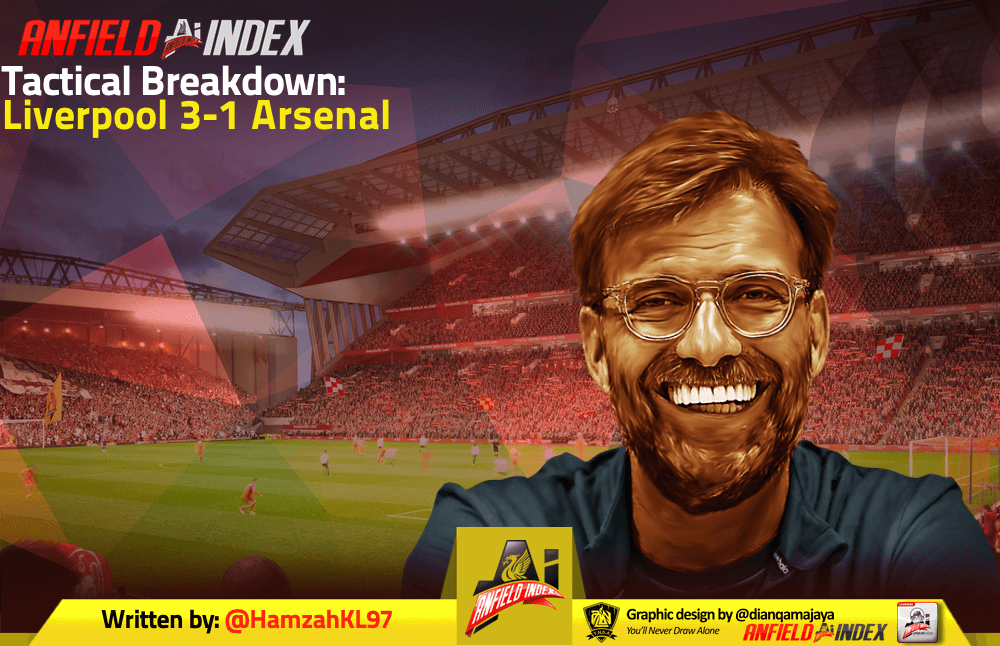 Tactical Breakdown: Liverpool 3-1 Arsenal
The post-lockdown miniseason raised questions over whether Liverpool had lost their edge after not giving an inch for the best part of two seasons. Liverpool was not pressing as much or as intensely as they used to, and that competitive edge seemed to have gone. Liverpool's 4-3 victory over Leeds saw more of the same questions rëmerge. Had Liverpool lost their edge? Had Liverpool peaked? Was a third 90+ point season one step too far?
A close tactical examination of the Leeds match would have revealed that Liverpool is sharp and ruthless once more, but the performances against Chelsea and now Arsenal should have extinguished any dissent: Liverpool look better than ever.
The Chelsea fixture was an extraordinary display of pressing intensity and volume. According to the AI Under Pressure podcast, Liverpool was in the "Red Zone" (the most intensive category) across the entire game. Against Arsenal, pretty much the same was true, with a colossal 214 presses recorded across the match.

Tactically, Liverpool's setup was largely the same: 4-3-3 on paper, but in possession more of a 2-1-5-2. Arsenal's system was a 4-3-3 in possession, but a 4-5-1 out of possession, with Willian and Aubameyang, pulled into deeper positions in an attempt to stop Liverpool progressing the ball in wide areas, and offering counter-attacking threats.
The Arsenal system was not entirely clear or consistent over the match, with Aubameyang frequently moving into an inside left or left sided striker role, and Maitland-Niles initially starting as a left sided midfielder, and then dropping deeper into a left-wingback role, as Tierney moved inside as a third centreback, leading to a shape resembling a back five.
Arsenal also deployed a double pivot in possession, just like Chelsea in the previous week. This system was supposed to offer up passing lanes to the centrebacks and goalkeepers, thereby offering a route through which Arsenal could play through the Liverpool press. Like Chelsea though, the double pivot was nowhere near enough to cope with such a formidable pressing performance.
Additionally, Arsenal also used their midfield and forward structure to set pressing traps, like Liverpool do, in midfield around Fabinho. Fabinho rarely dawdled on the ball and did not allow Arsenal to spring this trap with quick passes away if he received the ball. With Wijnaldum dropping deep to support Fabinho, Liverpool's midfield was able to do play through Arsenal's press in the way Arsenal's midfield couldn't against Salah, Mané and co.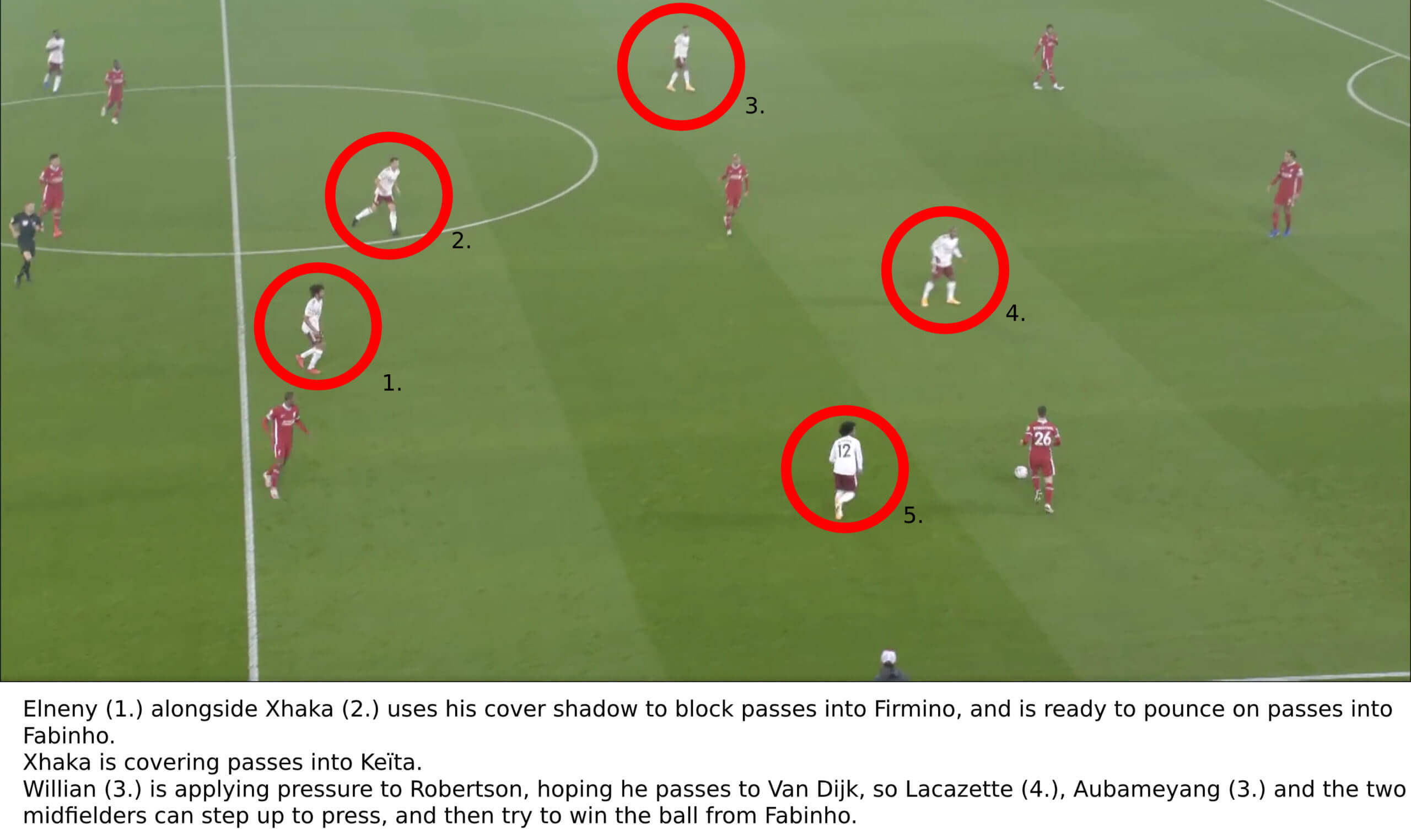 When Arsenal attempted to compact the pitch, Liverpool's players fired the ball out wide through long passes, immediately forcing Arsenal onto the defensive. Mikel Arteta, in his post-match interview, noted Van Dijk's ability in particular to flip the direction of play from one end of the pitch to the other, but Gomez, Fabinho and Wijnaldum were all enormously important in adding direct verticality to Liverpool's play. For instance, Mané's first big opportunity of the match, a first-time shot hit at Leno, supplied by Alexander-Arnold in the 15th minute, originated with Wijnaldum dropping deep and hitting a diagonal ball to Mané, where he was one-on-one against Bellerin.
This is a fairly typical image of Arsenal when the scores were level and they attempted to push up when Liverpool was building up from the back. However, as you can see, Van Dijk's long passing ability allowed Liverpool to bypass the Arsenal front 5, and move directly onto their backline.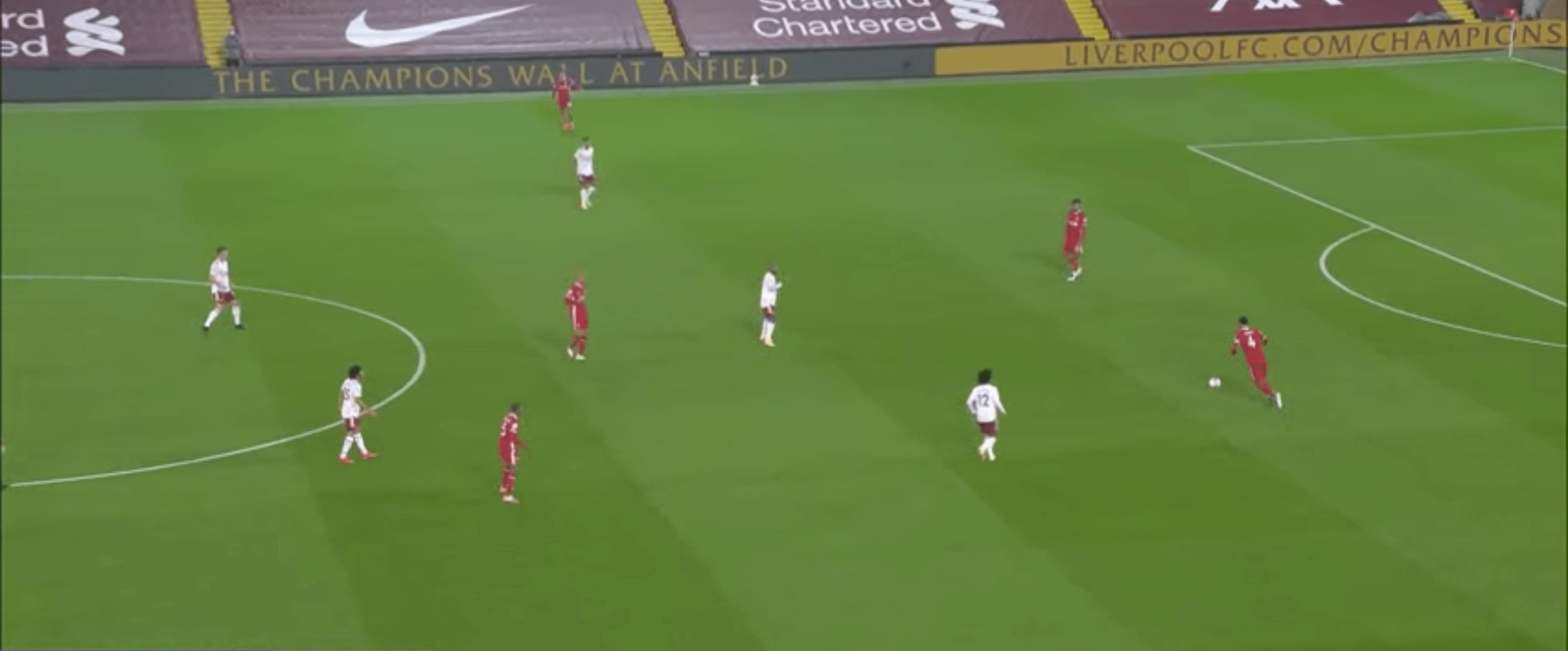 Below is a passing graphic from StatsZone to help visualise Van Dijk's passing range, and the means through which Liverpool played beyond the Arsenal press: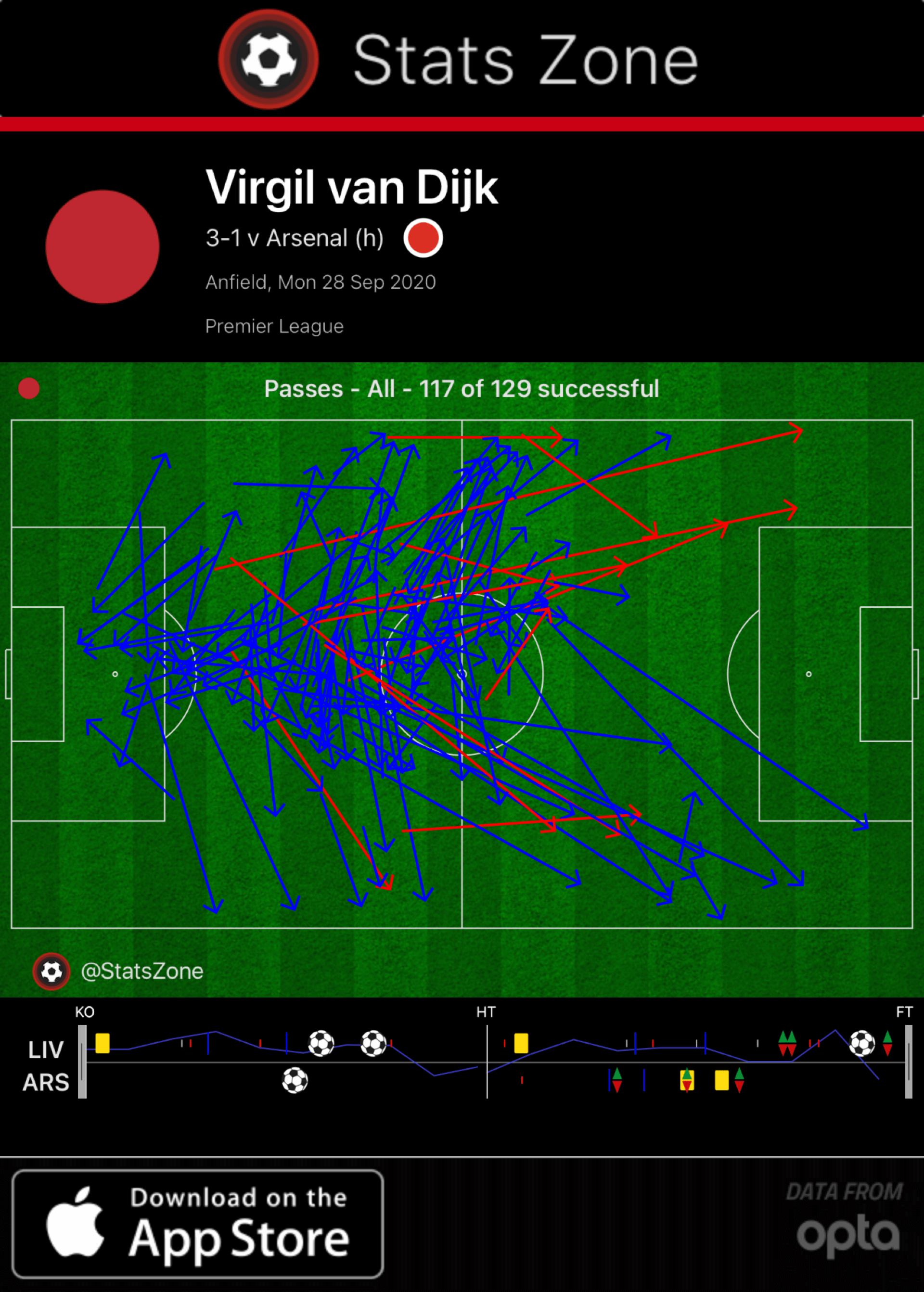 The first 10 minutes proved a little cagey, but from then on Liverpool really began to exercise control and generate opportunities. Keïta and Robertson offered significant ball progression, as Arsenal looked to compact the heart of the pitch. Maitland-Niles and Willian's relatively advanced positions allowed Mané and Salah to get into one-on-one situations with the Arsenal fullbacks though, and Arsenal was not particularly successful in stopping Liverpool getting the ball to the forwards. However, Arsenal did compact the box very well, using Luiz in particular as the principal means to clearing danger.
Arsenal's central compactness forced Liverpool into using the wide areas, and consequently, a number of low crosses were fired in, but Luiz and Holding managed to deal with those challenges well. As Robertson and Alexander-Arnold were able to occupy the wide areas without much of a challenge, Mané and Salah were able to come inside. With so much activity in the centre of the pitch though, driving the ball forward and creating big chances through intricate play was challenging, and chances did not come as frequently as they usually do against Arsenal at Anfield.
Liverpool was able to break the Arsenal press frequently but smart fouls and delaying tactics stopped Liverpool from progressing through the Arsenal lines at pace and allowed Arsenal to get back into a defensive shape.
Arsenal did manage to escape the Liverpool press though, and with their first real foray forward was gifted a big chance by an error by Andy Robertson, very much against the run of play. Following this there was no major tactical shift from Liverpool, they simply exploited the existing spaces with ruthless intent. Keïta drove into the right halfspace, displaying that brilliant dribbling ability and verticality which is enormously useful against a side looking to defend space. Keïta's run drew David Luiz forward, in order to make a tackle, leaving an area which Firmino moved into and was able to exploit through picking up the loose ball after Keïta was fouled. As mentioned earlier, Maitland-Niles at this point in the match was not supporting Tierney, and Salah was able to blister past the exposed fullback, before hammering a shot into Leno, resulting in a rebound which Mané was able to pounce upon.
Liverpool's second goal exploited those very same weaknesses, but on the opposite side of the pitch. As Maitland-Niles dropped deeper to aid Tierney against Salah, Aubameyang was left to track Alexander-Arnold. With space and time, he was able to cross into the box. Wijnaldum and Mané compacted the area around the centre of the goal, with Mané tucking in, and drawing both Holding and Bellerin inside. This allowed Robertson, who was not tracked by Willian to break into that space and atone for his earlier error.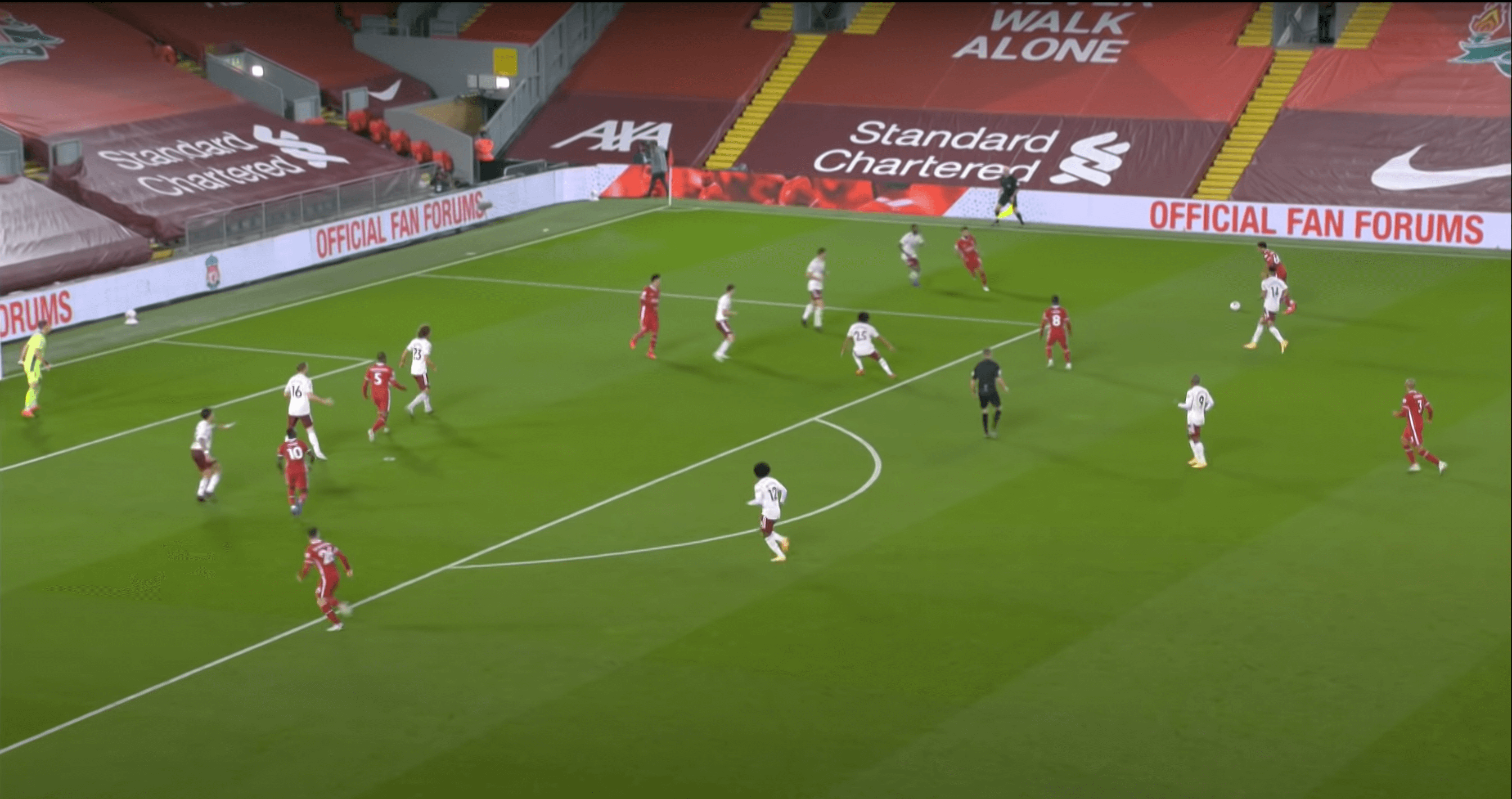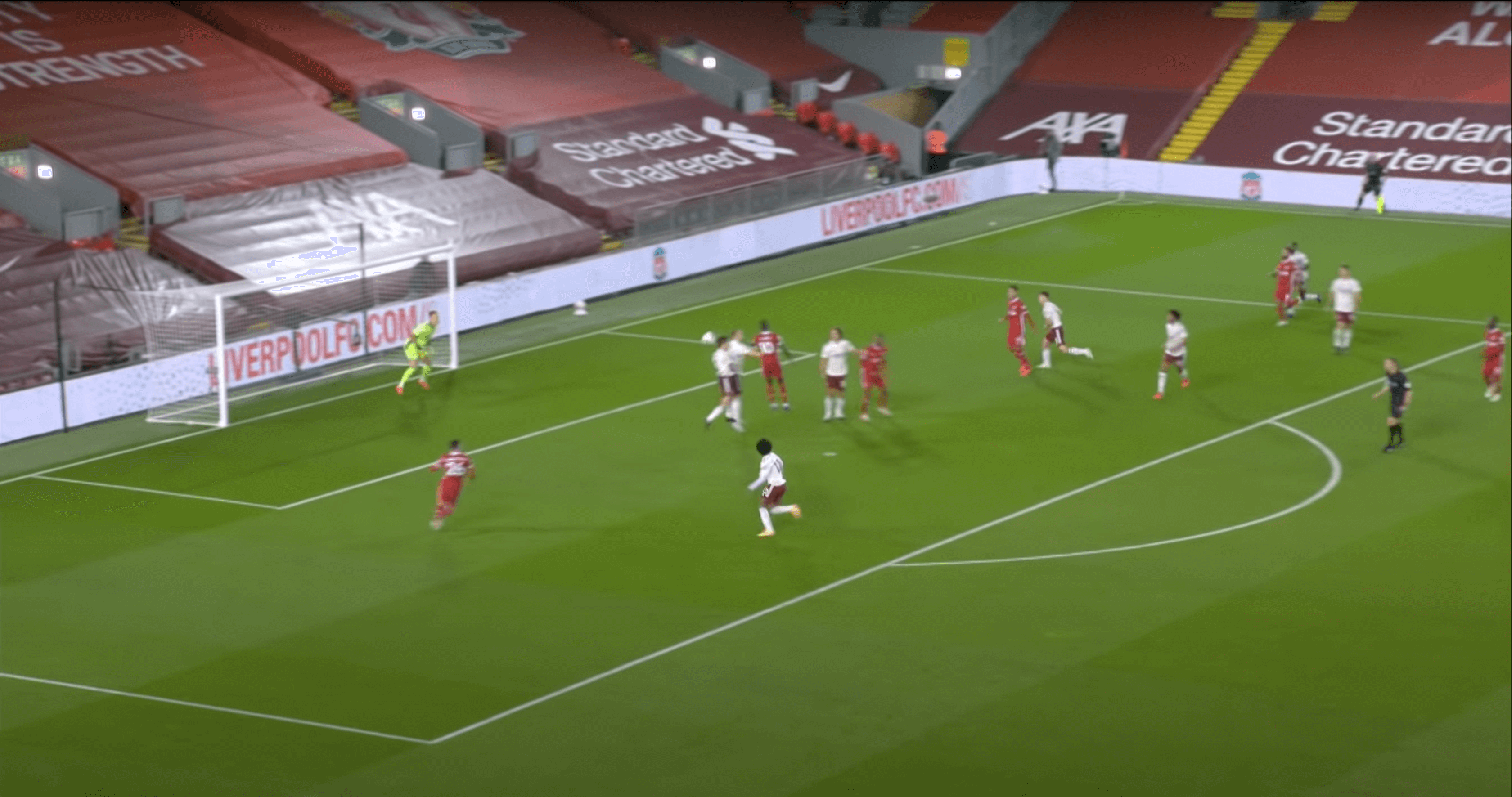 The real tactical story of the game though is not one of the errors by Robertson or Tierney or Willian. It was almost entirely a tactical masterclass by way of pressing.
Key to this was the brave decision to push Alexander-Arnold and Robertson up, with the former in particular thereby leaving Aubameyang open. Liverpool realised that if they pressed high, they would have opportunities to win the ball from the Arsenal defenders and midfielders, not only creating goalscoring opportunities but simultaneously restricting the flow of passes into Aubameyang, thus minimising the threat of Arsenal's greatest offensive asset. Much has been made of the "high line" Liverpool employ, but it is precisely this which allows Liverpool to compact the pitch, win the ball up high and sustain pressure.
Only against extreme pace, or very intelligent movement combined with passing can teams expose the high line. Liverpool are prepared for this though, through usually applying constant ball pressure. But when that isn't present, as was the case with Lacazette's onside opportunity in the second half, the recovery pace of Gomez, Van Dijk or the excellent sweeping abilities of Alisson are called upon.
The key area of the pitch was not the Liverpool defensive third though, it was the Arsenal defensive third. With almost zealot-like adherence to passing out from the back, Arsenal invited pressure upon themselves constantly. It appeared that Arsenal had not watched Liverpool's performance against Chelsea, nor any Liverpool footage from the past four years. Seeing Holding and Tierney pass across the area was like watching Spongebob and Patrick in the box. Had Liverpool fans been in the stadium they would have been both giddy with childish glee and baying for blood. Liverpool, in a shark-like manner, smelt the blood and set off with ferocity and animalistic fervour. Unlike sharks though, Liverpool hunted in packs. With 22 group pressing attempts, which, alongside the 168 individual pressing attempts, led to 136 pressing chains, at an overall efficiency of 91 per cent, Liverpool waged the footballing equivalent of nuclear warfare on the Arsenal backline. Klopp had brought a minigun to a water fight, yet still, Arsenal persisted in not only sticking their head over the parapet, but actively striding forward, armed with a pound shop water pistol. It was madness, and Arsenal were extremely fortunate to not have conceded more.
Usually, a team passes around at the back for two reasons:
As a buildup phase of possession.
As a means to drawing the opposition onto the team in possession, so the team with the ball can then play direct long passes in behind.
Doing the first against Liverpool is footballing suicide. Not even Manchester City dare play out from the back in central areas. Doing the second is worth a try, given there is no real blueprint to beating Liverpool.
Whilst Liverpool can't press an aerial ball, they can press the resulting situation, and that's what they did. On the two occasions that Leno played a long pass into Aubameyang, he won the aerial duel (2/2), but Liverpool's midfield and defence were able to seize upon the lack of support around Aubameyang and recover the ball.
This example ties in with Liverpool's pressing structure. Technically, Liverpool often left themselves with three on three situations at the back. However, they backed themselves to avoid one-on-one opportunities through pressing aggressively and then using their physical and technical skills to deal with one-on-ones if they arose. Not only this, but the regular support of Fabinho to the centre-backs dramatically reduced the threat to Liverpool's goal, and turned these potential opportunities for Arsenal to attack into opportunities for Liverpool to turn the ball over and progress up the field. Furthermore, the Liverpool midfield three acted as a shield to the defence, preventing passes into those Arsenal forwards through their cover shadow, whilst pressing forward and forcing the Arsenal midfielders to either surrender possession or send the ball backwards.
This was nothing short of a glorious performance. A masterclass in pressing and a display of domination. Liverpool was persistent, resilient, unflappable and doggedly determined. A bloody-minded ruthlessness runs through the team, and was on full display against Arsenal. With better finishing, this could easily have been an embarrassing night for Arsenal, and to some degree, Arteta appeared a little embarrassed and exasperated that his defenders persisted in playing out from the back rather than showing an appreciation for the enormity of the challenge at hand. Nonetheless, this was one of the best performances since last March, was enormously entertaining, extremely intriguing from a tactical perspective and just fabulous to witness. With the amount of the ball Liverpool had in central areas, this would have been a perfect opportunity for Thiago to dismember the Arsenal defensive structure, but it is even more pleasing to see that without Thiago, Liverpool still had more than enough to beat Arsenal, and this is exemplified by Diogo Jota, who, on debut could well have had a hatrick, but had to settle for just a single goal instead.
The defence appears as resolute as ever, with the side conceding a combined eight shots against both Chelsea and Arsenal. With Alisson back in form, and hopefully, with no more uncharacteristic errors to come from the rest of the defence, it's fair to say that should Liverpool maintain this level of performance, we could well be looking at a season that can compare to the previous two.